---
Table Of Contents
---
Berries
1. Goji Berries
The goji berry, also running under the alias wolfberry, is an adrenaline vitamin shot, bringing a 150% RDA boost of Vitamin A and providing important minerals such as copper, selenium, and riboflavin.
2. Inca Berries
Serving us with generous amounts of potassium, vitamin C, iron, and phosphorus, inca berries are a blessing sent from Latin America and the perfect healthy food to lose weight.
3. Blackberries
The blacker the berry, the sweeter the juice, and the healthier! If you want to reach your daily recommendation for vitamin C, just eat 2 cups of blackberries, and you're good.
4. Acai
By now, everybody has heard of Acai bowls. Besides appealing aesthetics, this superfood is packed with omega-3 fatty acids that will benefit your cardiovascular system.
5. Mulberries
Coming in three different colors (white, red, and black), mulberries also come with many vitamins, potassium, copper, calcium, magnesium, and more!
6. Cranberries
Not only are cranberries a great source of vitamin C, but cranberry juice is also a recommended beverage for those who have a urinary tract infection.
7. Raspberries
Irresistible inside and out: the beautiful pinkish-red berry brings a much-needed blend of vitamin C and antioxidants.

Fruit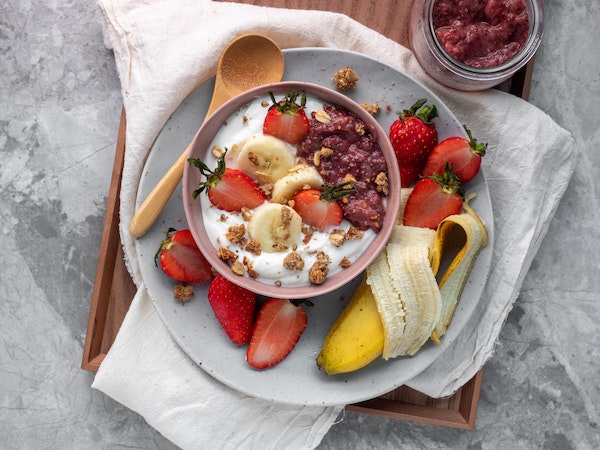 8. Ugli Fruit
There's nothing ugly about the ugli fruit, as it boosts our immunity with a much-needed shot of vitamin C, making it the ideal healthy food to eat while pregnant.
9. Avocado
Avocados aren't just for guacamole. They're also perfectly healthy food to eat at night. Vitamin K, B6, C, folic and pantothenic acid, and potassium are what your body gains.
10. Xigua
Xigua not only will bring some color and taste to your day-to-day life but also a variety of vitamins and minerals.
11. Lemon
Not every lemon needs to be turned into lemonades. Filled with vitamin C and fiber, lemons are good as they come.
12. Date
Dating dates will leave you with a high amount of minerals and iron, and who can say no to that, right?
13. Pomegranates
This superfood will give you your needed antioxidants dose that'll prevent cell damages.
14. Apricots
Fresh or dried? In either case, devour with caution to avoid too many carbs and still reap the potassium, calcium, iron, magnesium, and vitamin C benefits.
15. Tomatoes
A source of vitamins, minerals, and protein, tomatoes are a healthy and popular ingredient in most salads.
16. Eggplants
Eggplants are a savory fruit great for your bones, cardiovascular, and digestive system while also helping with weight loss.
17. Banana
A great source of fiber, potassium and vitamin C, bananas come are the perfect snack to devour on the go.
18. Strawberry
These tiny drops of heaven bring potassium, magnesium, and vitamins A, C, and K to your earthly life.
19. Olives
These small oval snacks offer nutrients, such as vitamin E, iron, copper, and calcium.
20. Dragon Fruit
This exotic fruit is low in fat, rich in vitamins A and C, calcium, magnesium, and antioxidants.
21. Apples
An apple a day keeps the doctor away, they say, and they're not wrong. Apple is a classic because it's a natural and delicious source of fiber and vitamin C.
22. Cherries
Here's a temptation you can give into because it will leave you with a blend of vitamins, minerals, fiber and calcium, potassium, and magnesium.
23. Grapes
They're far more than the main ingredient in most wines; they're also an excellent source of water and fiber, helping with weight loss.
24. Pears
Apples don't do the trick for you? How about some cholesterol and fat-free pears instead to keep a healthy level of vitamin C and dietary fiber intake?
25. Orange
As one of the most favorite sources of vitamin C, oranges uphold their reputation and offer more than 100% of the recommended daily intake.
26. Watermelon
Watermelon is a water-rich, fresh fruit perfect for hot summer days, with the bonus of antioxidants and vitamin C.
27. Cantaloupe
Cantaloupes, just like watermelons, keep you hydrated while filling you up with lots of vitamins A and C.
28. Peach
Peaches were famous long before the movie "Call me by your name" hit the screens. They're cholesterol-free and rich in vitamins A and C.
29. Plum
Plums contain fiber, vitamin C, antioxidants and are great for getting rid of constipation. (Didn't see that one coming, did you)
30. Lychee
The weird consistency might throw you off at first but hang in there. Lychees are anti-inflammatory and anti-diabetic, among many other health benefits.
31. Kiwi
Don't let the green color fool you. Kiwis are delicious vitamin C, E, K, and A-bombs that are also filled with dietary fiber.

Vegetables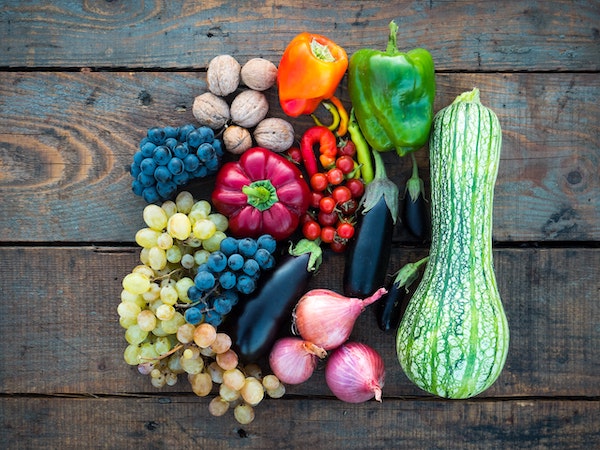 32. Jalapenos
To add some spice to this healthy foods list, we literally can't help but recommend this deliciousness that is also high in fiber, calcium, and vitamins.
33. Kale
Kale is the vitamin-packed alternative for a salad you didn't know you needed.
34. Cauliflower
Full of antioxidants, this particular "flower" is optimal for a detox.
35. Garlic
Filled with potassium and calcium, garlic is an all-time favorite flavor enhancer.
36. Onions
Whether red, yellow, or white, onions are an excellent source of vitamins and fiber.
37. Carrots
A half-cup of carrots covers over 70% of the recommended vitamin A intake and provides vitamin C, K, potassium, and calcium.
38. Zucchini
Low in calories and rich in minerals and calcium, zucchini will keep your bones and your blood sugar levels healthy.
39. Artichokes
They take time to make, but they're worth the trouble covering a third of the daily recommendation of fiber.
40. Broccoli
This Italian superfood gives you the same amount of vitamin C as an orange and is packed with vitamins and minerals alike.
41. Asparagus
You can eat it raw or cooked, as a soup, stew, salad, or on its own; asparagus offers vitamin B-9, which is great for cell development, fiber, potassium, and antioxidants for better heart health.
42. Mushrooms
Mushrooms are excellent low-calorie snacks packed and loaded with vitamins.
43. Paprika
Paprika is not just the ultimate finger food that comes in different vibrant colors. It also contains capsaicin which reduces appetite, improves metabolism, and is great for weight loss.
44. Cabbage
Another healthy food great for weight loss, containing a large amount of fiber.
45. Brussels Sprouts
You only need one cup to cover your daily requirements for vitamins C and K and all this with a very low amount of calories.
46. Celery
Celery is another healthy vegetable that goes great with a variety of dips and will also give you a good dose of fiber along with antioxidants to help you maintain healthy digestion and avoid oxidative stress.
47. Radish
With a solid amount of antioxidants, vitamin C, and minerals, radishes are great for cell and cardiovascular protection.
48. Beets
To benefit from all vitamins and minerals that this burgundy vegetable has to offer, make sure to eat the beet bulb and the beet greens.
49. Ginger
Some people drink it as a team, some as a shot, while others simply add it to their meals. It brings a colorful mixture of vitamins and minerals and is also low in calories.
50. Swiss Chard
If you want to boost your bone health, then Swiss Chard is your superfood. One cup offers triple the recommended daily intake of vitamin K.
51. Kohlrabi
Kohlrabi, aka the German turnip, is cholesterol-free and good for your heart's health because it's packed with fiber, vitamin B6, antioxidants, and potassium.
52. Turnips
Turnips are high in fiber and consequently great for your metabolism and weight loss.
53. Spinach
With spinach, you get lots of iron, vitamins, protein, and minerals, benefitting your skin, hair, and your health altogether.

Tubers
54. Potatoes
No, we're not talking about fries. Just boil or bake your fries to keep your potatoes healthy.
55. Sweet Potatoes
This sweet version of a potato is low in fat, cholesterol, and gluten-free and is chock-full of vitamins.

Legumes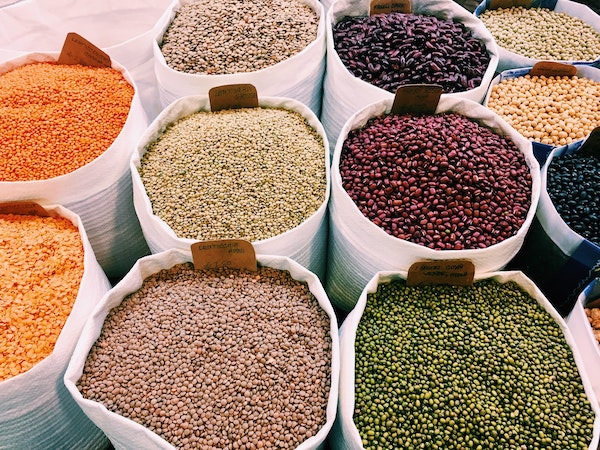 56. Edamame
Incredibly delicious and a perfect little health kick, edamame contain protein, fiber, vitamins, and calcium.
57. Green Beans
Add this iron-rich legume to your list of healthy foods to eat while pregnant.
58. Kidney Beans
Do you want to increase your fiber and protein intake? Then this brownish beauty is for you.
59. Peas
Vitamins, fiber, and protein are packed in one.
60. Lentil
If you're fighting iron deficiency and don't want to eat meat, lentils are your salvation.
61. Chickpeas
Boil 'em, salt 'em, and you have a snack full of protein, fiber, vitamins, and minerals.
62. Peanuts
Peanuts are easily dismissed as unhealthy among the popular nuts; they're only second in line in terms of protein, which makes them great for weight loss. But, just as with any other food, eat in moderation, and you're all set.

Seafood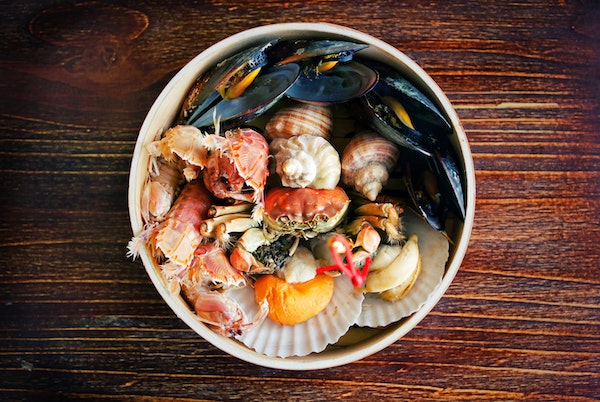 63. Salmon
Here's your ultimate source of omega-three fats that will do wonders for your health.
64. Sardines
Sardines are tiny fish that also happen to be nutrition bombs filled with omega-3 fatty acids.
65. Trout
Jam-packed with lots of protein, vitamins, and minerals, trout is an excellent healthy food to eat when pregnant.
66. Shrimp
This seafood, which you should devour boiled or steamed, is a balm for your heart because it contains omega-3 fatty acids.

Oils
67. Extra Virgin Olive Oil
If you want to avoid processed oil, extra virgin olive oil is the best option, making sure that the antioxidants are retained.
68. Coconut Oil
Whether you use it as a hair mask, a moisturizer, or cooking, coconut oil is great for your hair, skin, and metabolism.

Grains
69. Quinoa
Here's a healthy food idea to enjoy during lunch that's a nutritious all-rounder, offering 70-360% of amino acids the body needs, fiber, and essential minerals and vitamins.
70. Buckwheat
You don't trust yourself around rice? Then just grab this gluten-free alternative that's high in fiber and will keep you full while facilitating digestion.
71. Flaxseeds
Looking for healthy food to eat for breakfast, then add flaxseeds to your healthy food list, and you'll integrate fiber, omega-3 fatty acids, and lignans into your everyday routine.
72. Oats
If you regularly eat oats for breakfast, then you're a champ, and your blood sugar, heart, and skin will love you.
73. Popcorn
Far from being a superfood, popcorn still has health benefits, and the biggest is that it's low in calories and a healthy alternative to other snacks, such as chips.
74. Brown Rice
Just because you're avoiding carbs doesn't mean you have to swear off rice altogether. Brown rice is filled with complex carbs and fiber, which are more healthy for you and keep your energy level more sustained.

Seeds & Nuts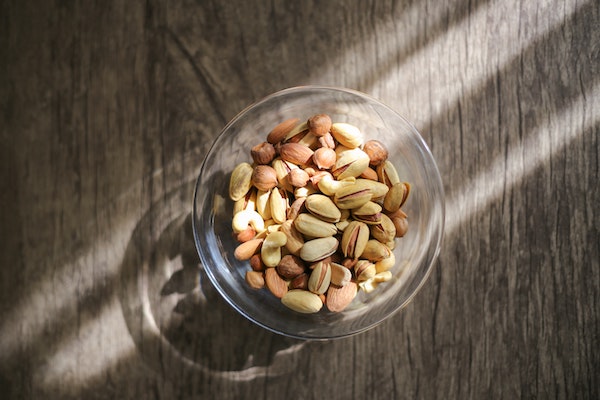 75. Almonds
Caution: addictive potential. Almonds are not low-carb, but they're high in protein and great for heart disease prevention. What can we say? You win some; you lose some.
76. Walnuts
With a high amount of calcium, walnuts are steroids for your bones.
77. Pumpkin Seeds
When you eat pumpkin seeds, you tap into a well of potassium, magnesium, and calcium. And what more do we need, right?
78. Pistachios
They're cholesterol-free and bursting with vitamins, minerals, and antioxidants. Just try to avoid roasted pistachios, and you're good to go.
79. Cashews
Being rich in monounsaturated and polyunsaturated fatty acids, cashews are good for your heart.
80. Pecans
These cholesterol-free low-carb nuts offer a lot of protein, fiber, and healthy fats.
81. Macadamia Nuts
Macadamia nuts are filled with monounsaturated fat, making them great for managing your cholesterol levels.
82. Hazelnuts
Yes, hazelnuts are rich in fat, but they make up for it with loads of vitamin E, magnesium, omega-3, and omega-9 fatty acids.
83. Pine Nuts
Use in moderation to benefit from omega-3 fatty acids, minerals, and vitamins contained in pine nuts.
84. Dark Chocolate
Cacao provides high amounts of flavanols which can be good for your heart and blood pressure. Just keep in mind that the darker the chocolate (50% cocoa solids being the minimum), the higher the benefits.

Spices
85. Vanilla
This healthy food is a stress and nausea reliever, which also improves your skin and hair.
86. Black Pepper
Black pepper doesn't just go with almost everything; it also contains piperine, a natural alkaloid that helps reduce the risk of many chronic diseases, such as atherosclerosis and neurological dysfunctions.

Dairy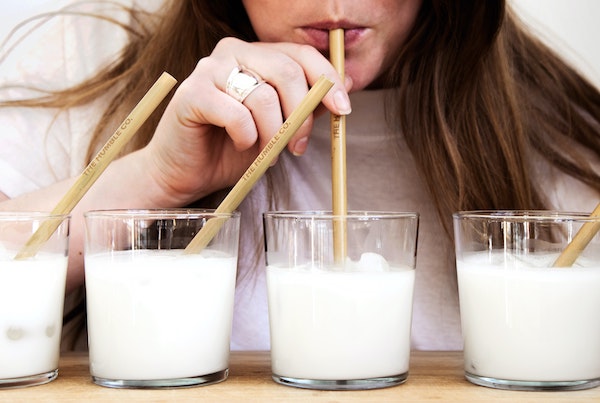 87. Yogurt
Yogurt is an ideal alternative for milk for those with a sensitivity toward dairy products.
88. Greek Yogurt
There's an assumption that regular yogurt is healthier than the Greek alternative when the difference in nutrition values isn't that significant. It's just a matter of taste.
89. Feta Cheese
The Greeks didn't only bring us the Zorba dance, a traditional Greek dance, but they also enriched our world with creamy, salty, and calcium and vitamin B-rich cheese.
90. Parmesan Cheese
If you love Italian food, you must try grating this cheese-filled with protein and calcium over your salads and soups. Delicious!
91. Milk
There's a reason that milk is every child's first nutrient. Being rich in calcium and protein, it's a great way of keeping your bones and teeth healthy.
92. Cottage Cheese
We are introducing yet another healthy food for people who want to lose weight. Cottage cheese is filled with protein, calcium, and vitamin B12.
93. Halloumi
Despite being high in fat and salt, halloumi covers 70% of your daily needed calcium intake, with the bonus of vitamins A and D, magnesium, zinc, and selenium.

Non-Dairy Beverages
94. Matcha
Matcha is a green drink that has experienced a big hype in the past few years. Originating from East Asia, the matcha powder is a nutrition bomb containing a large amount of protein, amino acids, and minerals.
95. Almond Milk
This lactose-free milk substitute not only tastes good it also is a good source of vitamin E.
96. Coconut Milk
Another great substitute for milk and is great for weight loss, mainly because it contains medium-chain triglycerides (MCTs).
97. Oat Milk
Continuing to bring some variety into the lives of milk lovers, oat milk is a favorite among vegans, not least because of its content of fiber, protein, minerals, and vitamin B.
98. Soy Milk
Last but not least, this non-dairy beverage offers omega-3 fats and antioxidants, making it an excellent alternative to the dairy version.
Other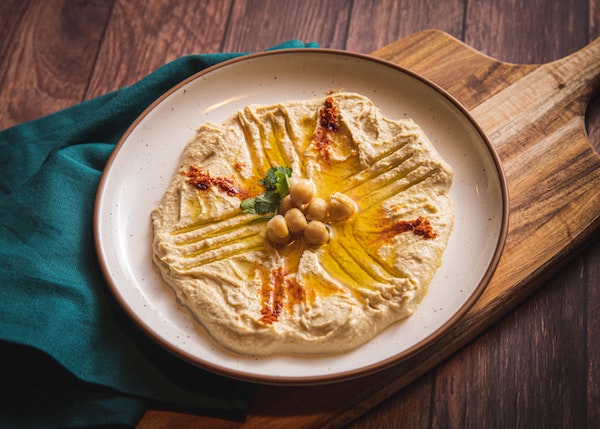 99. Hummus
Bringing a Meditteranean breeze to you with this healthy snack packed with vitamins and minerals.
100. Eggs
What do you think when you think about eggs? Protein, of course. And that's precisely why they're the creme de la creme of healthy foods to eat for breakfast.
101. Basil
Get your daily dose of freshness with basil and relish in the vitamins, minerals, and antioxidants it comes with.
Did you find the inspiration you were looking for? Then, browse through our superfoods to widen your knowledge about healthy nutrition.
---
Additional Reading
---
Photo Credit: Unsplash