A Middle Eastern mezze ("appetizer") table is extraordinarily colorful and mouth-watering. This spread of beautiful salads, often items more like what would be called "dips" in the United States, is a feast for the eyes as well as for the taste buds. The bonus is that the rich and varied colors of the mezze proclaim great health!
A favorite way to make Middle Eastern salads is to use a single base vegetable, richly seasoned. That's what makes the mezze table so colorful and delicious, a veggie kaleidoscope with beets, carrots, peppers, bean dishes, spinach, eggplant, tomatoes, hummus, creamy labneh (Middle Eastern yogurt), pickles, olives and so much more.
These inKin Top-5 amazing healthy Middle Eastern recipes are classics.
So why not create them at home?
1. MOROCCAN BEET SALAD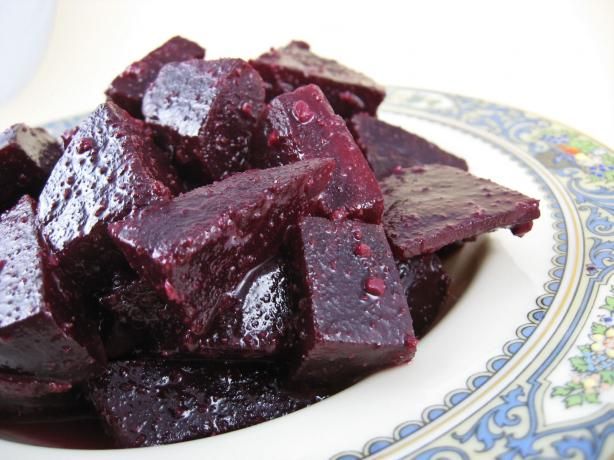 Photo Credit: Pinterest

Beets are one of those veggies that people either love or they hate. It's hard for a beet-lover to imagine that anyone could hate this sweet, versatile, colorful addition to a meal. Surely it's because that person has never enjoyed beets prepared in the Moroccan way!
Ingredients
Beets, 6 large
Red onion, 1/4 large (3 oz.)
Lemon, 2 lemons, juiced (about 4 TB)
Extra virgin olive oil, 6 TB
Salt, 2 tsp. (to taste)
Cumin, 2 tsp.
Szeged Hot Paprika, 1-2 tsp. (to taste)
Cilantro, 1/4-1/2 cup chopped
Instructions
Simmer the whole, unpeeled beets in water to cover until you can pierce easily with a fork.
Cool beets in their cooking water, and rub off the skins.
Julienne the beets and set aside.
Slice the red onion into 1"-2" strips and add to the Julienne beets.
Chop the cilantro and add to the beets and onion.
Add olive oil, lemon, and seasonings to the veggies, and fold all together gently.
Serve as a first course with several other salads or as a colorful side to an entrée, and enjoy!
If you love this salad, try a Beet Moutabel (a Syrian style dip the consistency of hummus) or a simple Beet Soup (a puree of cooked beets, onion, salt and hot paprika).
2. FUL MEDAMES (Fava Bean Salad)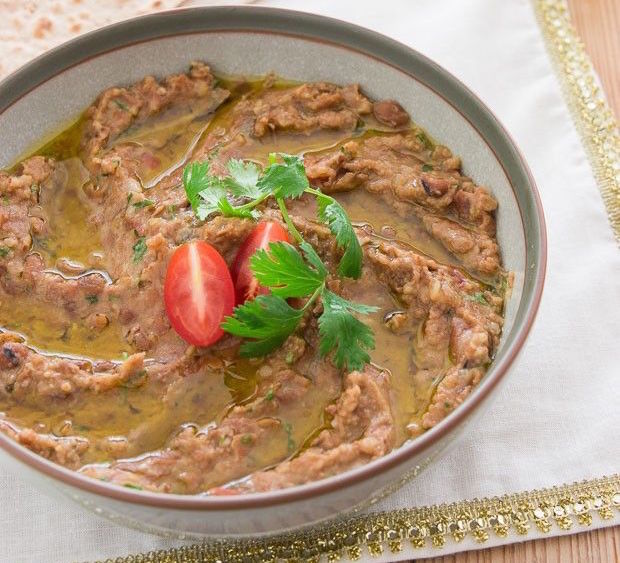 Photo Credit: Pinterest
Ingredients
Fava beans, 1 lb. dried (small) beans
Chickpeas, 1/2 lb. dried
Plum Tomatoes, 6 petite diced
Garlic, 1 TB minced
Extra virgin olive oil, 1/2 cup
Lemons, juice of 2 (1/4-1/2 cup – I use closer to 1/2 cup)
Cilantro, 1/2 bunch, chopped
Salt, 1 TB (scant)
Cumin, 1-1/2 TB
Red pepper, crushed, 4 tsp. (scant)
Instructions
Rinse the fava beans and chickpeas thoroughly, place them in a pot, add fresh water until well-covered, bring to a boil, reduce the heat and simmer until cooked (at least a couple of hours).
While the beans are simmering, prepare the sauce. Petite dice the tomatoes, and add them to a pot along with the olive oil, garlic, extra virgin olive oil, seasonings and lemon juice. Let cook until the tomatoes release their liquid. Turn off the heat.
Chop the cilantro and add to the sauce.
When fava beans/chickpeas are tender, turn off heat, and drain chickpeas in a colander. Return to the pot or place in a bowl, and stir in sauce.
Ful is an Egyptian favorite for breakfast as well, served with extra chopped garlic, pickles, and bread.
3. MUHAMMARA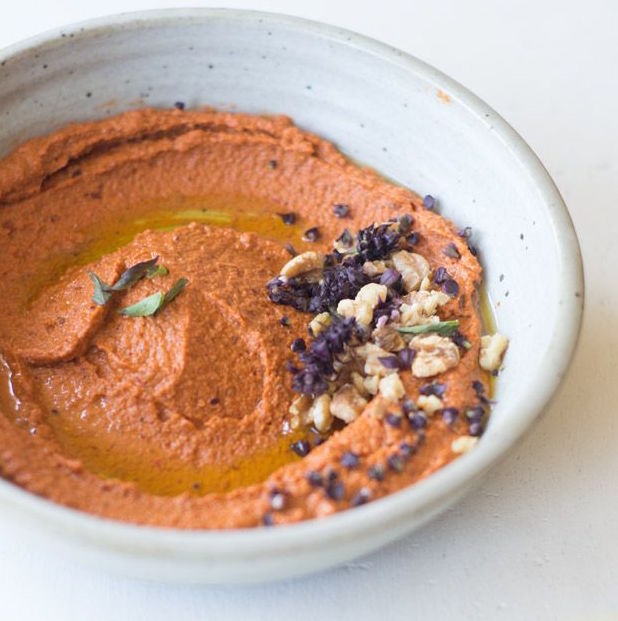 Photo Credit: Pinterest
Muhammara originated from Syria but is a favorite throughout the Middle East and beyond.
Ingredients
Walnuts, 2 cups
Pomegranate molasses, 4 TB
Red Bell Peppers, 4 large, roasted
Garlic, 2 cloves
Extra virgin olive oil, 1/2 cup
Pita crumbs, dried/toasted, 1/2 cup
Cumin, 2 tsp.
Crushed red pepper, 2 tsp.
Tomato paste, 2 TB
Salt, 1 tsp.
Instructions
Roast the peppers under a broiler. When done, cool and remove the peels
Place peppers in the bowl of a food processor along with all the other ingredients. Process until smooth.
Arrange on a plate and garnish with a bit of extra pomegranate molasses and whole walnuts.
4. MOROCCAN CARROT SALAD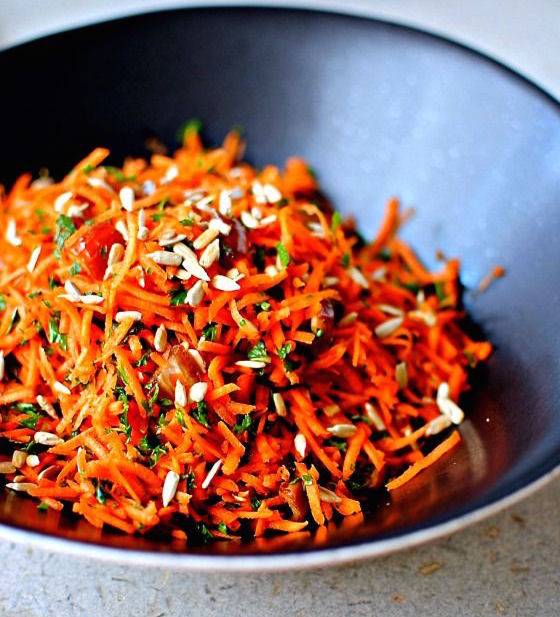 Photo Credit: Pinterest
This popular salad is a familiar part of almost any mezze table.
Ingredients
Carrots, 1 lb.
Garlic, 1 clove, minced
Lemon, 1 juiced (2 TB)
Extra virgin olive oil, 2 TB
Sea salt, 1 tsp.
Cumin, 2 tsp.
Szeged hot paprika, 1 tsp.
Cilantro, 1 oz., chopped
Instructions
Scrub carrots and slice on the bias.
Bring to a boil enough water to cover carrots. When boiling, add carrots, reduce heat and cook carrots until tender. Remove carrots from heat, and add lots of ice to the water to flash cool the carrots.
Add remaining ingredients, and stir together gently.
This salad tastes pleasantly spicy with a distinct lemony flavor.
5. TABBOULEH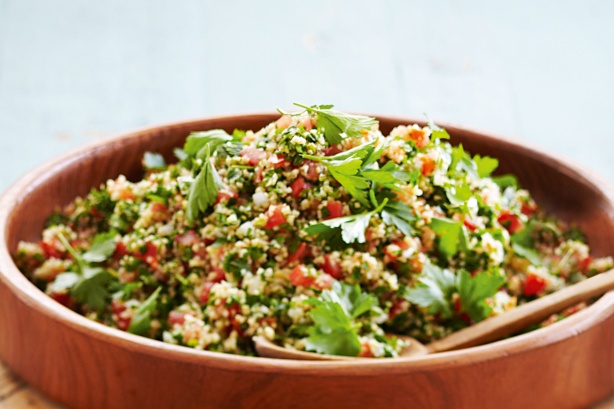 Photo Credit: Taste.com.au
Lots of parsley with a sprinkling of cracked wheat makes up this nutrient-rich, lemony Lebanese salad.
Ingredients
Cracked wheat, medium (#2), 1/2 cup soaked, squeezed
Garlic, 1/2 clove, minced
Green onions, 2-3
Lemon, 1-2 lemons, juiced (to taste)
Parsley, 1-2 bunches, minced (8-12 oz.)
Sea salt, 1 tsp, rounded
Cumin, 2 tsp
Szeged hot paprika, pinch
Mint, ½ cup +, minced
Plum tomatoes, 2-3 petite diced
Extra virgin olive oil, 1/2 cup
Instructions
The most difficult part of making this salad is preparing the parsley. Untie the bunches of parsley, and place in water to cover. Agitate to clean, trying to keep the parsley organized as bunches, and remove from water. Drain the sink and rinse again. If the parsley is still sandy, repeat until no grit remains. Gather parsley together, shake dry, and remove to a clean, white towel to dry.
Soak the cracked wheat for 20 minutes, squeeze out water and set aside.
When parsley is dry, chop like this: work with small bunches of parsley. Gather a bunch, stems together. Cut off the tips of the stems to even out and discard. With a sharp knife, cut across the stems repeatedly, keeping cuts as close together as possible. Keep rolling the bunch between cuts to keep it tight, continuing to cut until you complete the entire bunch. Chop over the bunch a couple more times until uniformly minced. Repeat with remaining bunches.
Mince the mint and green onions
Petite dice the tomatoes.
Mix the mint and parsley in a bowl with all other ingredients, soaked and squeezed cracked wheat, tomatoes, mint, green onions, lemon juice, seasonings and extra virgin olive oil. Adjust seasonings to taste. This salad is lemony and very moist.
Now stand back and feast your eyes on this beautiful array of salads, then startle your taste buds with the wonderful flavors. Dream up more to add to your mezze table!
Photo Credit: Bigstockphoto