Yes, it's a well-known fact, we ALL love avo! Not only are these magical green fruits delicious - chocolate avocado cookies, anyone?
But they're healthy too! Avocados are packed with monounsaturated fat, which improves cholesterol levels and decreases the risk of heart disease, as well as vitamin E, a great antioxidant, and vitamin B6, which promotes healthy skin.
So if you're like us and dream of eating avo all day, 'err day, then here are 5 of our favorite healthy avocado recipes.
1. Open Ricotta Avocado Toast with Poached Egg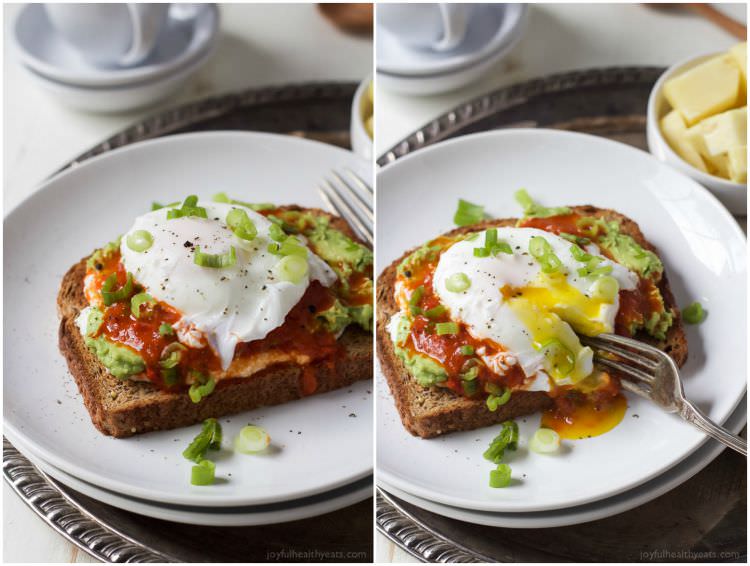 Photo Credit: Notey
Ingredients
1 slice of whole wheat bread, toasted
1 teaspoon white vinegar
1 eggs
1 tablespoon ricotta cheese
1/2 avocado, mashed
1 tablespoon harissa
Directions
Fill a large pan with water and bring to boil.
Add the white vinegar then crack the egg and add to boiling water and cover pan with lid and boil for 4-5 minutes.
Toast bread until slightly browned.
Add ricotta and mashed avocado to toast and drizzle with harissa.
Once eggs are done, gently remove from water and place on top of assembled toast.
289 calories per serving
2. Baked Egg in Avocado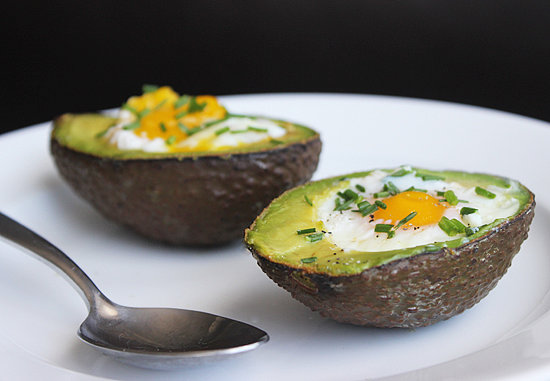 Photo Credit: Popsugar
Ingredients
½ medium avocado, pitted
1 egg
Sea salt & pepper
1 tablespoon chopped chives
Directions
Preheat oven to 425 degrees.
Scoop out a little avocado from the center to make room for the egg.
Crack eggs into a bowl then, spoon the yolk and egg white into the avocado's hole.
Place on baking dish and bake in the oven for 15 minutes.
Check that egg whites are cooked and remove from oven
Season with salt and pepper and sprinkle chives on top.
240 calories per serving
3. Cauliflower Hash Brown Egg Cups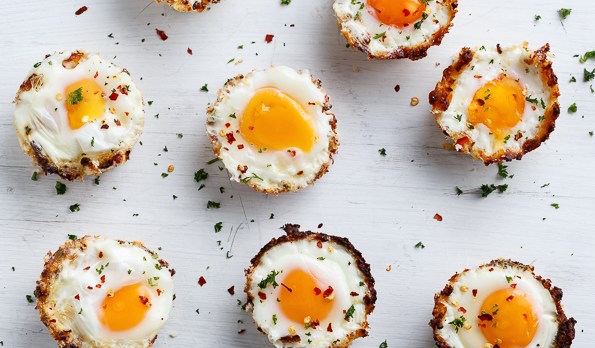 Photo Credit: Recipeshubs
Ingredients (makes 3 cups)
¼ cauliflower
1 medium egg, whisked
1 tablespoons cup Mozzarella. grated
1 tablespoons Parmesan cheese, grated
Sea salt & pepper, to taste
3 small-medium sized eggs
cooking oils pray
1 tablespoon chili flakes
Directions
Preheat oven to 350 degrees.
Cut cauliflower into florets, removing stalk and leaves.
Lightly spray muffin tin with cooking oil spray and wipe away excess with a paper towel.
Using a food processor, pulse cauliflower for about 30-50 seconds, or until a fine 'rice'.
Transfer cauliflower rice to vegetable steamer and steam until soft. Remove and allow to cool.
Wrap cauliflower in a tea towel and squeeze out liquid.
Transfer back to the bowl and add whisked egg, cheese, and seasoning.
Divide the mixture between 3 muffin holes and firmly press them fingers to create a 'nest' or cup.
Bake for 15 minutes, or until cups are golden brown.
Remove from the oven and break the eggs into each cup.
Place back in the oven and bake for another 15 minutes, or until the whites are set.
Allow them to cool for 5 minutes then slide a knife around the sides of each cup and use a fork to lift cup from muffin tin.
Garnish with red chili flakes
288 for 3 cups
4. BLT Stuffed Avocado (Paleo, Low Carb)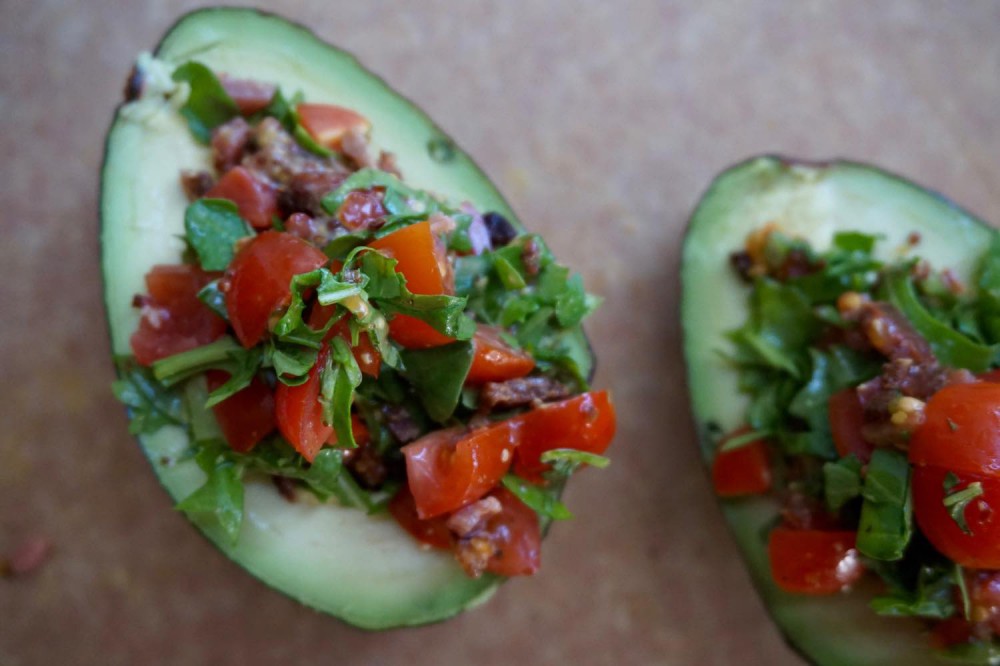 Photo Credit: Skratchlabs
Ingredients
½ medium avocado
1 slice bacon
1/4 cup cherry tomatoes (halved)
¼ cup romaine lettuce (chopped)
½ teaspoon lime juice
Salt & pepper, to taste
Directions
Place bacon onto skillet and cook over low heat until the edges start to curl. Flip and continue cooking until golden and crispy. Leave to drain on paper towel.
Scoop half of the flesh out of the avocado half and transfer to a bowl.
Mash the avocado and add cherry tomatoes, chopped lettuce, lime juice, salt, and black pepper.
Chop bacon into small squares and add them to the bowl.
Scoop the mixture back into the avocado half and serve.
230 Calories per serving
5. Avocado Quesadillas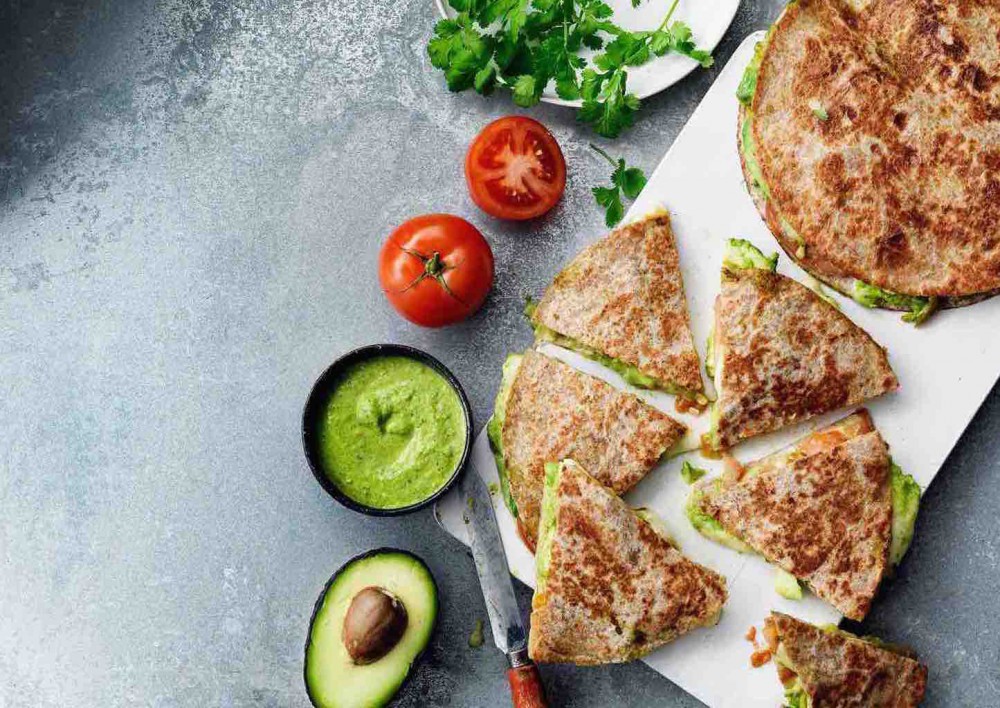 Photo Credit: Santamariaworld
Ingredients
½ avocado
1 teaspoon lemon or lime juice
Salt, to taste
1 teaspoon butter
1 tortilla
¼ cup grated mozzarella
Directions
Mash avocado with the lemon or lime juice and add salt.
Melt butter in small saucepan over low heat.
Lay the tortilla down in the saucepan and sprinkle the mozzarella on top.
Cook until cheese is melted and the bottom of the tortilla is golden brown.
Spread the avocado mixture over half the tortilla and turn off the heat.
Fold tortilla in half, pressing down slightly.
Cut into wedges and serve.
180 calories per serving
Photo Credit: Depositphotos