Misfit Vapor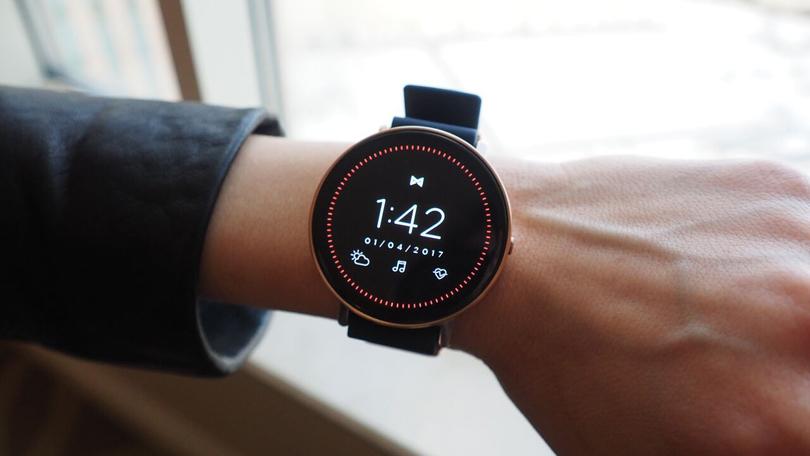 Photo Credit: PCMag
$200.00
The fashionable Vapor has only been out for a short time but is available for the Android and iOS and is easy to set up and use. The design hasn't changed much. Vapor still has an accurate built-in heart rate monitor and is water-resistant to 50 meters—but it's now swim-proof too! The watch comes in many colors, and the screen has deep, vivid blacks that make the OLED display pop. Originally, Misfit was going to have its own OS but then decided to go with Android Wear—but this was a good move. Misfit is also still very visible on Android Wear beginning with the watch face. You have the luxury of immediately beginning a workout through Google Fit or the Misfit Activity app. That's pretty cool! Another extraordinary new feature is the addition of a touch bezel which lets you scroll through the menus easily without having to touch the screen.
On the fitness side of things, there are two features that have changed: sleep tracking isn't available anymore so that the watch's battery can last the entire day—it could even last two days; Misfit's opted to go with a connected GPS rather than a built-in GPS. Granted, this is a drawback, but the good thing is you can still track your runs and view time, routes, speed, calories burned and distance. Besides, where are you going to find a smartwatch with GPS for this price? You'll get all the features that other Misfit devices have plus Google Assistant, third-party fitness apps, good fitness tracking, the ability to listen to and store songs and much more. Overall, we think it's a beautiful, handy smartwatch.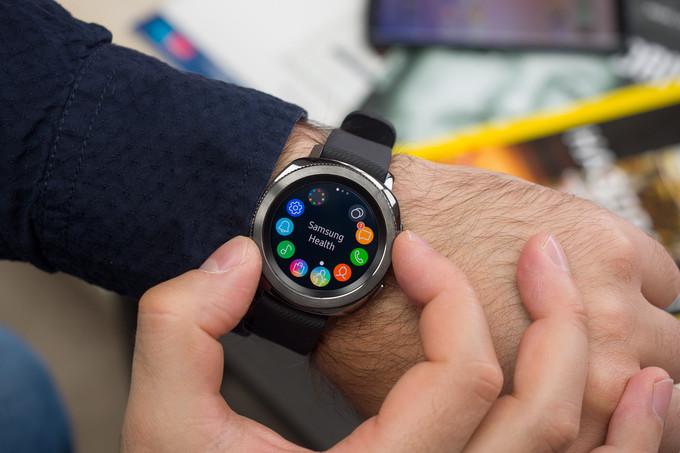 $249.00
While the Sport isn't as stylish as its predecessor, the S3, most would agree that it's less bulky and lighter—even the bands are narrower—and the rotating bezel makes it simple to use. You'll also like the bright, sharp, OLED screen and love the fact that this smartwatch is water resistant to 50 meters so you can track your swim with Speedo On app; it'll log things like heart rate, stroke type, calories burned, pace and lap time. It has a heart rate sensor on the back that sticks out a bit so that it locks on to your skin for a more accurate reading. Samsung is the only wearable company out there right now that offers the feature of offline Spotify music playback. You do have to go online to download your tunes and you can store roughly 500 songs—wow! One feature that should be on this watch is the ability to use Samsung Pay with magnetic strip readers; sadly, this will only work with NFC readers. It was a big feature that was supposed to be included, and we're hoping this will be rectified in an update later on.
You can do lots of things with this watch, but Samsung concentrated a great deal on fitness and health and incorporated much of it into the Samsung Health app; there are many other apps to use too like MyFitnessPal, Endomondo and MapMyFitness; unfortunately, Strava still isn't an independent app, but hopefully that will change in the future. The Sport will consistently automatically track activities like walking though it doesn't track interval runs very well, but the built-in GPS is very accurate. It successfully constantly monitors steps, burned calories, heart rate and climbed floors—all while giving you encouraging messages. A really cool feature is you can now track your calories from your watch. There are 60 workouts in the new workout mode that can be followed on the Sport and you have the option to pause or skip a workout as well.
This device is compatible with iOS and Android phones and you'll love the battery life. The battery lasts 3-4 days; of course, that goes down to 14 hours with constant GPS use. But not having to charge the battery each day is great!
These trackers might be a bit pricey, but your loved one is worth it, right? In our final blog, we'll explore Fitbit Ionic and the Fitbit Flyer. Have a Merry Christmas!
Additional reading:
5 Fantastic New Fitness Trackers of 2017. Part 1 - Nokia Steel
5 Fantastic New Fitness Trackers of 2017. Part-3 - Fitbit Ionic and Fitbit Flyer
Photo Credit: Misfit