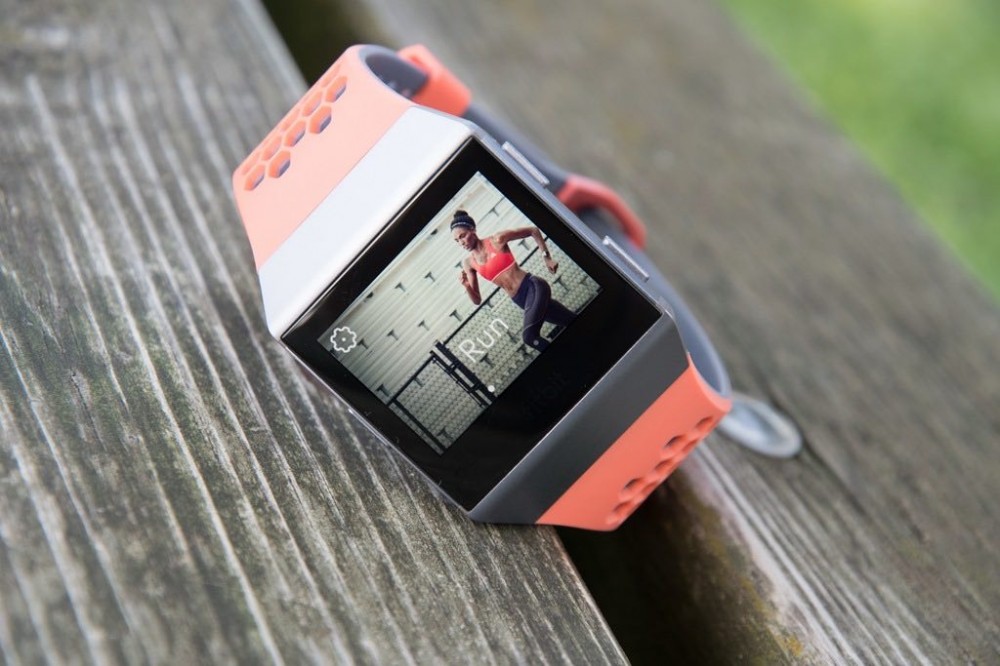 Photo Credit: DCrainmaker
$299.00
Fitbit is well-known for developing fitness trackers, but this year it unveiled something new: a smartwatch. Unlike other smartwatches, you'll be amazed at how stylish, light and comfy the Ionic is on your wrist. It's so comfortable you can wear it the entire day! It's available in three colors and has three raised buttons which, in addition to its touchscreen, make the watch easy to use. The LCD color display is larger than the Fitbit Blaze's screen. You'll also notice the Ionic's screen is bright and easy-to-read which is great when you're out for a jog on bright, sunny days.
Fitbit has kept all the original elements and added some superb new features too. For starters, the Fitbit Coach now has a customized, viewable workout feature that lets you follow each workout step-by-step. Fitbit says audio workouts for the Ionic will be coming soon which is a big plus! After your workout, you can give feedback to the Fitbit Coach, and it decides if your next workout requires a harder or easier routine. How cool is that? You can sync the Ionic to Pandora and upload 300 of your favorite tunes for all your fitness routines. Another awesome feature is one geared toward runners—if you stop to cross a street, the watch will pause your run automatically then pick up tracking once you start running again. Now that's neat! The Ionic is also equipped with a built-in GPS; the connection is a little slow at times, but you'll never lose it. The heart rate monitor on this watch is faster and quite accurate due to sensors sitting closer to your skin and brand new algorithms. One phenomenal element is if you're a diabetic the device can be linked to a Dexcom G5 Mobile sensor so you can keep track of your glucose levels! That's outstanding and could make the Ionic essential for diabetics.
The Fitbit app operates the same way as on other Fitbit devices and works well with Windows Phone, Android and iOS. There are some great new features though. You can pick through many watch faces, but you can't personalize them—yet; we're hoping that'll be a future update. Another new element is the Ionic App Gallery which consists of third-party apps and Fitbit services like the new Fitbit Pay which works something like Android Pay or Apple Pay.
The battery life depends on what you do. If you continuously use the GPS you'll get roughly 10 hours before needing to charge it; otherwise the battery's good for 4-5 days…that's longer than some other smartwatches!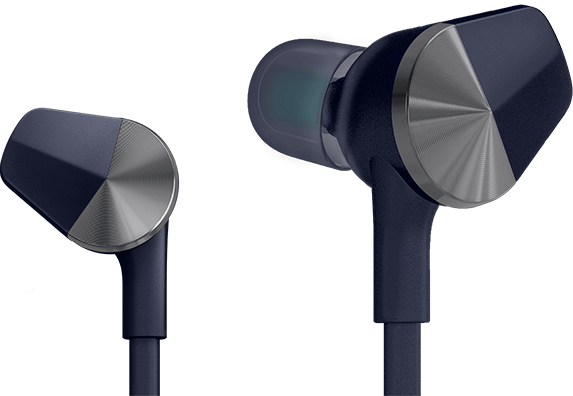 $130.00
These lightweight, fashionable, compact wireless headphones are a great way to enjoy music on the Fitbit Ionic smartwatch. One of the big problems with headphones is fit—they usually come with only two kinds of ear tips, and neither one fits perfectly. Well, Fitbit fixed this problem nicely with a 5-pack of different sized ear tips; not only that but they make sure those tips are secure in your ear by providing a good supply of fins and wings. Everyone should find a size that works best for them, and the ideal pairing is comfy for long use and gives you a good seal that'll block most noise. The Flyer is sweat-proof, so you can use them during high-intensity exercise and still wear them comfortably. Now that's something to smile about! A small attached remote has a "select" button to use Google Assistant or Siri and volume buttons that not only allow you to modify the volume but answer calls too. Wow! Fitbit takes sound quality seriously, and the Flyer lives up to their word providing powerful bass and good sound—there's even a Power Boost feature which will enhance the sound.
As for battery life, you'll find that it lasts about 6 hours which is really good. There are lights to let you know what the level is: a white light means full battery, a red light is low battery level, and a blinking red light means the battery is extremely low and you'll also receive a voice notification to this effect. You can even extend the battery life by one hour if you charge it for 15 minutes!
So there you have it, the last of the five new fitness tracker devices that were released in 2017. Which one will you choose—the Nokia Steel, Misfit Vapor, Samsung Gear Sport or Fitbit Ionic and the awesome addition of the Fitbit Flyer? Whichever one you select, it's sure to be a perfect match for you and help maintain a healthy, fit you through the new year!
Additional reading:
5 Fantastic New Fitness Trackers of 2017. Part 1 Nokia Steel
5 Fantastic New Fitness Trackers of 2017. Part-3 - Fitbit Ionic and Fitbit Flyer