Halloween is almost here! You're throwing your usual All Hallow's Eve Party — yet, this year you want something a bit different from Tombstone cookies, Zombie Fingers, and candied apples. Come over to the "healthy side" and make these tasty Halloween snacks!
1. Witch's Brew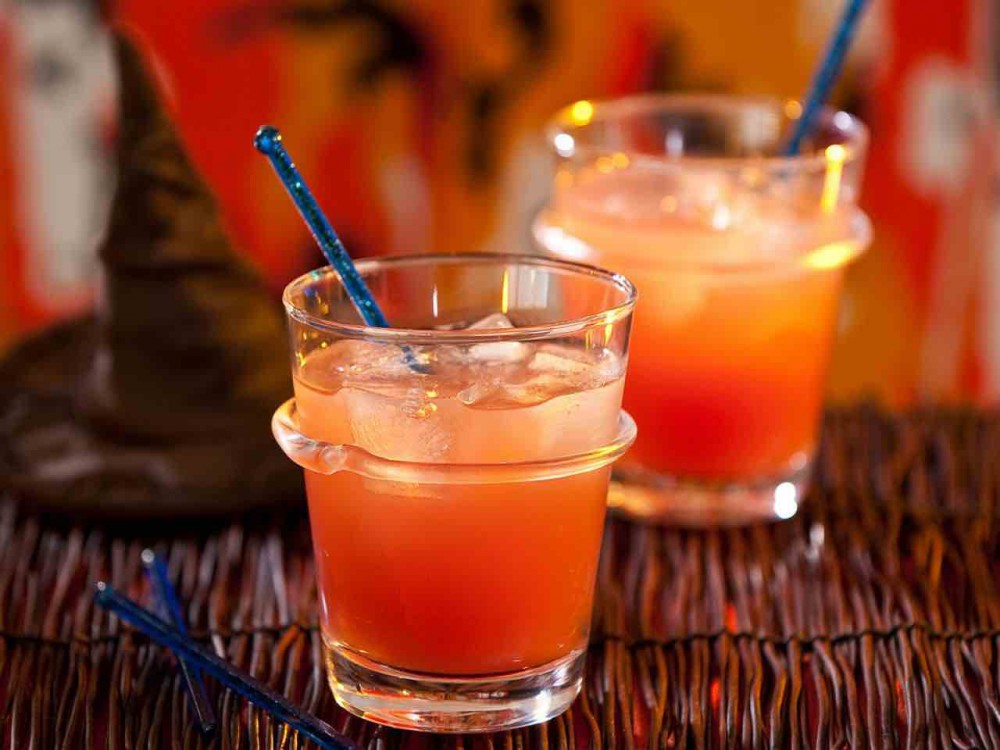 Photo Credit: HGTV.com
To make this a kid-friendly brew, omit the apple brandy. This will serve 13 witches, 1 cup per witch.
Ingredients:
1 tbsp. of lemon juice, fresh
2 tbsp. of brown sugar, light
5 3-in. cinnamon sticks, cut in half
⅛ of ground nutmeg
Strips of lemon rind from 1 lemon
1 gal. of apple cider
20 cloves, whole
⅛ of ground allspice
½ c. of apple brandy
More cinnamon sticks for garnish (optional)
Directions:
In a large Dutch oven, combine the first 8 ingredients and bring it all to boil. Turn the heat to simmer and let the mixture bubble gently for 20 minutes.
Over a large bowl, carefully pour the concoction through a strainer so that the solid pieces remain in the strainer, and the liquid is in the bowl. Throw out the solid pieces. Mix the brandy into the liquid then pour back into the Dutch oven and set on a low-heat burner if you wish to serve the brew warm. Serve this to your guests in mugs and decorate each mug with a cinnamon (broom) stick.
2. Candy Corn Chicken Quesadillas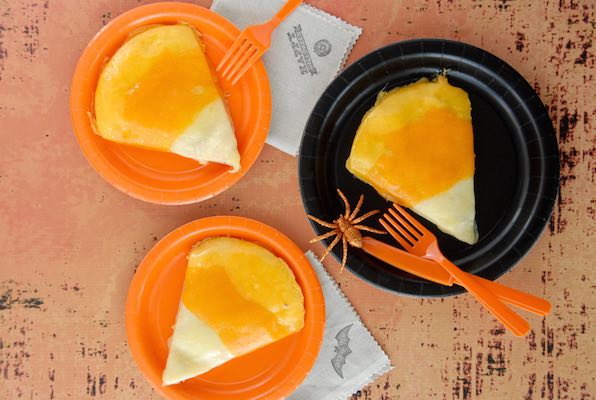 Photo Credit: www.yummly.com
You can relax—not one piece of candy corn is hurt in this flavorful recipe. It's just a creative version of the Mexican favorite! Serves 6 but can be easily doubled for a party.
Ingredients:
2 c. of diced roasted chicken
3 tbsp. of sour cream
1 pkg. of sliced low-fat Sharp Cheddar cheese, dark orange
1 pkg. of sliced low-fat Monterey Jack cheese
1 sm. block of Tillamook cheese, light orange
12 whole-wheat flour tortillas
3 tbsp. of salsa
1½ tbsp. of chopped green chilies
Salt & pepper for seasoning
Directions:
Your oven should be preheated to 350˚ F.
Slice each tortilla into the shape of a triangle but leave the bottom round and untrimmed. Cut two at a time so that they'll be perfectly matched and keep them together. When you're finished, put all the tortillas in a Ziploc bag to keep them from getting dried out and set the bag aside for now.
Pour the sour cream and salsa into a small bowl and mix well.
Pour the sour cream/salsa mixture, chicken and green chilies in a medium-sized bowl; season with salt and pepper then stir until entirely combined.
Grab the bag of tortillas and take out the paired tortillas; put one side of each pair on a large, non-stick baking sheet. Ladle ⅓ c. of the chicken mix on each tortilla and spread the mix evenly. Top each chicken mix tortilla with its matching tortilla to create 6 quesadillas.
With a sharp knife or kitchen scissors, cut the sliced cheeses to go on top of each tortilla to make a candy corn pattern: Monterey (white) cheese on the tips, Cheddar (dark orange) cheese in the centers which is the biggest section, and Tillamook (light orange) cheese on the top sections. Make sure all tortillas are completely covered with the cheeses.
Put the baking sheet in the preheated oven and bake for 4-5 minutes or just until the cheeses have completely melted. Don't overbake—you don't want the cheeses runny and thin! Take the quesadillas out of the oven and let them sit for 1-2 minutes. You may trim off any excess cheese if you wish before serving.
3. Witch's Brooms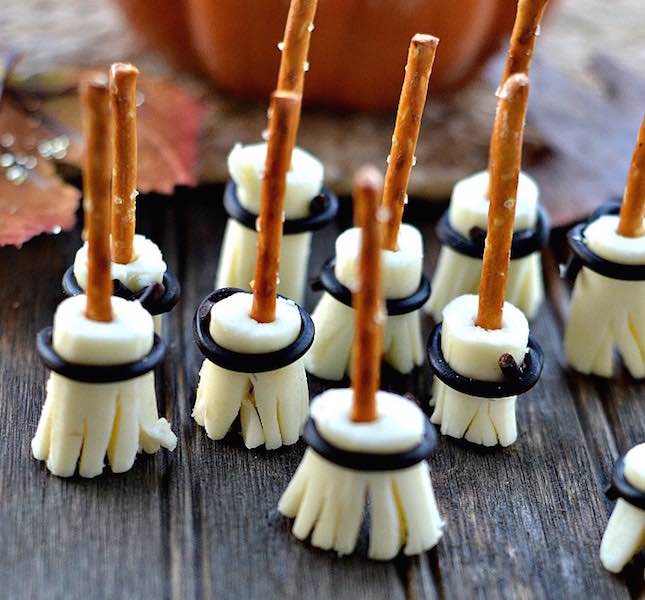 Photo Credit: www.lauraslittlehousetips.com
This is simple to make, and your sorceresses and wizards will love this healthy snack! This serves 12 witches and warlocks.
Ingredients:
12 slices of your favorite white cheese
12 thin strips of fresh chives
12 low-sodium pretzel sticks
Directions:
Begin by folding each slice of cheese. Using kitchen scissors, create the broom fringes by cutting the cheese ⅔ of the way up the folded slices.
Now, gently wrap each slice of fringed cheese around each pretzel stick; fringes should be facing down.
Lastly, tie each chive strip around each piece of cheese to keep it attached to the pretzel stick.
4. Monster Eyes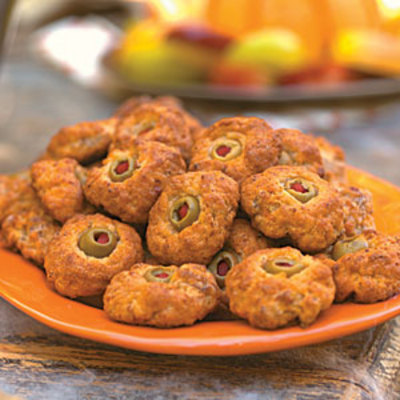 Photo Credit: www.health.com
Here's looking at you! This delicious recipe will be a big hit at your party and makes 54 eyes.
Ingredients:
1 lb. of ground chicken sausage, mild or hot
3 c. of all-purpose baking mix
54 pimento-stuffed olives, small
1 10 oz. block of Extra Sharp Cheddar cheese, shredded
Directions:
Preheat your oven to 400˚ F. Lightly spray several baking sheets with cooking spray and set aside.
Put in a large bowl the sausage, cheese and baking mix and, using a wooden spoon, stir until ingredients are well blended.
Mold the sausage mixture into balls that are 1-inch round and put each one on a baking sheet. Next, 1 olive should be pressed deep into every ball. If some balls need to be reshaped, roll again with the palms of your hands.
Bake for 22 minutes at 400˚ F or until golden brown. Serve up with a cup of chili and give your monsters a fright!
5. Snack-O-Lantern Fruit Cups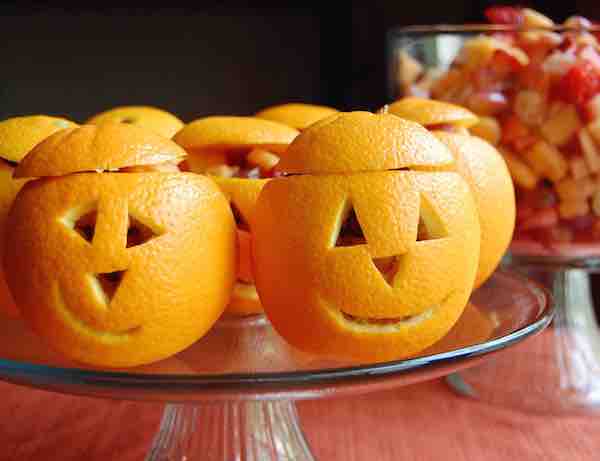 Photo Credit: www.seededatthetable.com
You can dig out and carve these one day before serving, just refrigerate to preserve them. Don't put the fruit in until 2 hours before you're going to serve them.
Ingredients:
12 navel oranges
Assortment of fruit (apples, strawberries, grapefruit, etc.)
Directions:
Cut off the tops of all the navel oranges and, using a knife, cut out the insides of the oranges; remove the orange pieces and save for later.
Carve a scary or cute pumpkin face into one side of every orange. Use paper towels to absorb any leftover juice that's inside the oranges.
Chop up the orange pieces and the assorted fruit you've chosen then fill up each "cup". Replace the lid on each orange and place them on a decorative serving plate.
6. Mummies & Hairy Creature Things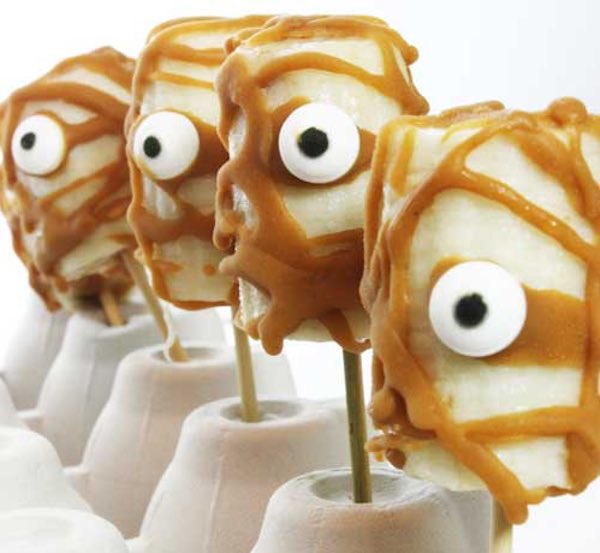 Photo Credit: www.lexieskitchen.com
Here's a treat that's a bit sweet but is still staying on the healthy side and will satisfy 12-15 goblins.
Ingredients:
Lollipop stick (available at your local craft store)
3 tbsp. of food grade cocoa butter, gently melted
3 bananas, large
Candy eyes (found in the cake decorating aisle at your local craft store)
1 8 oz. bag of shredded coconut, unsweetened (toasted if desired)
Red and yellow food coloring
Directions:
Line a baking sheet with parchment paper.
Each banana needs to be peeled and cut into 1½-inch chunks. Next, skewer each banana with a lollipop stick and set on the baking sheet. Place the baking sheet in the freezer for several hours.
In a small bowl, blend the powdered coconut sugar with the melted cocoa butter. This is your candy coating.
Remove the bananas from the freezer and spoon a small drop of the candy coating on each banana then stick on a candied eye—or two or three! Now, using a spoon and staying away from the eye, trickle the candy coating in every direction on each banana.
A great stand for the finished mummies is a flipped upside down egg carton that has small holes poked in the bottom (now the top). Use your imagination and make the stand look like a graveyard or coffin.
To make the Hairy Creature Things:
In another small bowl, mix a drop of red and several drops of yellow food coloring to create an orange color; throw in the unsweetened coconut and mix well until all of the coconut is orange.
Stick on the eyes as you did for the mummies.
Since the candy coating hardens very quickly on the bananas, you need to work on each banana separately and apply the candy coating and coconut in stages. Dribble the coating on the front of the frozen banana then immediately scatter the orange coconut on the coating; repeat this step for the back and top of the banana. Create as many "Things" as you'd like and stick them in the stand as you finish each one.
These savory treats are sure to please all of your hungry vampires, ghosts, and werewolves. Let the spooky fun and eating begin — Happy Halloween!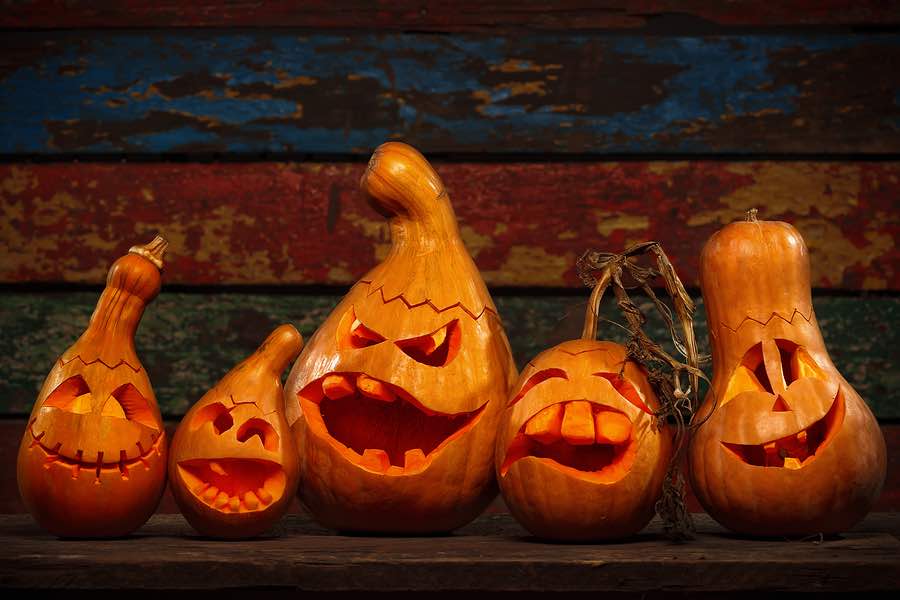 Photo Credit: Bigstock