Super For Accuracy: Misfit Shine 2

Photo Credit: Misfit
Like its predecessor, the $99.99 Misfit Shine 2 still has the 6-month battery life and basically the same design, but now you can get it in black or rose gold, and the CPU is better with new colored lights to make it easier to read notifications and time during the day. Another great enhancement is that you can wear this tracker as a clip-on on your belt or as a wristband.
While vibration is a new feature to the "call and message" notifications function, it's not very powerful and, unfortunately, there isn't any way to alter the vibration strength level—not yet anyway. You may end up missing some essential calls. If receiving notifications is really important to you, your best bet is to go with Garmin Vivosmart HR. However, this vibration can also be used as a get off your butt and move alert called "Misfit Move". Just like the Shine, Misfit Shine 2's main task is still to monitor sleep and activity. Nothing is new for the sleep monitor feature or the Misfit Shine app. But this tracker can detect and add to the app nine kinds of exercises: running, soccer, cycling, dancing, walking, tennis, basketball, yoga and even swimming which means it's waterproof. Your daily activity level is recorded as points or steps; then they're utilized to figure out the distance and calories. If you were to put the Misfit Shine 2 up against a running watch with GPS, you'd find that this tracker is extremely accurate with only a minuscule difference in readings. Now that's something to smile about!
From the app store on your smartphone, installing the Link app allows you to turn your Misfit Shine 2 into a remote control for your smart home gadgets. Even if you can only use one at a time, it's still a neat feature! There's a huge collection of third-party apps which is the key feature of the Shine 2, including inKin app. For instance, you can send your sleep info to Evernote and then type remarks or view daily logs.
Great For Runners: Microsoft Band 2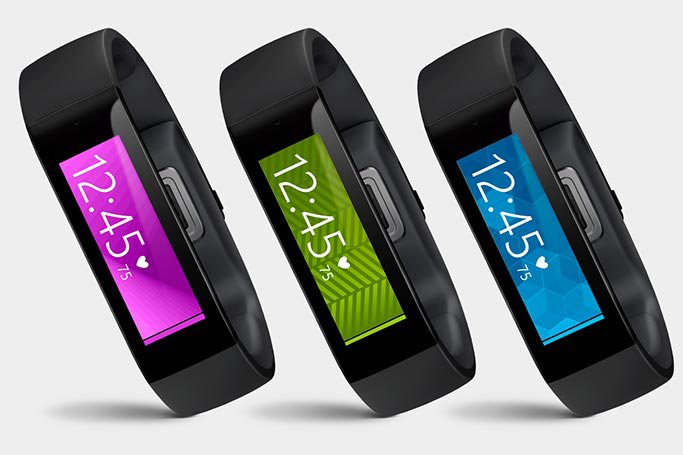 Photo Credit: WinCentral
This $249.99 water-resistant activity tracker with a battery life of 48 hours isn't much sleeker and is actually thicker than the Microsoft Band. But the arced screen is nice as well as the multi-colored display which is easy to use and read in any situation.
The Microsoft Band 2 has a list of features a mile long including an extremely accurate step counter, GPS sports tracking, notifications, sleep monitoring, continuous heart rate monitor and it's a golf watch. The step counter is consistently accurate especially when you tell the tracker what arm you have it on and the position. It's still loaded with guided workouts which are a Band built-in—or you can create your own workout and link it to the app. The heart monitor is usually correct for resting rates. The sleep monitor tracks sleep duration, the number of times you awoke, how much restful sleep you got, the number of burned calories during sleep and your heart rate during sleep. However, this tracker isn't very comfy due to its bulkiness so if a sleep monitor is critical to you the perhaps a Jawbone UP3 would better suit you. But if you're a runner you'll find this is the best choice of trackers for you with its plethora of on-the-go metrics and awesome preciseness. In addition, the display is excellent, and you can easily read about your performance while you're running. Oh, and the new split time buzz alerts are a pretty cool feature too! After your run, the metrics data is loaded into the Health app; then the GPS will map out a route allowing you to see exactly where you ran. The Microsoft Band 2 is a running watch/activity tracker that puts its competitors to shame. That's something to brag about!
Microsoft Band 2 is also outstanding when it comes to the Health app. There's a desktop version that, relying on the Band 2's recordings, provides a really impressive amount of information. Microsoft Health wants to make this your place to go for not only fitness but health details too by collecting data from Microsoft phones and trackers as well as third-party apps like MapMyFitness, RunKeeper, MyFitnessPal, and Strava. While using the Health app you can view daily, weekly, or monthly trends that are determined by your data, look at your GPS routes, save personal bests and search for, customize and link workouts. What's also really neat is that you're able to match your data with other people within your activity level, age group or BMI.
Best Fitness Tracker Overall: Fitbit Blaze

Photo Credit: Fitbit
There are a few nice changes with this new fitness tracker. One is its display is now in color! That's definitely a leg up on the Surge with its black and white display. Oh, and did we mention the Blaze's display is a touchscreen? Likewise, the screen is larger which makes it easier to check out your stats. While the Blaze isn't waterproof, it's okay if you get caught in the light rain with it on. Another cool feature is you get to change bands. How cool is that?
This fitness tracker has plenty of the Surge's terrific features and at $199.99, it's $50 cheaper! However, if you're really into fitness, you'll probably be disappointed to learn that the heart rate monitor and GPS aren't made for intense training. So if you're looking for an outstanding heart rate monitor, the Fitbit Charge HR is the one to pick. If you're a novice or just searching for a tracker that'll do what an activity tracker is supposed to do, then this one is the best you can buy. The software is simple to use, and it monitors your sleep, steps, and the other usual stuff Fitbit keeps track of. Using the touchscreen, you can select an exercise, set the timer or alter your settings, look at your day's activity and alarms; you can even perform a fast FitStar workout directly from the screen! There are devoted modes to track running, weight training, cross-training and cycling sessions. An accurate and very useful feature is the automatic exercise recognition function called Smart Track. If you're the type that forgets to begin a routine on your fitness tracker first, the Blaze will automatically track and link them to the Fitbit app. It auto-tracks runs, long walks, elliptical sessions, sports, bike rides and aerobic workouts. Unlike the other Fitbit trackers, Blaze lets you play music. That's a marvelous feature to make your workouts fly by!
When you get a message, the Blaze will notify you with a buzzing sound—just like many other fitness trackers; however, this tracker lets you read them too! You can't answer them, but if you're in the middle of a workout, all you'll want to do is read it anyway. As for the Fitbit app, it remains the best around with its GPS info from outside activity, social challenges, a food log and much more.
Good Choice For Athletes: Garmin Fenix 3

Photo Credit: Gizmodo
At $499.99, this is more a high-end multi-sport watch than a fitness tracker. It gives you improved GPS tracking for cycling, hiking, swimming, climbing—and even skiing and snowboarding! You could even say this tracker has a brain since it analyzes your runs as you're running; maps can be loaded on it to help you journey the trails, or you can install third-party apps on it to increase its capability. If you're swimming, it not only counts your strokes but knows which stroke you're doing at that moment. Astonishing! But don't be misled, this is a fitness tracker too. The company merely copied the "brainpower" of the Vivofit and placed it into the Fenix 3 with the theory that it'll assist you in charting how much rest you're actually getting between your workouts. The Fenix 3 will track your burned calories, sleep, and steps and will show your smartphone notifications.
You can gain access to the Garmin Connect mobile app via your Android or iOS phone. This app is one of the best, easy to use and has a terrific layout. Your workouts are listed in chronological order. Using the watch's built-in compass and app, you can arrange workouts ahead of time. When you're ready to go for that run, the app will guide you along the trail. There's even a web version of Garmin Connect where you can do everything from challenging other Garmin users to planning running paths to earning badges.
The battery lasts about 20 hours before it needs charging. But if you're in UltraTrac Mode, you can use the device for almost 50 hours. Just be aware that in this mode your GPS won't update as much.
Superb Clip-on Fitness Tracker: Jawbone UP Move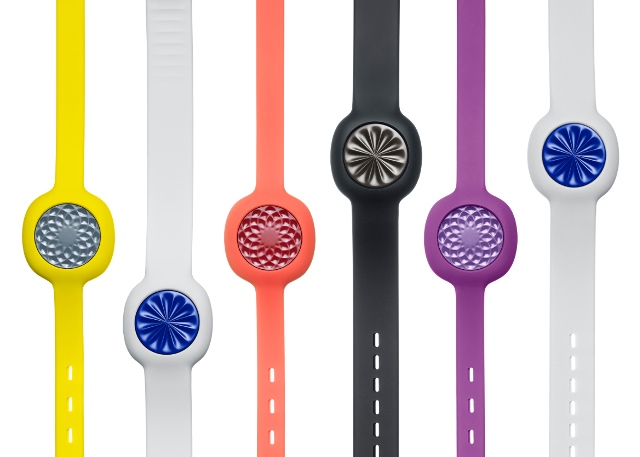 Photo Credit: PCMag
If you don't like the idea of wearing a fitness tracker on your wrist, then this one is made for you! Although this $49.99 fitness tracker with a 6-month battery life may look a bit cheap, it'll definitely put some flare into your wardrobe with its brightly colored clips and front star pattern. Like the Misfit Shine, the Jawbone UP Move doesn't have any display but rather an LED circle that displays your progress. Plus, there's an icon designated for activity or sleep.
The Jawbone UP Move has three modes which can be accessed either by picking a mode via the Jawbone app or by a combo of presses and taps on the button; yet it can be a bit confusing to remember which one is which. The first mode is activity tracking; this is a default mode that'll track the distance you walked, time active, steps, resting time and burned calories. This device is pretty accurate in recording daily activity, calories burned and steps in the app; you can view extra details on your daily steps and calories via the app as well. However, if you're a fitness buff, you should know that this gadget tracks the recorded activities only as burned calories; no other metrics are tracked so the Move won't have the data you'd be looking for. The stopwatch is the second mode. Jawbone has a large collection of sports to log, from Zumba and football to cycling and cross-training. If you forget to enter into the stopwatch mode, no worries, you can go into the app later and name the highlighted activity. The last mode is sleep monitoring but, unlike some other trackers, you have to manually select this mode for it to track your sleep. Also, to use this mode, you may need to purchase the strap which is an extra $14.99. In the app, your light sleep, deep sleep and awake times are displayed in graph form. Plenty of sleep trackers tend to miss the restless periods, but the Move was notably accurate in logging these times.
The Jawbone app has two other cool features: a bedtime prompt that tells you to go to bed and stop playing Candy Crush; the other is a getup and move reminder if you've sat for too long. In the app, there's a Goals tab that allows you to observe your progress and change your goals. Then there's the Smart Coach. This part of the Jawbone app provides you with data on your performance and sleep facts. It gives you that extra kick in the pants if you're not achieving your daily goal. The nice thing about the Jawbone app is that it's compatible with a plethora of other apps and devices such as Withings and inKin.
Most Stylish Fitness Tracker: Withings Activité Pop

Photo Credit: iDownloadBlog
The swim-proof Activité Pop is less expensive than the Activité at $149.95; even though it's made with mineral glass, a silicone strap, and PVD-coated metal, it's just as pretty and stylish. That may sound like it's made cheaply but this fitness tracker is extremely comfortable, and the rubber is stretchy, soft and textured. While it may not have that extra sparkle that the Activité has, the Pop has a few interchangeable straps and colors to select from. The Activité Pop's a little thicker but it's compact and, to a non-technical person, looks just like a normal wrist watch and, like a wristwatch, it even uses a regular coin battery that lasts about 8 months!
The function of the Pop is the same as the Activité—tracking sleep and counting steps—and still utilizes the Withings Health Mate app. But it's added some new features including automatic swim tracking and sleep monitoring. The set-up is a piece of cake; Pop uses your smartphone and connects to the app to automatically set the time—and if you go in a different time zone while you're wearing it, it automatically resets your time zone. Fantastic! You can set reminders—go for a jog, get groceries, etc.—but, unfortunately, the watch doesn't buzz at the time it's displayed on your phone which is disappointing. Another disappointment is the silent alarm. When you set an alarm using the app, it'll give off vibrations at the designated time; the kicker is you can't shut these vibrations off—it shuts off automatically after twelve vibrations! When you achieve the daily step goal, the watch celebrates by buzzing and spinning its hands. In a few seconds, the step counter will return to zero. As of right now, the Health Mate app won't let you alter the step goal which is 10,000 steps (learn how to easily reach that goal)! The Activité Pop doesn't have a GPS, and if you are a pro, you should think of it as a "helper" rather than a training gadget.
The Health Mate app will display your activity divided into days or weeks. When you're in the day mode, you can view separate activities as well as the time of day you did them. Sleep monitoring is shown in basically the same manner. In viewing a specific activity, you'll notice that the sections for elevation, weight and heart rate are empty. This is because other Withings products use the Health Mate app but the info can be retrieved via a third-party app or entered manually. Activité Pop works with iOS and Android.
Within the past few years, it seems as if every company out there has attempted to develop a fitness tracker. We hope that this blog of our comparison analysis of Withings, Fitbit, Jawbone, Misfit, Garmin, Microsoft Band devices and apps has helped relieve your befuddlement and that you discovered which brand or type of tracker is right for you.
Use our tool to compare more devices out there. Whether you want a fitness tracker for the constant heart rate monitoring, counting steps or tracking your sleep, there's bound to be an activity tracker for you!