1. Design and Display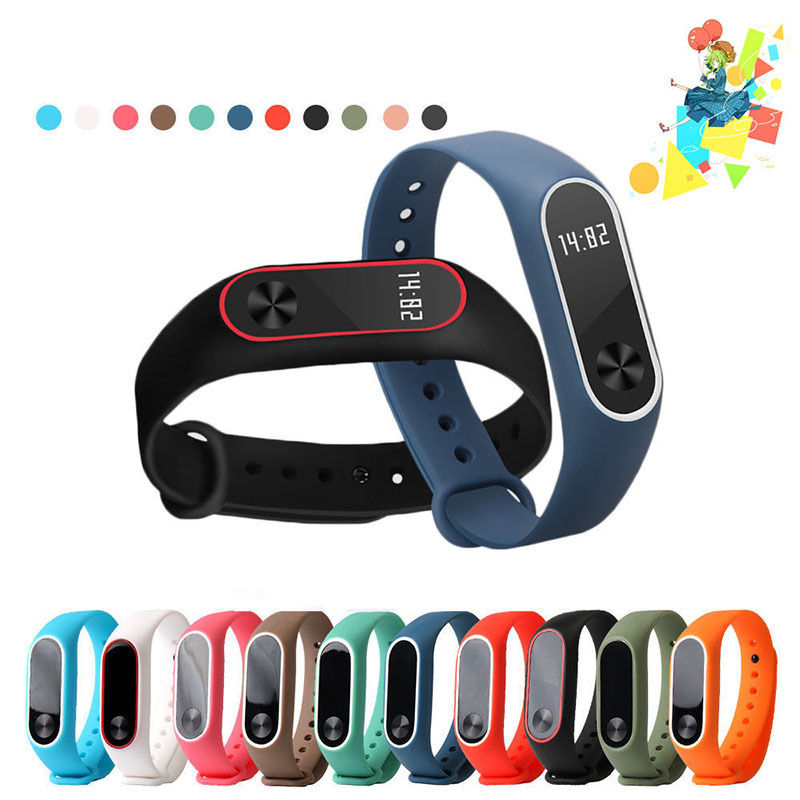 Photo Credit: Ebay
The Mi Band 2 may not be very pretty to look at, and the silicone band may look cheap, but it's a very durable piece that's light, easy to clasp and comfortable to wear. It's not only water resistant but also sweat, dust and corrosion resistant. Pretty cool! Water resistant isn't the same as waterproof so remember you can't swim while wearing this band. If you don't want a black band, that's no problem. Originally, the band was only available in orange, green and blue; but now there are more interchangeable colored bands to choose from that are sold separately. The wristbands are inexpensive too so you could buy one in each color and be fashionable every day!
The scratch and fingerprint resistant, monochrome, OLED display is small. Yet it's still larger and brighter than its predecessor, and it does a nice job of showing steps, heart rate, the time, battery life, distance and burned calories; it's all easy to read whether you're in sunlight or at night. Sadly, there isn't any touchscreen; however, there's a handy touch-sensitive button which controls the screen. Believe it or not, this button is more desirable than having to tap once or twice on the screen. This awesome touch-sensitive button is a more dependable, faster way to communicate with the easy-to-use band.
2. Tracking Features
The Xiaomi Mi Band 2 is a simple device that tracks activity, sleep and heart rate.
If you're a hardcore runner, then this gadget might not be for you because there aren't any extra features or a GPS for precise monitoring of your runs. But if you're a person that just likes to run occasionally, this entry-level fitness tracker should do the job. Compared to the Mi Band 1, this device is more accurate when it comes to counting your steps and can keep up with the accuracy of the well-known trackers, too. However, it still doesn't have a feature that counts stair climbing; so when you climb any stairs it's counted as only steps and, therefore, underestimates your calories burned.
The Mi Band 2 has a terrific feature that most fitness trackers have nowadays: an alert to let you know that you need to get up and move around; a pretty neat bonus of this alert is that you can select what times during the day it alerts you. This is marvellous if you're one for sitting too long and need to be prompted to go for a short walk in the morning and afternoon! The device also vibrates when you've passed your goal for that day. It could take the gadget several seconds to determine that you've started your activity or workout, but tracking will start automatically. How convenient! If you're okay with a tracker that doesn't have all the fancy whistles and bells, then you've found your device. Xiaomi still has some work to do with the activity tracker portion but, hopefully, new elements will be in the next upgrade.
The sleep tracker automatically knows when you fall asleep and awake as well as detects deep and light sleep. It's faithful in its monitoring, and you get a really useful view of how you normally sleep. Through the Mi Fit app (discussed later), you can view the number of minutes you weren't sleeping, specific falling asleep and waking up times and the amount of light and REM sleep you got. If you can't stand being woken up by your loudly buzzing alarm clock, the Mi Band 2 has a vibrating alarm that will gently wake you up each morning—or after a much-needed nap.
On the bottom of the band, you'll find the built-in optical heart rate monitor which has been enhanced from its sibling. While you may discover that when it tracks your resting heart rate, the beats per minute are a bit off, it does a pretty decent job of tracking your heart rate while hiking, sprinting or slowly jogging. You'll also be happy to see that you can use automatic heart rate tracking while you're sleeping and get more precise details, but keep in mind that doing this will really drain your battery.
3. Mi Fit App
Xiaomi created a new interface for their app upgrade. When the Mi Fit app was first released, it had performance and syncing problems; but those have been fixed, and now the app connects, performs and updates smoothly. Mi Fit also has a very clear layout, is attractive and simple to use.
When you open the app, you'll notice a dashboard that displays today's activity, the most up-to-date heart rate measurement, your night's sleep and your most recent series of goals you achieved. In each of these categories, you can view graphs by day, week and month. Under each graph's timeline, you'll find that it's broken down into sleep, activity and walk. For activity and walk you can survey distance, steps, burned calories and time. However, unlike other fitness apps, there isn't any way of grouping or editing this data. We think it's awesome that the app allows you to set a weight goal as well as a daily step goal.
Go into the "Behavior Tagging" menu by tapping "Play" in the app, and you'll discover a broad list of activity and workout programs; they range from driving and brushing teeth to sit-ups and table tennis. To provide a description of your day, each one will constantly track your heart rate and movement. However, not everything you do is displayed in these graphs, and if you're not running or walking, it won't be counted toward your daily goal. So we're not entirely sure how useful things like brushing your teeth or making your bed really are.
There's a neat feature that didn't exist in the previous version of Mi Fit. There are two profiles for running to choose from outdoor and treadmill (indoor), both with constant heart rate tracking. Each profile will give you a zone alert for achieving a certain heart rate and, if you're running outdoors, there's also a zone alert for achieving a certain pace. How cool is that?
While there isn't any feedback, encouragement or advice from the app, you can get all of these by sharing your progress on social media or social fitness platforms.
4. A Few Extras
Although this isn't a smartwatch that'll give you tons of notifications, the Mi Band 2 will vibrate—most of the time—to inform you when you have a phone call or text. The screen will even show an icon if you receive notifications from Mi Talk, Facebook, WhatsApp, WeChat, Mi Fit, Snapchat, and Twitter.
The Smart Unlock feature is something most fitness trackers don't have. But when your Android or iPhone is configured using the Mi Fit app, the Mi Band 2 lets you unlock your phone without the use of a fingerprint or PIN. Now that's amazing!
You'll find with this tracker that the battery life is outstanding. It lasts 20 days before needing a charge. Wow!
5. It's available on inKin Social Fitness Platform
We all know how frustrating it may be when the vast majority of your family and friends have a different fitness tracker than you. Imagine all your crowd challenging and motivating each other on the Fitbit platform and leave you out of it? Well, the super good news is that from now on you can connect your favourite Mi Band directly to inKin with no more third-party apps, and take your revenge.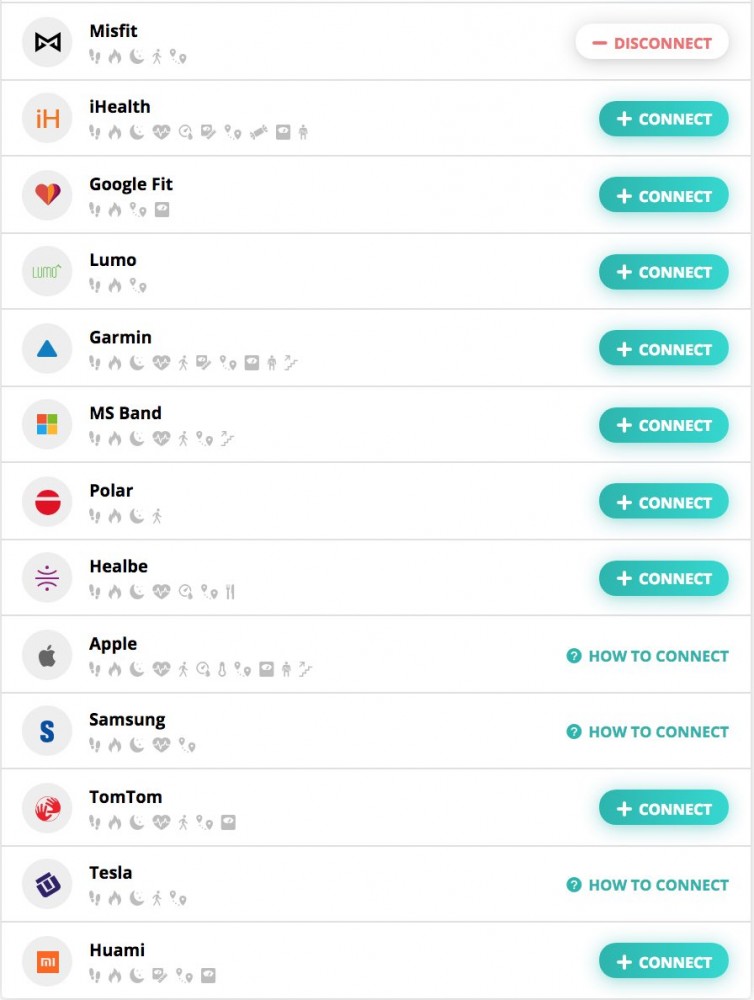 Sure, the Xiaomi Mi Band 2 isn't without its flaws—but what fitness tracker is? Maybe it lacks other features that the big-name trackers have. But when you figure that the Mi Band 2 is just as accurate as those big names for a lot less price, how could the average person who uses a gym go wrong?