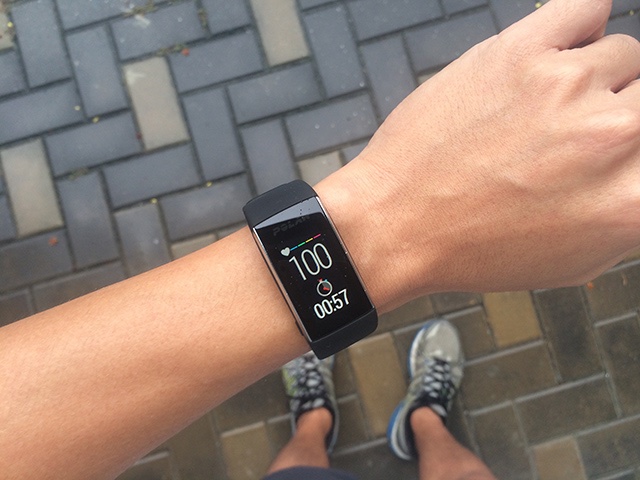 Photo Credit: Gadfit
Price: $126.00 – $276.00 on Amazon
This accurate activity tracker has several colorful bands that you can swap out to be stylish no matter where you go. The band does seem to gather a lot of dust and lint; but it locks securely so that it won't slide off your wrist and, though the full-color touch screen is a bit on the large side, you'll find the band is very comfortable and soft to wear. Speaking of the screen, it has a very quick response time and is easy to see. Oh, and you'll love the neat feature this tracker comes with—just quickly flip your wrist to turn on the activity tracker. It can't get any simpler, right?
The Polar A360 is swimmer-friendly and waterproof to 30 meters; yet, sadly, there aren't any advanced swimming elements, and the display doesn't work underwater. It does, however, contain something called Smart Calories. If you're in training, the Smart Calories will coordinate with the heart rate monitor to evaluate your calories burned. This will give you a more precise reading of your burned calories when you're in the pool or doing other activities. You'll discover that it comes with a "training app" which is pretty helpful for things like CrossFit, group workouts, cycling, swimming, running, walking, customizable outdoor/indoor activities and strength training. There's also a "my day app" providing you with recent activities and the progress of your day-to-day movement goals; this is based on all of your movement during the day and not only steps.
The A360's heart rate monitor is on the bottom of the gadget and is equipped with all-day tracking of your beats per minute but works better while you're doing fitness routines such as CrossFit or weight lifting—it'll work fine, too, if you're swimming. However, the heart rate tracker isn't as precise as it could be so if you want a little more accurate measurement of your heart rate, we recommend purchasing the Polar H7 chest strap to use with the Polar A360. Just be aware that if you're wearing the chest strap during a swim, your heart rate won't be logged to the Polar Flow app; it'll only be recorded if you use the A360's built-in heart rate monitor. Although, being able to discover your VO2 Max is a terrific benefit in using the H7 chest strap with this tracker.
The Polar A360 contains a daily alarm, phone notifications, a move reminder, and a "do not disturb" mode. This reliable tracker is compatible with iOS and Android, and its battery lasts 7-10 days before needing a charge.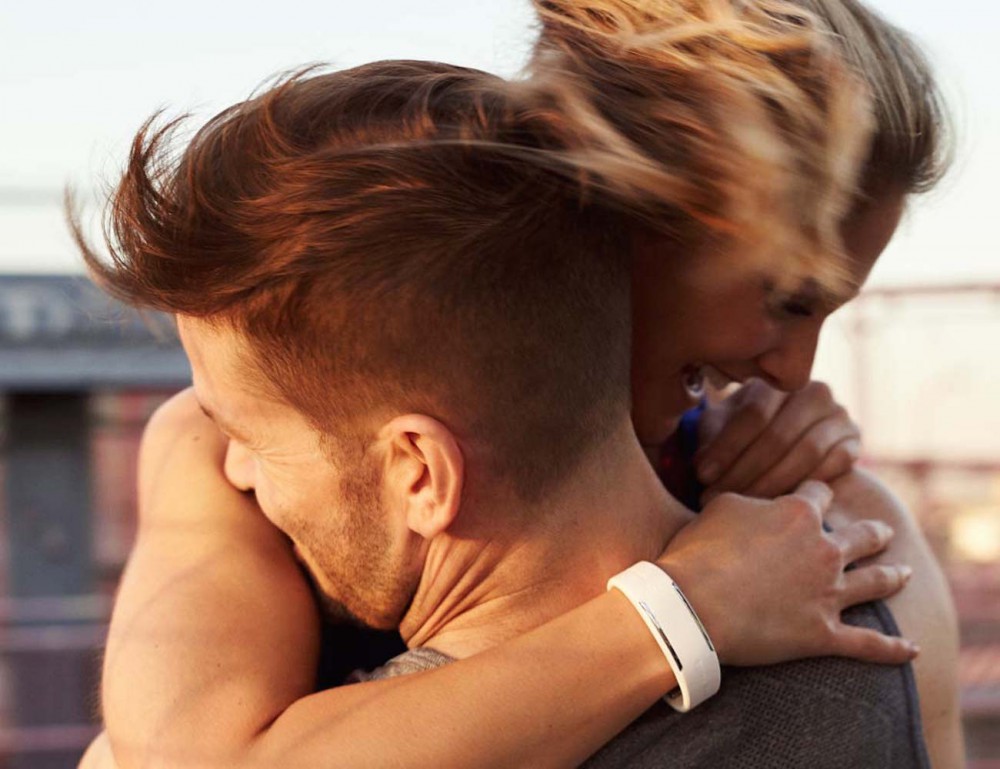 Photo Credit: The Gadget Flow
Price: $61.00 on Amazon
This is an upgraded version of its predecessor that will fit more comfortably because the band is a softer silicone. Yet you'll have to cut your band to size; this may sound troublesome, but it allows your tracker to have a customized fit, so it's worth it. While you can view your steps by the LEDs, you'll discover it's a bit hard to read in the daylight. But the Loop 2 did keep the attractive, slender style of its older sibling. A new feature to the gadget is it displays phone notifications.
On startup, the device will automatically set your activity goals based on the personal information you entered. If your job is outside, the activity target won't be set as high as if you were sitting all day at a desk job. The Loop 2 monitors your activity depending on how much you move and is aware when you walk, sleep, stand, run, even do some gardening or cleaning or play certain sports—kind of spooky when you think about it! If you don't move enough, you'll get an activity reminder. The watch correctly tracks steps, burned calories and distance; it'll also monitor sleep automatically. The daily goal meter fills in as you move and exercise making it an awesome way to see your progress. If you're behind on your progress, you'll receive suggestions to help you reach your daily goals like an hour-long walk or a 30-minute jog. Using either the web or phone app you'll discover a plethora of charts in your detailed training diary—more than you could ever ask for. If you'd like to track the intensity of your workouts, pairing a heart rate chest strap with this tracker will work well.
The Polar Loop 2 has a battery life of about 6 days, is waterproof to 20 meters and works well with Android and iOS.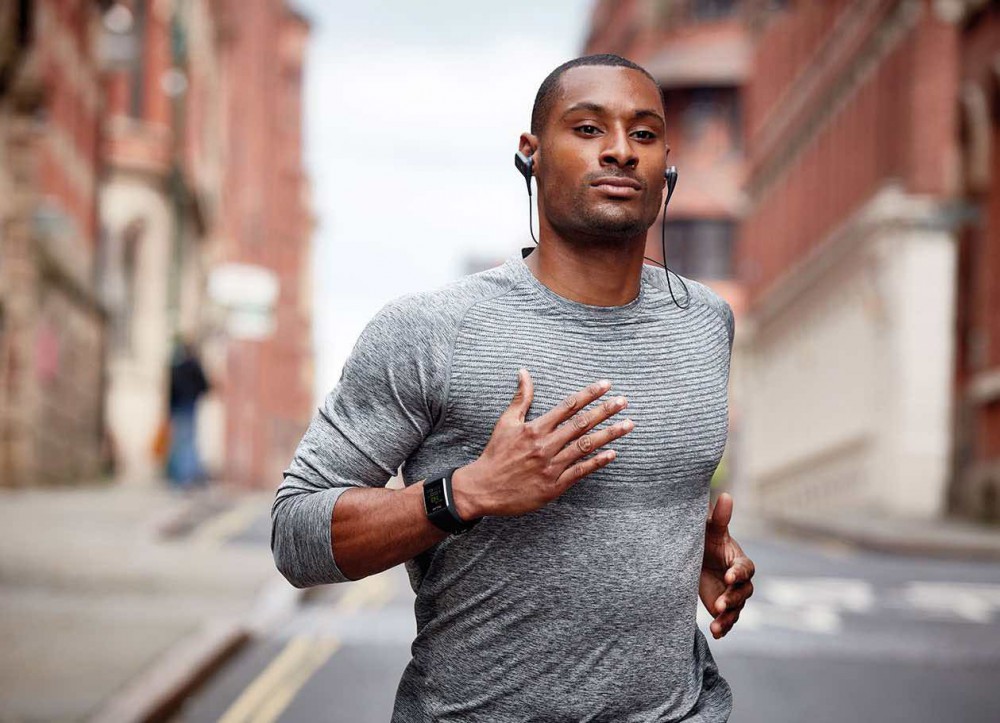 Photo Credit: Outdoor Blog
Price: $329.95 on Amazon
While this waterproof sports watch isn't the fanciest one on the market, it's not bulky, very sturdy and really comfortable. That's good news for fitness buffs that like to do long workouts or runs. While you're on that run, you'll be able to read the display clearly in the sun.
You'll find the heart rate monitor of this gadget to be extremely precise whether you're doing interval training or just on a run. However, the watch's reaction time to big variations in beats-per-minute readings isn't as quick as they could be. So if a faster reaction time is important to you, you'll be happy to know you can link the Polar H7 chest strap with this watch; but it's not necessary as the watch's heart rate monitor functions very well on its own. A great feature when using a chest strap and activating pulse and GPS before your run is that the green bpm reading light turns blue to let you know that your chest strap is connected. That's handy!
The activity tracker part of this watch is very similar to the Polar A360 as is its functionality; where the M600 greatly differs from the A360 is in the training portion. The M600 gives you smart coaching, a high-level running program, and assorted sports profiles. There is a feature called "training load" that looks at the intensity and duration to measure how demanding your exercise is; you can use the Flow app to analyze many sessions' results. The only negative thing about this sports watch is that it doesn't automatically detect which exercise you're doing—you have to manually choose your workout if you want the info to be recorded. However, the GPS is superb and very insightful—it'll know when the GPS needs to be utilized and will only track once you select something like running or cycling.
The Polar M600 works with iOS and Android; the battery life is about 2 days before needing a charge, less with the GPS turned on.
Polar Flow App
The app is outstanding and shows comprehensive workout and activity data. You'll see your activity level during each day displayed in a color-coded clock formation—and it'll even show you when you were inactive. The web app is better at gaining control over your info than the mobile app and you can link it to MyFitnessPal.
But, like with every fitness tracker app out there, there's one drawback to Polar Flow: the analysis of the sleep info isn't up to par. The Polar watches precisely track your sleep but this app doesn't seem to do anything with the information. But all the positives of Polar Flow definitely outweigh this one negative!
You can get complete stats on everything you do through a wide range of options from individualized training plans to athletic level info. You'll notice that your heart rate data is easily viewable in graphs. If you go for a run, you can view your heart rate on different parts of the route. Cool, huh?
When it comes to fitness tracking, Polar is the oldest, most skilled business and provides competitive options to Fitbit and Garmin with their wide range of pro training, lifestyle and sports trackers. One of these fabulous trackers is sure to get you moving to a fit and healthy you.
Already have a Polar device? Connect it to inKin and start competing with others today!
Photo Credit: Startlr Tech