Working out is always more fun when you make it a game. Whether you race yourself around the block or compare scores with a friend, keeping track can help improve your motivation and graph your achievements.
This is why fitness tracker gadgets and apps have skyrocketed in popularity among those getting fit. Many people start with a simple heart monitor, but soon, you're ready for a full-blown smartwatch or gadget that will enhance every workout and even help you connect socially with a fitness group.
Fitness gadgets are not only great to shop for yourself, but they also make great gifts. You can encourage the family to get fit and invite your best friends into your fitness routine with the gift of a smartwatch or similar fun fitness device. Today, we're diving into the best fitness gadgets of 2020
Personal Fitness Trackers
There are two types of fitness wrist wearables: Fitness trackers and smartwatches with fitness features. The first category we'll dive into is fitness trackers. Wrist-wearable fitness trackers tend to be more affordable, and slender so more easily wearable for small wrists. They also have only fitness features, sometimes with music.

Fitbit Charge
The Fitbit brand has a fitness tracker for every occasion. Their best slender fitness tracker is the Charge, currently in generation 4. The Charge has sleep, workout, running, and analysis features and interactive goals. Charge 3 and 4 are both waterproof, and the 4 has built-in GPS.


Bellabeat Leaf
The Bellabeat is an alternative fitness tracker in the form of a pendant. It's great for women to subtly track fitness if you're okay with the smartphone-only interface. The Bellabeat comes in an urban and natural style and can also be worn as a bracelet.

Garmin Vivosmart
Garmin's entry to fitness trackers is the Vivosmart, a fully functional competitor for Garmin fans. The Vivosmart pairs with Garmin software along with the Garmin Vivofit and Vivofit jr for kids.

Honor Band
The Honor Band is a sleek minimal fitness tracker for those who want a feature-simple, comfortable, and affordable band.

Samsung Galaxy Fit E
Samsung throws in an Android fitness tracker that interfaces perfectly with your Samsung and Android stack of personal devices. This has the Samsung fitness feature set without the smartwatch capabilities.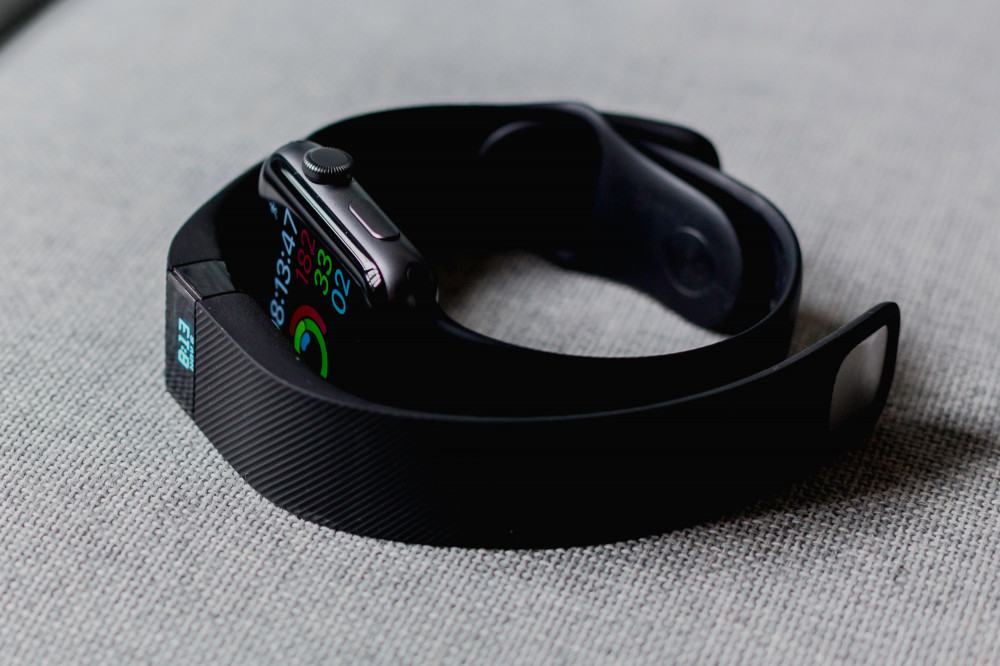 Fitness Smart Watches
Whether you're shopping for yourself or a loved one, the right smartwatch is an important choice. Think about the size, band, functionality, and operating system when picking a fitness device for yourself or someone else.

Fitbit Versa
The Versa is the latest smartwatch from Fitbit. It pairs well with mobile apps and provides a fully functional watch face with both fitness and professional management features. The Fitbit Versa can be fully customized with both cloth and standard bands in a variety of colors. If the Versa is too large for a slender wrist, consider the slimmer models of Fitbit, but remember that the narrow faces also have limited features and functions as well.

Apple Watch
For those who are already Apple users with an iPhone on hand, the Apple Watch SE or 6 is a fantastic choice. Sleek, stylish, and perfectly integrated with the Apple operating system, an Apple watch makes it easy to fit fitness into an iPhone-led lifestyle.

Samsung Galaxy Watch
Samsung has come out with a similarly classy and OS-integrated smartwatch, but you don't need a smart phone to run it. The Galaxy Watch 3 features a unique spinning bezel around the edge, giving it an old-timey feel with extremely high-tech features.

Honor Magic Watch
Some smartwatch wearers want a fitness tracker but prefer a more traditional display. The Honor Magic reflects that with a sports watch UI that displays your fitness stats alongside the time elevation, weather, and more in their own separate dials on the watch face. In addition, the fully digital display also includes a full suite of fitness features and programs.

Garmin Forerunner 645 Music
Garmin also features a music-specific smartwatch designed for people who like to listen while they run. You can optimize your music or podcast enjoyment, no matter how you build your exercise routine.

Fitness Trackers and the inKin Social Fitness Platform
The best thing about a fitness tracker is gaining access to your own health data. Fitness trackers show you how much you exercise, how far you run, and the good it's doing for your body. Even better is running different wellness challenges with your friends, family and colleagues.

The inKin Social Fitness Platform makes it easy by connecting your fitness tracker, create wellness challenges, and track your fitness goals.