1. Best for Getting Your Body Shape Back—and Keeping It: Moov Now ($59.95)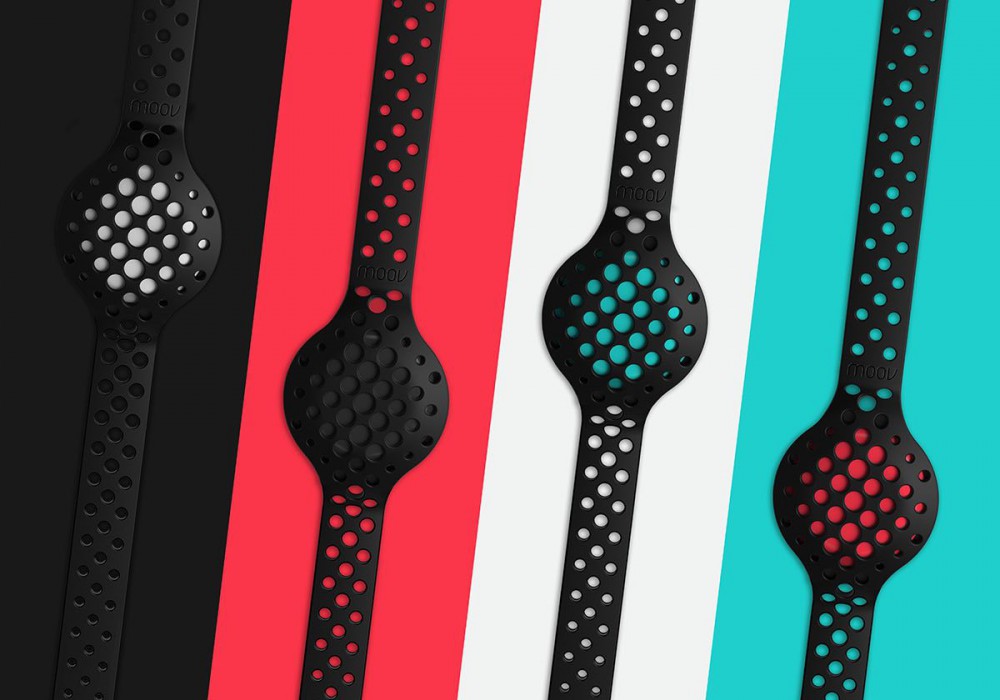 Photo Credit: Pinterest
Moov Now is smaller than its predecessor and has excellent sports training plans with info for cycling, swimming and running. There are many levels of difficulty which allow you to improve gradually at your sport and you'll even discover 7-minute workouts in this tracker. If it's just a sleep monitor and step counter you want, then you'll find that the Moov Now is super for those things too!
If it's swimming that you adore to stay in shape, you'll be pleased to know it comes with a built-in coach that provides metrics to assist you in improving your swimming instead of just giving you feedback on your swim. There's even a neat swimming mode in the Moov app that you switch on before leaping into the pool. When you're finished swimming, you'll see info about your strokes such as rate, efficiency, type and length; it'll even display lap times, a number of laps, turn/flip times, interval times, duration of the swim, quickest 100 and burned calories. Oh, it also gives a general indication of your pool endurance! Wow!
The battery is a coin cell that lasts up to six months, and the Moov Now links with Android and iOS.
2. Top Sleep Tracker: Jawbone UP3 ($179.99)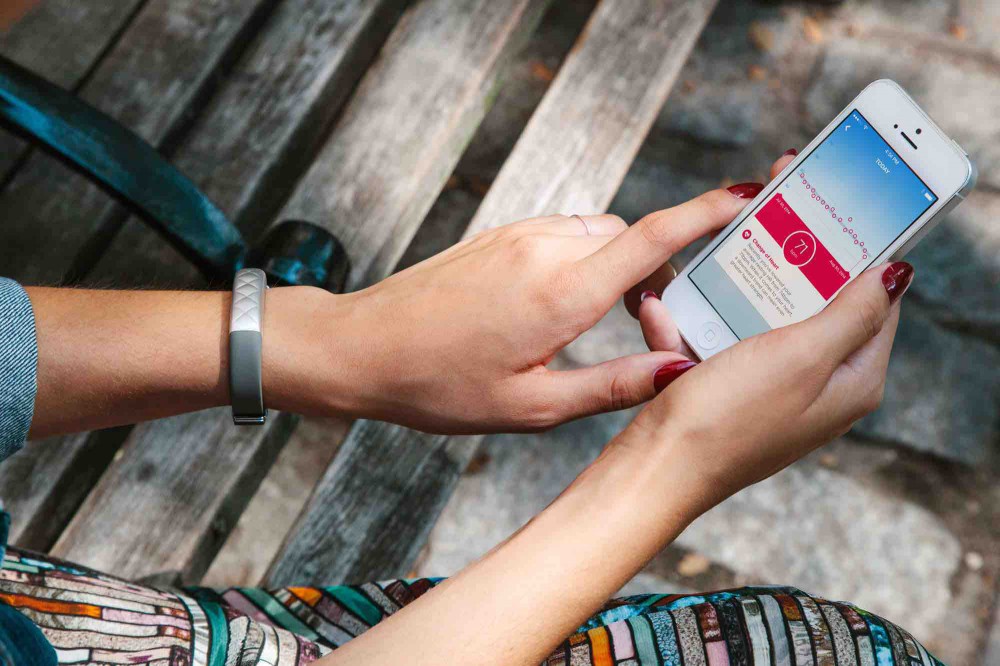 Photo Credit: Pcadvisor
The Jawbone UP3 has a heart rate monitor and tracks your activity just like any ordinary fitness tracker. In fact, it has a really neat feature called auto sports detection, and the SmartCoach that works with the UP3 app is pretty cool too.
But where this tracker really shines is in its sleep monitoring. It has automatic sleep detection and a vibration alarm like other trackers with a sleep monitor. However, UP3's sleep monitor is more accurate because it's so in-depth that it logs your respiration rate, galvanic skin response, beats per minute and body temperature. Tracking these means it can pinpoint what sleep stage you're in—light, REM or deep sleep—and give suggestions as to how to improve your slumber. If there are nights you don't wear the UP3, a nice feature is that, based on your inactive periods, the UP3 will guess when you're asleep and develop a graph according to your sleep history. Now that's awesome!
The battery lasts seven days, and this tracker is compatible with iOS and Android.
3. Terrific for Multi-sports: Garmin Vivoactive HR ($263.00)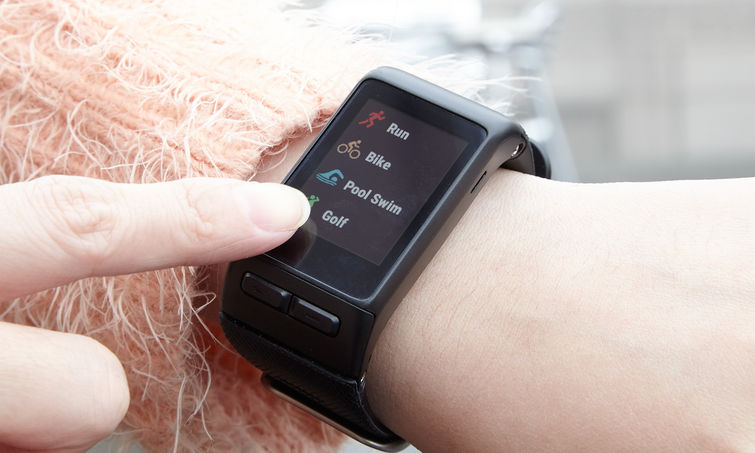 Photo Credit: Gearopen
It's not very stylish with a black, bulky, plastic band and hard-to-read screen but you don't need it to be fashionable when the Vivoactive HR has a five-day battery life and mixes sports and fitness features. Scrolling down through the notification and daily activity menus, you can check out details about intensity minutes, heart rate in the past four hours, steps and the last sport you completed. It precisely utilizes GPS to track your swims, cycles and runs with distance and live pace.
But for those that are more into playing sports, this tracker covers an astonishing number of sports, and each mode has a shocking amount of information. The list of sports on the Vivoactive HR include bike, bike indoors, golf, row, row indoors, ski, run, run indoors, walk, walk indoors, pool swim, XC ski and paddle board (SUP). Obviously, the main addition is the optical heart rate monitor which does a fair job; yet for some exercises a better choice may be a chest strap.
Like the other Garmin models, the Vivoactive HR uses the Garmin Connect app on Android, iOS, and desktop. The mobile app is packed with great features but can be a little confusing; don't worry, all of your information is logged in there—it just might take some searching to find it all! The web app, however, seems to be easier to work with and is loaded with tools for reviewing information, discovering and creating routes and developing personalized workouts. The web app also lets you download all your data to Strava which is quite handy.
4. Awesome Clip-On: Misfit Shine 2 ($99.99)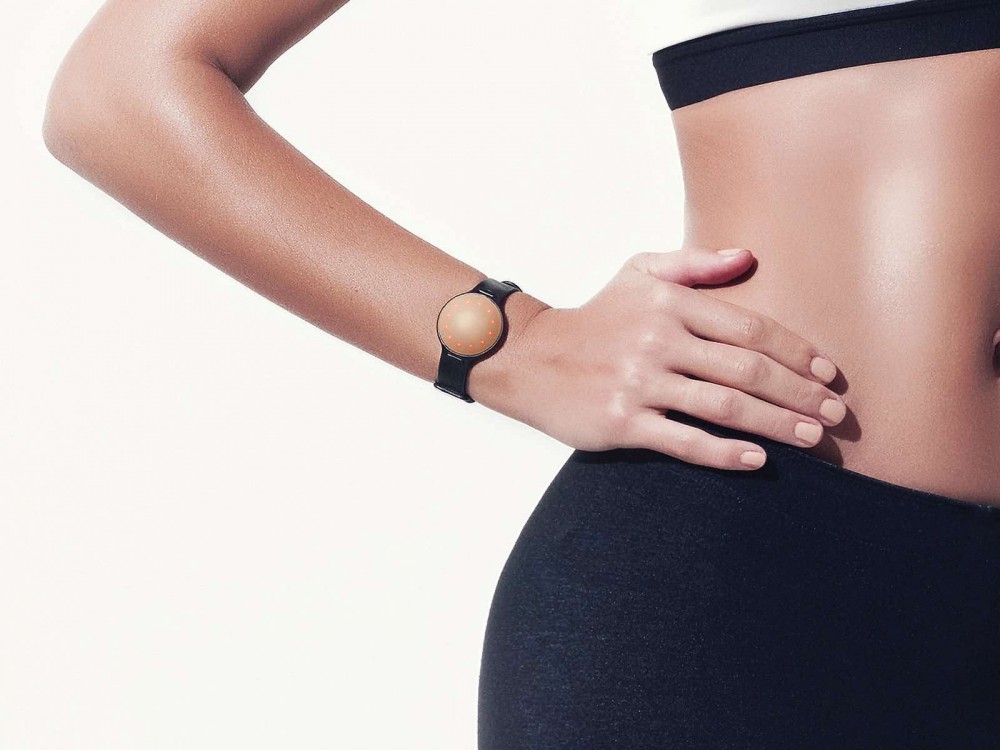 Photo Credit: Connectedly
Like its predecessor, the Shine 2 still has the 6-month battery life and the same design; but you can get it in black or rose gold and the screen is better with new colored lights to make it easier to read notifications and time during the day. Another great enhancement is that you can wear this tracker as a clip-on on your belt or as a wristband.
While there's a vibrator for notifications, it's better suited for using it as a move alert called "Misfit Move". Just like the Shine, Misfit Shine 2's main task is still to track your sleep and activity. This tracker's able to detect and add to the app nine kinds of exercises: running, soccer, cycling, dancing, walking, tennis, basketball, yoga and even swimming which means it's waterproof. Your day-to-day activity level is logged as points or steps; then they're utilized to figure out the distance and calories. If you were to put the Misfit Shine 2 up against a running watch with GPS, you'd find that this tracker is stunningly accurate with only a small difference in readings. That's great for a clip-on tracker!
There's a gigantic collection of third-party apps which is the main feature of the Shine 2; these apps can retrieve the tracker's data. For instance, you can send your sleep info to Evernote and then type remarks or view daily logs. You can also use your Mac or PC to obtain your data.
5. Great for Style: Fitbit Alta ($129.99)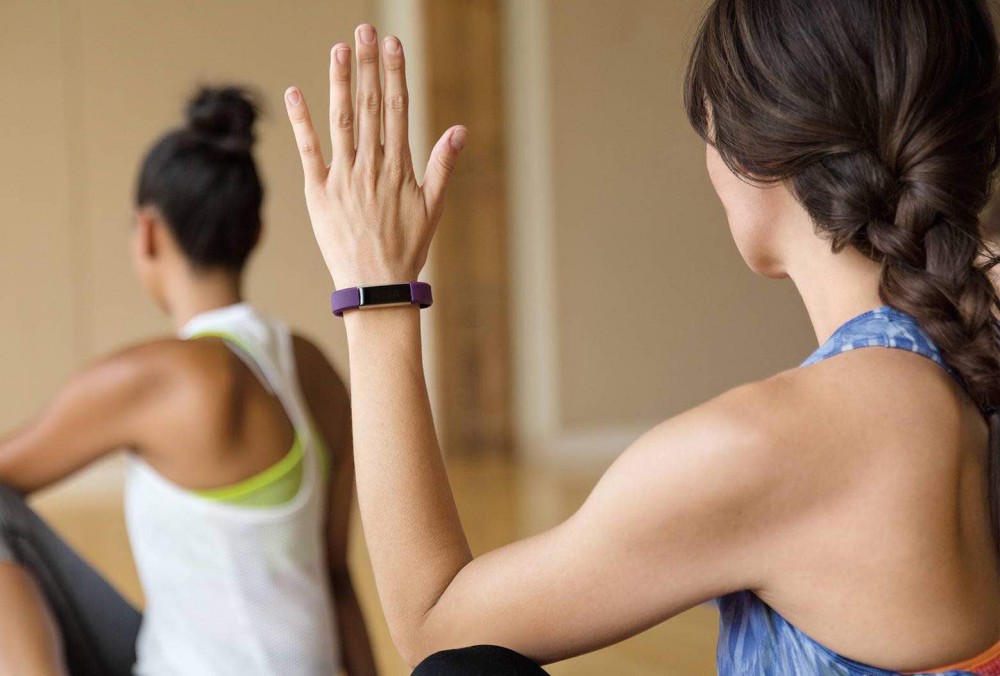 Photo Credit: Fitbit
There's no doubt about it—this tracker is the best looking one Fitbit has created so far. Unlike its siblings Charge HR and Surge, the Fitbit Alta's a basic fitness tracker with an OLED screen. The slimmer Fitbit Alta is available in three sizes and has four colorful, easy-to-change straps to choose from—and there are even two special edition bands that are gold-plated! This probably disproves the theory that fitness trackers with screens can't be head-turners. Users find the lightweight Alta very comfortable—enough to wear 24/7, except in the shower because it isn't waterproof. Due to its thin build, it fits well on small wrists and won't get caught on long sleeves—you might not even know it's there!
As for the technology, Alta will track sleep, elevation, and steps but seems to be a bit sensitive as it logs the details; it also gives you basic notifications. Some of the activities are detected automatically and put in as workouts with Fitbit's SmartTrack. Pretty cool, huh? Depending on your usage, the battery life will be between 5-8 days which is also good.
6. Simplest of Trackers: Misfit Ray ($99.95)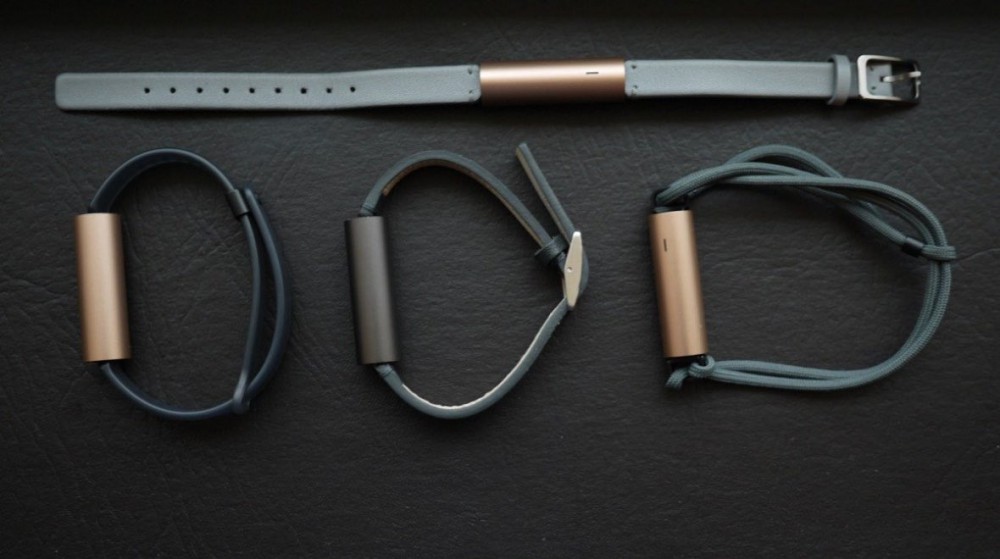 Photo Credit: Wareable
Even though this activity tracker is sleek and stylish, the basic functions are what attract those that are searching for a device without the whistles and bells like GPS and heart rate monitor. There may not be a screen to look at for time and fitness info, yet it's accurate when it's tracking basic statistics such as burned calories, sleep, steps, and distance. It also monitors yoga, cycling, dancing and swimming.
In the Misfit app, each day is divided into a story, and it'll let you know how much more activity you need to attain your daily goal.
The only downside is that, considering its basic features, it is a bit pricey. But on the brighter side, the battery doesn't need to be replaced for six months, and it'll connect with any smartphone.
7. Superb Tracker for Weight Loss: TomTom Touch ($136.75)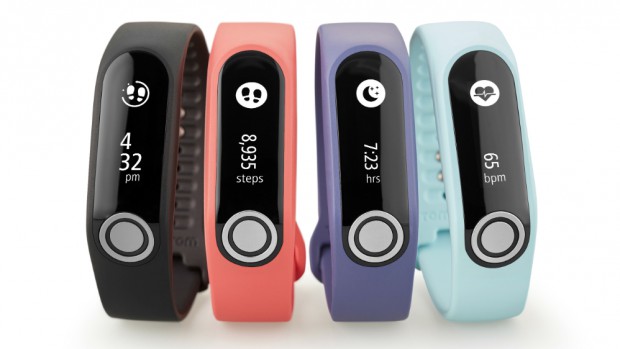 Photo Credit: Gizmodo
This rubber banded fitness tracker with a small OLED monochrome screen, clasp, and removable module isn't very fashionable; but is available in blue, orange, black and purple. On the screen, you can scroll through active time, basic notifications, burned calories, daily steps and more.
The Touch is an accurate activity tracker as well as a sports tracker and will monitor your heart rate and sleep 24/7. The sports tracker mode is basically a stopwatch that you can use during your workouts such as yoga, home exercise or fitness classes; however, it's not recommended for people who need to keep track of their pace while cycling or running. The details of all your workouts are recorded in the TomTom app, and you can view heart rate zones, calories, average heart rate, duration and heart rates over time. While the sleep function is pretty basic, you can set up goals in weight, sports, and steps. However, the app won't bug you to achieve your goals—this could be a good thing if you don't like being hassled every day. The Touch has a nifty feature called body composition. In the morning before beginning your day, place your finger on its top sensor and in a few seconds check the app for your percentage of muscle and fat. It's very close in accuracy, but not perfect—but what device is? The theory is that you get an idea of your BMI and adjust your goals accordingly to become a healthier you.
The Touch is shower-resistant, works well with iOS and Android, and its battery will last up to five days.
8. Top Fitness Tracker—It's a Tie! Fitbit Charge 2 ($149.99)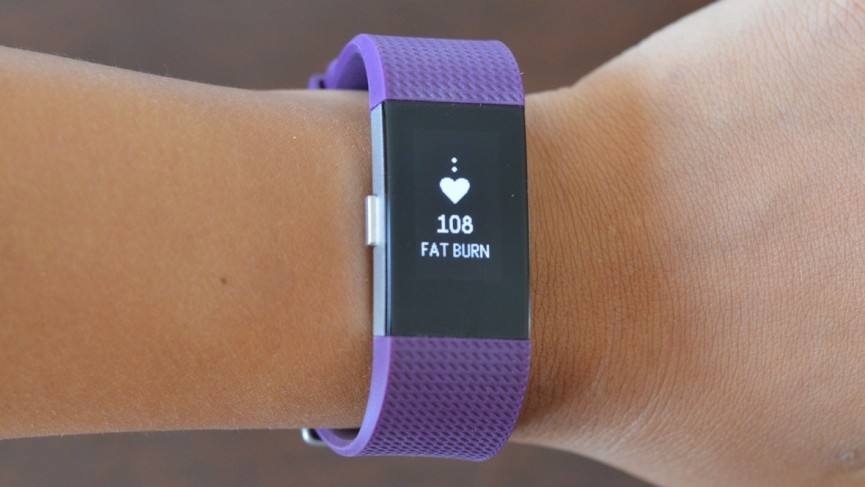 Compared to its Charge predecessors, the Charge 2 is more chic with its multitude of colored bands and a touchscreen that's four times larger. It sits comfortably on your wrist although it can be a bit complicated to use and the screen is a tad sensitive. The onboard PurePulse continuous heart rate sensor sticks out a bit on the back, yet if you position it behind the wrist bone, it's comfortable and works great for tracking your resting heart rate. The monitor does a decent job of tracking bpm during steady runs or workouts, but it's not recommended for HIIT or hardcore training. Yet the automatic sleep monitor is quite accurate for basic sleep patterns.
The Charge 2 doesn't have a built-in GPS but you can link to your iOS or Android utilizing the ConnectGPS feature to get distance and pace data; this is kind of a pain because you'll need to have your phone with you for runs. But the cool thing is when you're using the activity tracker, SmartTrack automatically identifies many types of fitness such as cycling and running in addition to hourly activity, floors climbed and active minutes; everything is reported in a complete summary in the Fitbit app. The step tracker, however, is a bit over zealous as it tends to log more steps than walked. Okay, so that's all pretty standard for the Fitbits—what makes the Charge 2 different from the other Charge devices? There are two outstanding features on the Charge 2: Guided breathing training and Cardio Fitness Level.
Deep breathing to destress isn't new, but the guided breathing is and can customize breathing exercises for you. How? It checks your heart rate to make sure you're not inhaling too deep or exhaling too fast and searches for a good rhythm. Once it finds your correct rhythm, it prepares you to breathe with the animated pulsing circle on the screen. Does it work? Yes! The Charge 2 has sessions of two or five minutes allowing you to use the guided breathing after a workout or just to relax. The best thing about it is there's no pressure to use it!
In the Fitbit app, the Cardio Fitness Level measures your VO2 Max. What's that you ask? VO2 Max is the maximum amount of oxygen that your body uses during exercise. It monitors your resting heart rate while you sleep and pairs it with your user profile to provide an estimated personalized Cardio Fitness Score which is quite precise when compared to other trackers with this feature. Also, you can view charts consisting of your peak heart rate zones, cardio and burned fat. However, the info might be difficult to find; in the Fitbit app it's under the heart rate tab. The only flaw with this feature is that Fitbit neglected to make this trackable over time—it just shows as a single score which should rise over a period of time. Despite this drawback, you'll become more knowledgeable about your fitness level, and we think this will be your favorite feature of the Charge 2!
The Charge 2 is still water-resistant, not waterproof which is a real shame given that it's loaded with fantastic features. But the battery, dependent upon use, will last for six days—and an update coming soon will include a battery life indicator.
9. Apple Watch 2 ($369.00)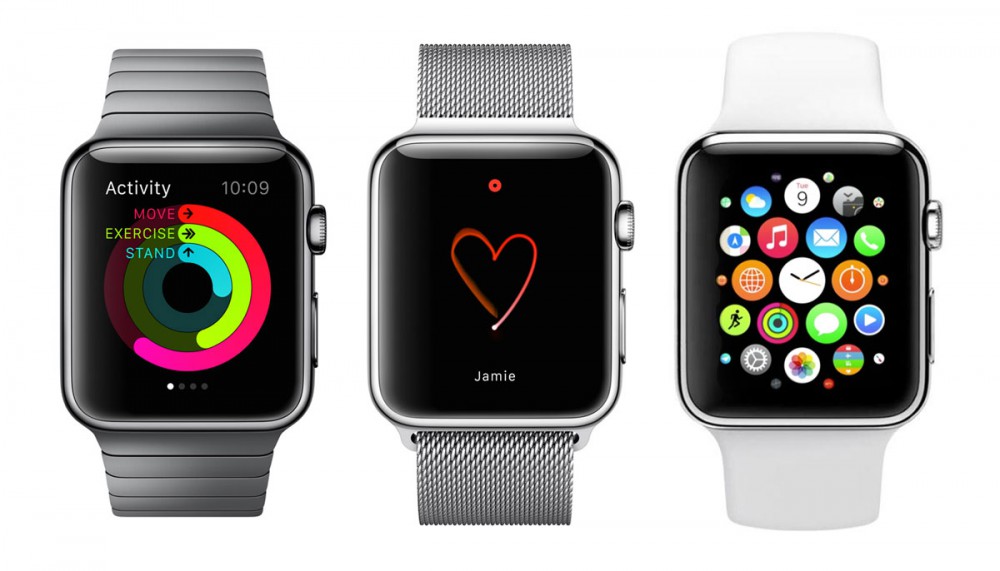 Photo Credit: hngn
This upgrade was very much-anticipated in 2016—and it delivered! The Apple Watch 2 has a brighter screen which can be seen in any light. On the back of the Watch 2 there are four LEDs for the heart rate monitor which is good for most activities, but not for running. They determine how fast your heart's beating by pulsing below your skin. Even though it's got a larger battery that you'll need to recharge after two days and is water-resistant, it's not a thick watch and is light on your wrist.
This watch's display has been expanded to contain a wet mode - it'll lock the display so that the touch functions are disabled, and it automatically starts when you switch on the new swim tracking. The swim tracker gives you not only time and distance, but the gyroscope and accelerometer can spot when you've changed pool lengths. When you've typed in the pool length at the beginning of your workout, the Watch 2 can accurately display how well you've done.
Another great upgrade of the Watch 2 is the built-in GPS which is extremely accurate for distance whether you're doing a short, easy run or a marathon and it displays accelerometer info.
If you're going to use the Watch 2's Workouts app for running, notice that you can drop and add many elements of your run while on the go. You can also view various runs and look at the different colors; this draws your eyes to the proper point and is easy to use the Watch 2 on the run. Yet the Watch 2 tracks more than just running. It'll track exercise from elliptical machines and cycling to other fitness routines.
The new operating system's mix of graphic ability, overall efficiency, and new dual-core processor makes the Apple Watch 2 a powerful device. It's packed with new tricks and features like activity sharing, Scribble, wheelchair settings, watch faces, Breathe and SOS. The Watch 2 will take phone calls, is a good health and fitness tracker, can be used as a digital wallet with Apple Pay and can deal with messages and email. It'll even playback music!
So there it is….our 2016 year list for best fitness trackers to begin the New Year right and get on your way to a healthier you!
Photo Credit: Depositphotos