Photo Credit: Dignited
Runkeeper is one of the best, most user-friendly and accurate apps on the market, so it isn't surprising it made it into the top spot on our list. If you like to run, this app's for you! It not only tracks your distance, time, pace and burned calories but you can make your activity into a route to perform later, or you can choose to do one of the app's workout plans. If you like running on a treadmill, you can switch your input type to manual; this allows you to enter the distance and running time after you're done. If you don't like to run, that's okay because this app monitors many different fitness activities such as cycling, skiing, hiking, swimming and more. You can even examine your progress by exploring your activity's history.
There are two marvelous features that Runkeeper provides. One is that you can control and listen to your tunes from inside the app. How convenient! You have the ability to create playlists that are geared to a specific activity (i.e. running), or you can play your music library.
Everyone needs to be encouraged, and this app has an abundance of that! The coaching feature is amazing; it gives you important fitness statistics during your run to help motivate you. You can share your workouts and activities on Twitter and Facebook to get even more encouragement from family and friends.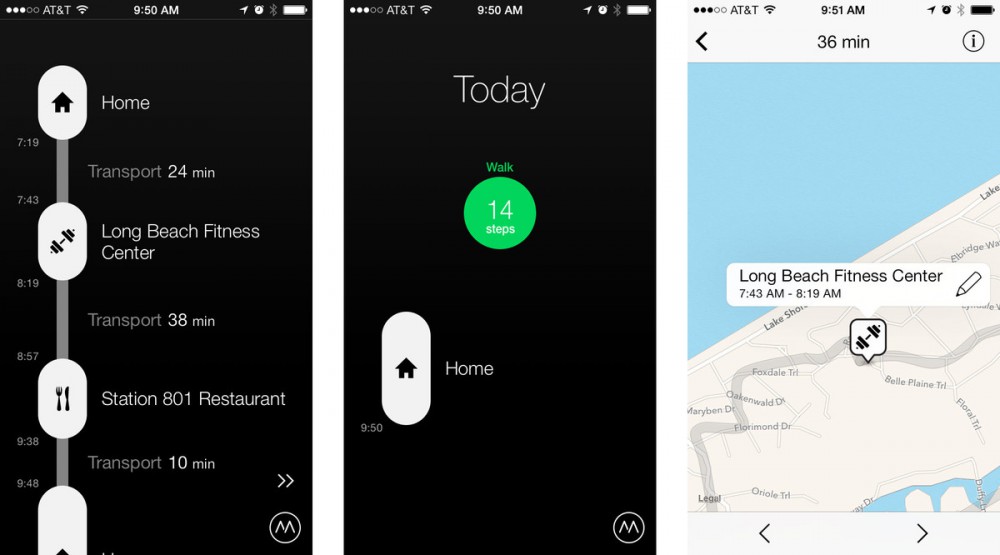 Photo Credit: imore
This app isn't the most sophisticated one out there, but what makes it stand out from the rest is its easy-to-use black interface. Just open the app, and it'll naturally begin monitoring your movements; close the app to turn off the tracker—simple, right? Navigation is just as easy by scrolling down the screen to view your summaries for the day or week. Scrolling from left to right shows you day-to-day moves, and you can even set the preceding day as a "push notification".
Moves isn't just a pedometer, it does a good job of tracking your movement by transport with colored markers: blue=cycling, green=walking, and purple=running. For each type of transport, the app monitors distance traveled, burned calories, steps and time. Colored bubbles display these details, and you just need to tap them to view each measurement. Whatever route you take for that day will show up on a map and, complete with a time stamp, you'll get to view where you've been—you can even add location labels if you choose. How cool!
The two big drawbacks to this app are sensitivity and that it drains your battery since the GPS is always on. However, the pros outweigh those two negatives. Another great plus we failed to mention is that you can use Moves' info with other fitness apps like OptimizeMe and of course inKin. Oh, and if you can't get a WiFi connection, Moves will save your tracking details and when you're connected to WiFi, it'll update your tracking info. That's awesome!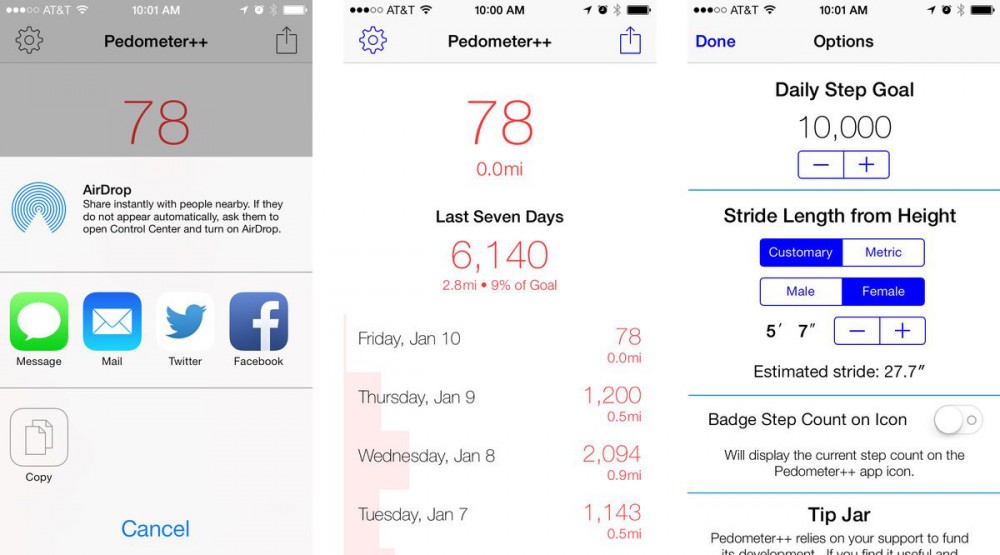 Photo Credit: imore
This is a very basic but efficient step counter. If you don't want all the whistles and bells other apps have, then check out this app. You'll learn the number of steps you take with Pedometer++ and it could shock you. The interface is simple to use and the app displays number (or flights) of stairs climbed, steps taken and distance traveled in brightly color-coded bar graphs which are easy to read.
You're able to explore weekly in addition to daily step counts and you don't have to worry about it draining your battery. That's a bonus! Set the present step count as the app's badge, and it'll automatically be updated during the day. If you'd like to check your progress, no problem, the Today widget is perfect for that.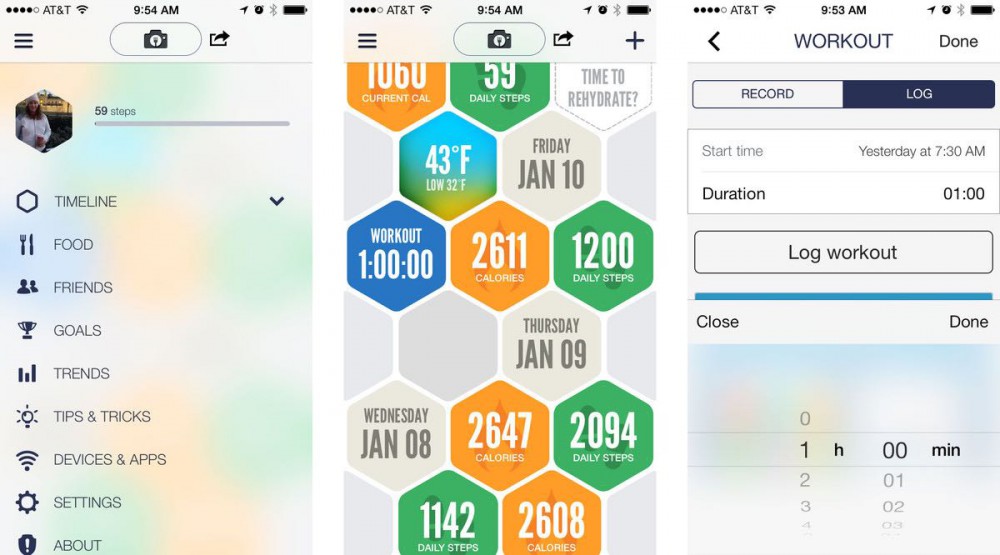 Photo Credit: imore
If you're searching for a reliable, powerful all-in-one tracker for your iOS, this is it. Argus will not only track your heart rate, activity level, and food consumption, it'll even monitor your hydration level and sleep. Wow! The interface is easy to use and read in a colorful pentagon arrangement; you can even immediately see your progress and tap on each pentagon to get more details. This app integrates with other devices and apps such as Withings Smart Body Analyzer, LifeTrak, Fitbit and Instant Heart Rate Monitor.
The activity tracking feature and daily step counter could open your eyes as to just how active—or inactive—you really are! You're able to check out a list of well-known activities like yoga, cycling, running, hiking and workouts but the app lets you search for other activities too; each activity shows burned calories and time—if you're running or walking it'll also show distance. Astonishingly, the app can distinguish between burned calories due to activity and burned calories from inactivity. Argus runs in the background, so the app counts your steps and displays it on the screen; tap on the pentagon to show your goal and view the bar graph. Turn on the location services, and you'll get to see a walking routes map!
In the food diary, you can record your personalized meals and can actually take pictures of your food. You can also enter your caloric intake that's based on your activity level that day. How neat! Tapping on your meal pentagon will allow you to put the food in a food group, add notes or view more information. While this is terrific, sadly, there aren't any suggestions to eat healthier nor is there nutritional info—but these could hopefully be coming in a future update.
Whichever app you go for, they will help you stay on track and in shape—now get out there and be active!
Photo Credit: Depositphotos