inKin is all about our fantastic community - a group of like-minded people from literally all over the world that motivate each other to get active and healthy together every day.
One of our brand champions, Maxim Morzhov from Moscow, has kindly shared his incredible story of how he achieved over 50k steps in the single day!
"People often ask about my step achievements. It's not a secret, and I'll be very happy if my personal experience can help or guide anyone to beat their or my personal bests.
Last year I made a personal resolution of reaching 5000 km (roughly 3107 miles) throughout 2015. And to make sure I am really on the right track, I monitored not only the number of steps but also distance covered with GPS. 5000 km in 1 year means just 13.7 km or 6.5 mi a day. Not a big deal as I thought in January…
But frankly, it was damn hard. Really hard. It involved all types of activities: walking, hiking, running and even skiing. And I finally did it - I reached my super goal on my Birthday :)

It took almost 8 million steps and 5500 km gross both with GPS and indoor walking at home or at work.
As you can imagine, it was one busy year. Of course, there were lazy days and days when I would push myself to walk as much as possible.
But I'd like to share memories of one special day - the day that is still marked as my current "Personal Best" on Fitbit. The day I earned the "Cowboy Boot (50 000 step)" badge for the first time.
I achieved it on November 1, 2015, when I was on vacations in San Diego, CA. It was a long sunny day.
Here is my steps distribution: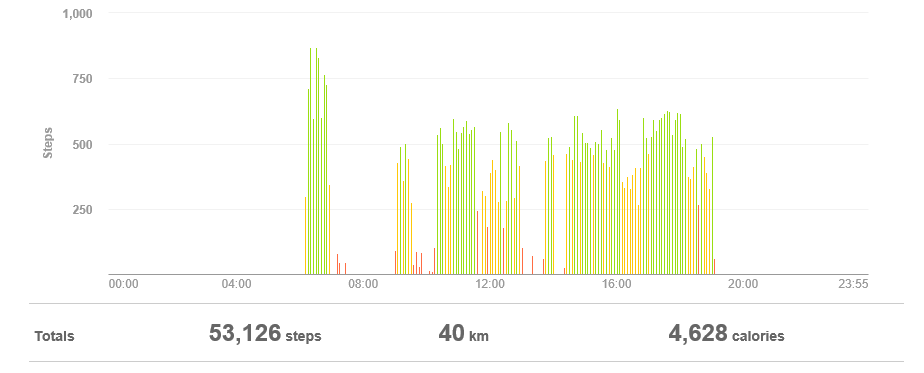 By the way, at that time, I didn't have any physical tracking device, I used my phone's MobileTrack to count steps and from what I can tell it's really conservative on the one hand, and accurate on the other. So keep in mind that steps were only counted if the phone was in my pocket.
Let's move through that day:
6:15 – 7:00 morning run on the waterfront - 6.5 km.
Just a morning run. Comfortable weather and friendly people around.

7:00 – 9:00 first gap in my activity: I had a shower and breakfast in the hotel, and called home.
9:00 – 9:30 walk to the ferry piers - 1.8 km.
Nothing to say. Too short.

9:30 – 10:20 small gap in activity while waiting for a boat and heading to the Coronado Island.
10:20 – 13:00 walk on Coronado Island - 10 km.
Adventures started here. Walk was supposed to be at least twice shorter and relaxed. But I decided to go South East, and it was a mistake :) As you can see, I had walked a circle around the Golf fields.

13:00 – 13:30 Back to San Diego
13:30 – 14:00 walk from piers to the hotel - 1.5 km
Once again - nothing to say. Too short.

14:00 – 14:30 brief lunch and map research. I decided to visit the famous hiking path "Sunset Cliffs"
14:30 – 17:00 walk to and on the Sunset Cliffs - 12.5 km.
When I started this walk, I thought I'd be using public transport on my way back. (Ha-ha!).

17:00 – 19:00 walk back to the hotel - 12.5 km.
As locals could not explain where the nearest bus stop was, I decided to walk back.

19:00 Finish. The phone is almost out of juice, and I'm sleeping on the go.
As you can see, 50k is a doable number if you don't have to sit in your office. And trust me, if it wasn't for my jetlag that brought me to bed by 8 p.m. I'd be able to achieve even more!
Good luck!".
Have a success story to share with the rest of the community? Let us know about it!
Photo Credit: Maxim Morzhov