The History
The modern football was born in 1863 in England where the original rules of the game were codified. However, the evidence shows that the first forms of the game existed in 2-3 centuries BC in China and 2-3 AC in Japan (the Japanese Kemari still exists and played today). It also existed in different forms in ancient Greece and Roman Empire.
The Main Rules In a Nutshell
1. The match lasts 90 minutes and consists of two 45 min periods with a 15 min break in between.
2. If the score is level, then the teams get extra time to play or a penalty shootout.
3. Only the goalkeepers are allowed to touch the ball with their hands or arms.
4. Other players, except for the goalkeepers, can only use their feet and sometimes their head and torso to strike or pass the ball.
5. The team that scores the most goals by the end of the match wins.
FIFA
The most popular sport on Earth is governed internationally by a single body - the International Federation of Association Football (FIFA), Zürich, Switzerland. It organizes World Cups for men and women every 4 years with the next one taking place in Russia in 2018 and the last one - in Brazil, 2014.
There are also regional bodies:
Asia: Asian Football Confederation (AFC)
Africa: Confederation of African Football (CAF)
Europe: Union of European Football Associations (UEFA)
North/Central America & Caribbean: Confederation of North, Central American and Caribbean Association Football (CONCACAF)
Oceania: Oceania Football Confederation (OFC)
South America: Confederación Sudamericana de Fútbol/Confederação Sul-Americana de Futebol (South American Football Confederation; CONMEBOL).
One of the most important regional competitions, European Championship, is also held every 4 years since 1960. This year, Euro 2016 is taking place in France and will be played by 24 European national teams for the first time. Reigning champion, Spain, got the title and the Euro Cup two times in a row in 2012 and 2008, winning Italy (4-0) and Germany (1-0) respectively.
inKin Euro 2016 Step Championship
Of course, at inKin, where we are all about activity and friendly fitness competitions within a community, we couldn't ignore the most important sports event of 2016. That's why we've decided to cheer differently this year and join our favorite teams and football players on the field. This year we urge you to ditch your comfy sofas and get active along with famous soccer players! No matter where you are and where you come from, you can select your favorite team and start competing against other teams in our inKin Euro 2016 Step Championship.
How?
Simply connect your fitness tracker or one of the pedometer apps we support and start walking (or running, or dancing:)!
The team with the highest average results wins.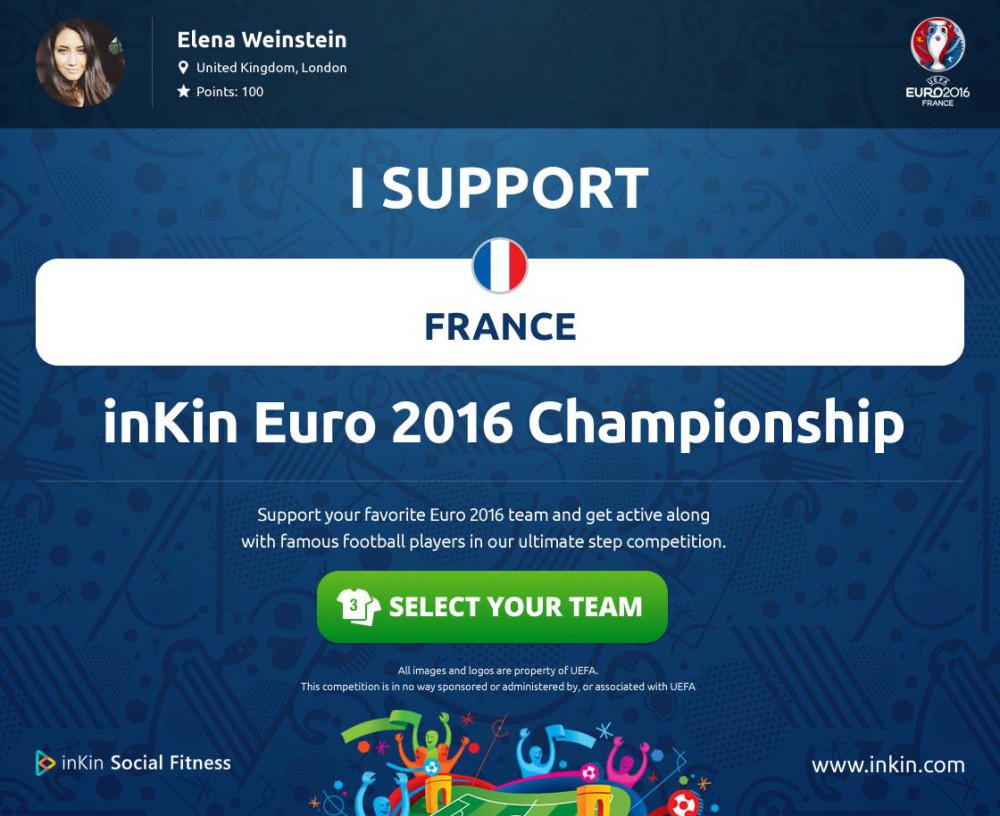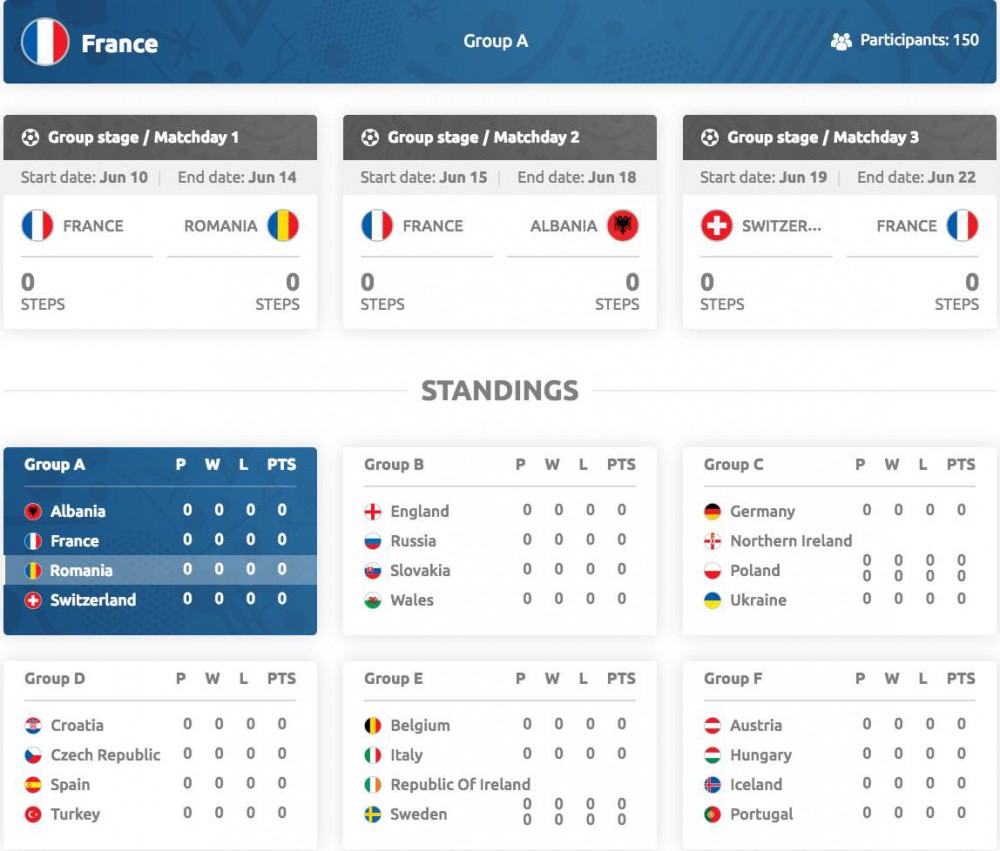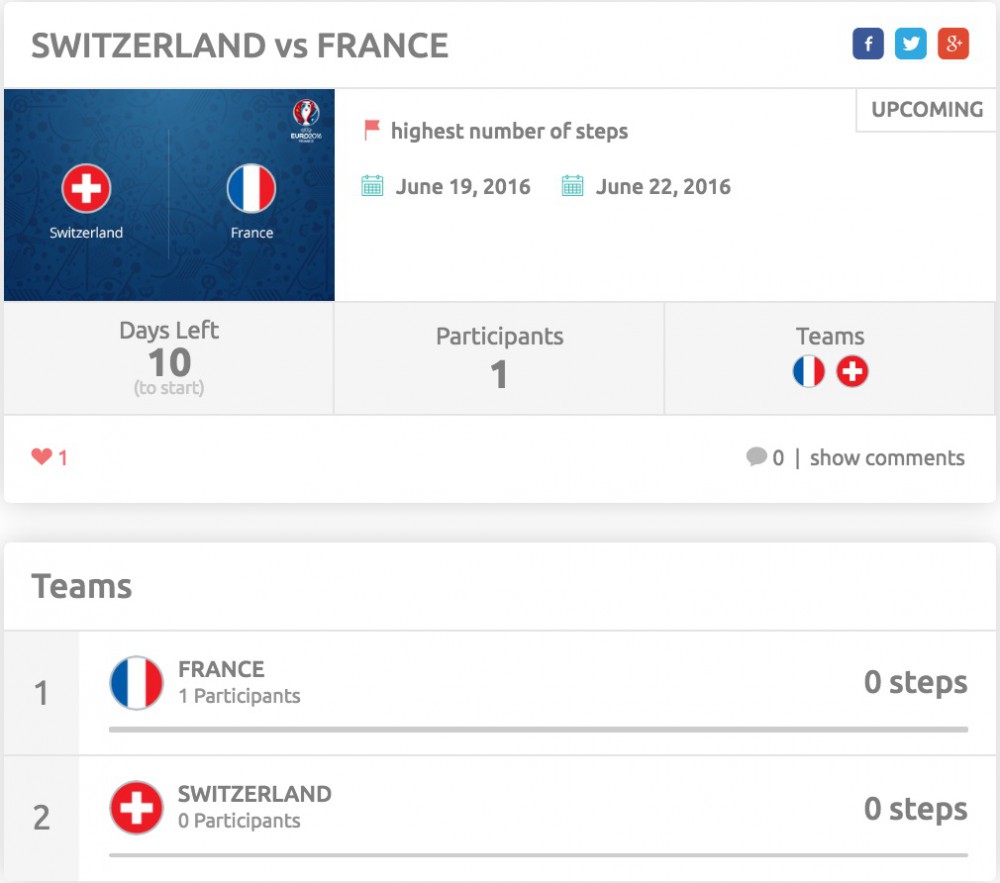 Our ultimate step team battle competition will start on June, 10.
The match schedule corresponds with the official Euro 2016 timetable. However, it is entirely in your hands if your team will make it further.
Once the championship has started, you won't be able to switch teams. The participants of the lost teams are out of the championship and can only cheer on teams that are still in the game.
IMPORTANT: if you don't have a fitness tracker you may download one of these pedometer apps that don't require a connected device: Fitbit, Withings or Moves.
DISCLAIMER: please note that this competition is in no way sponsored or administrated by, or associated with UEFA.
​
Schedule
Matchday 1: 10 - 14 June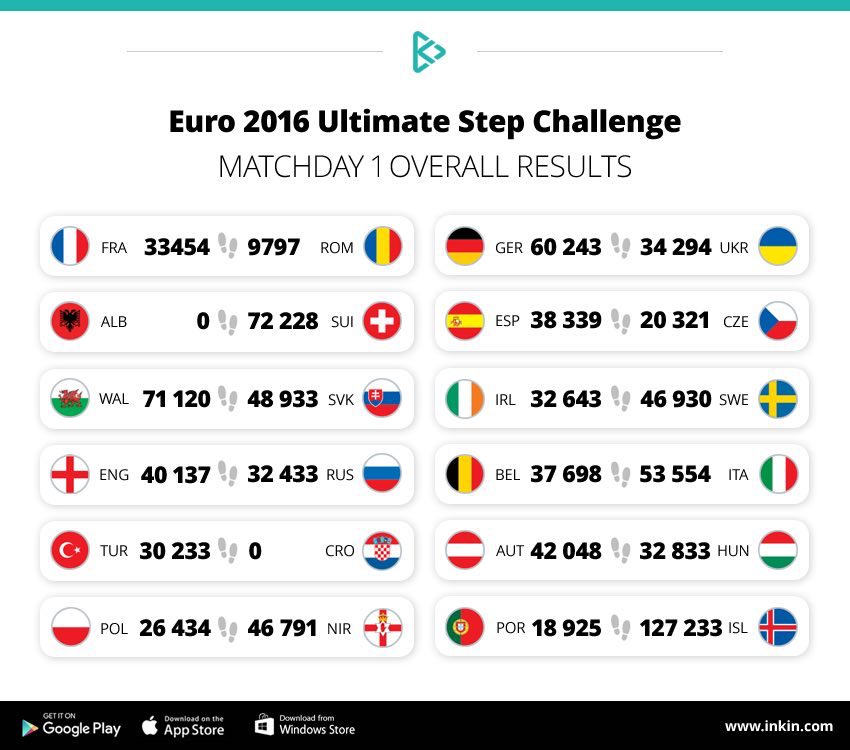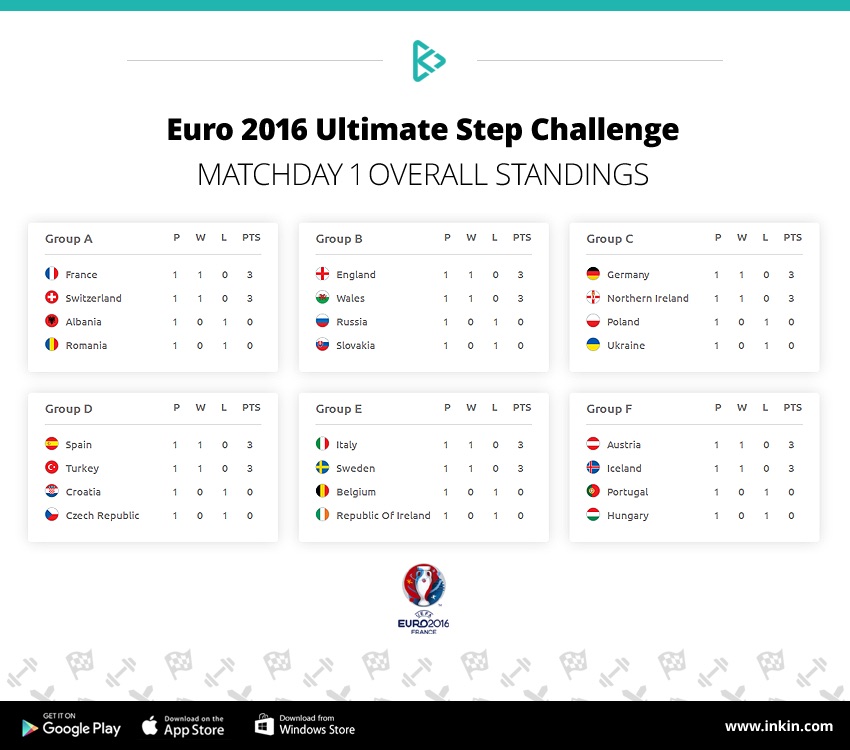 Matchday 2: 15 - 18 June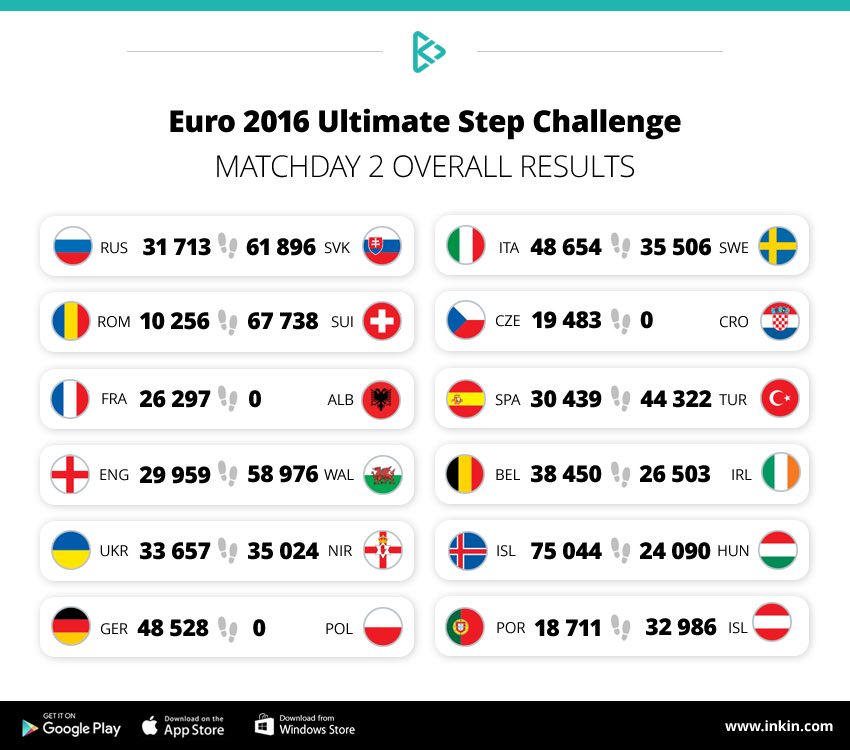 Matchday 3: 19 - 22 June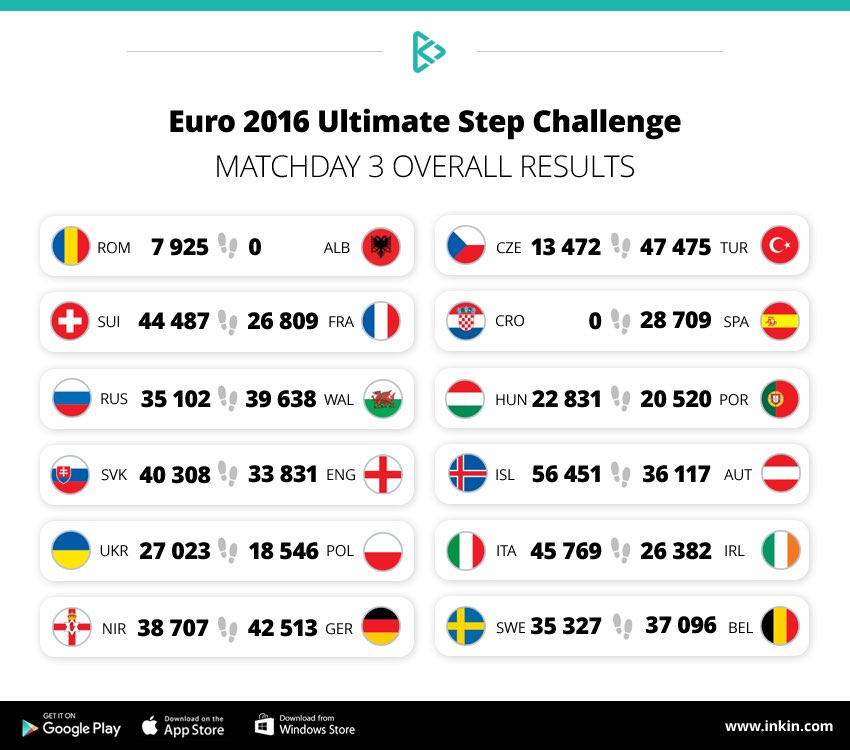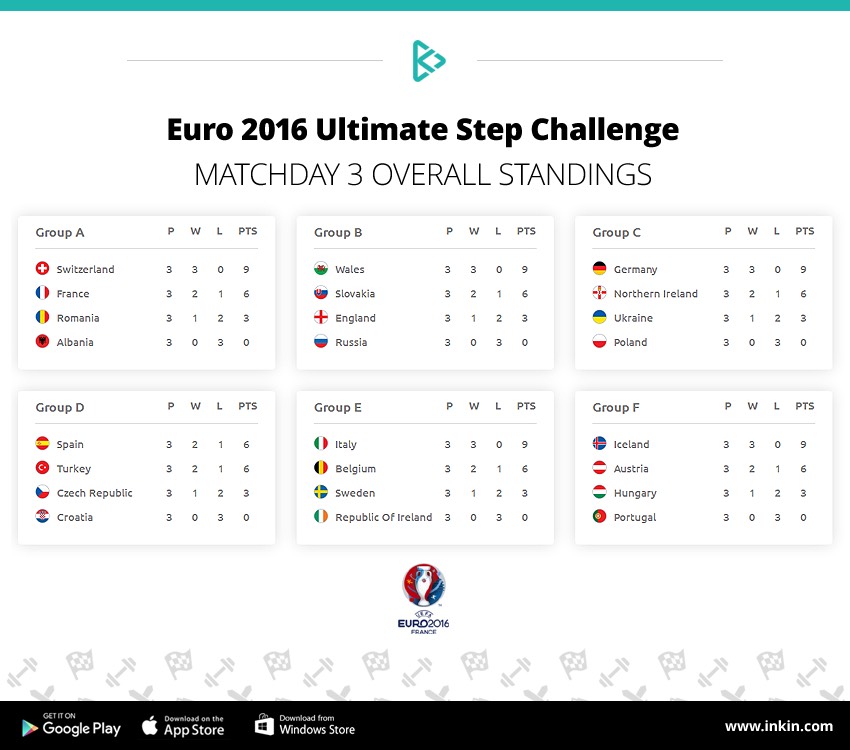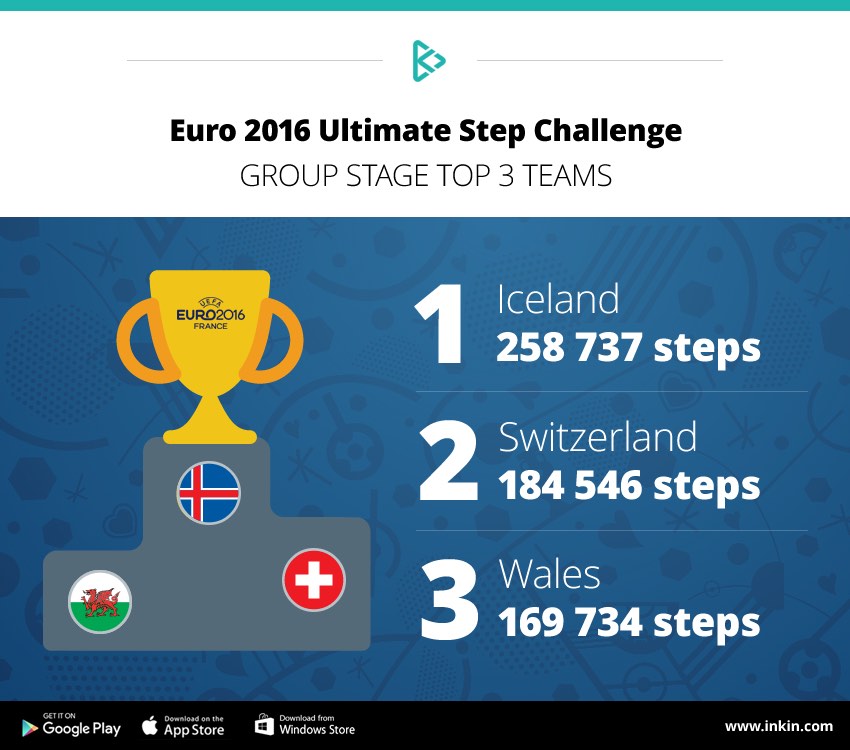 ​
Round of 16: 25 - 27 June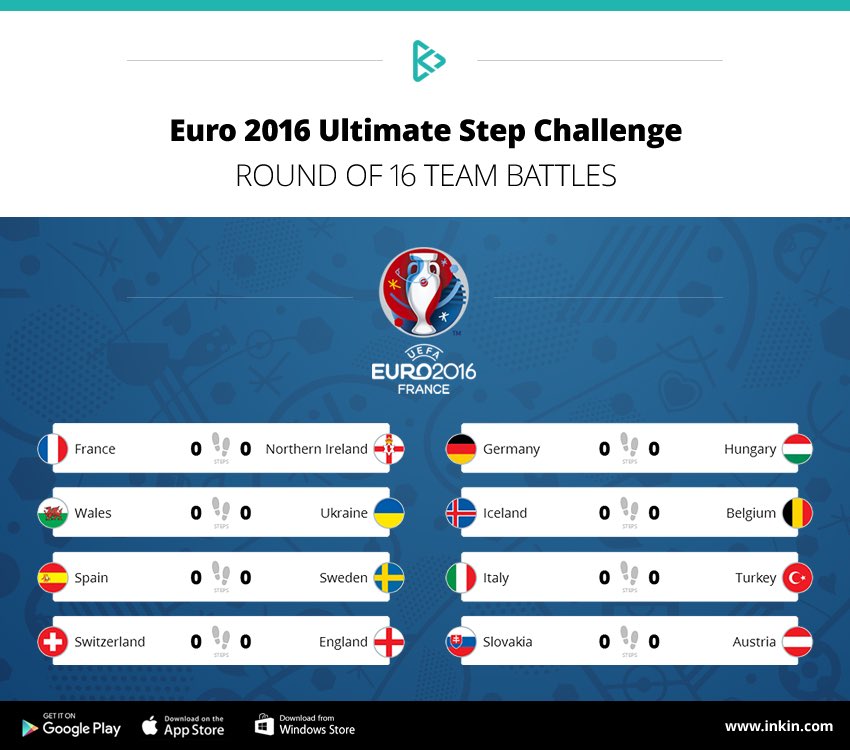 ​
Quarter-finals: 30 June - 3 July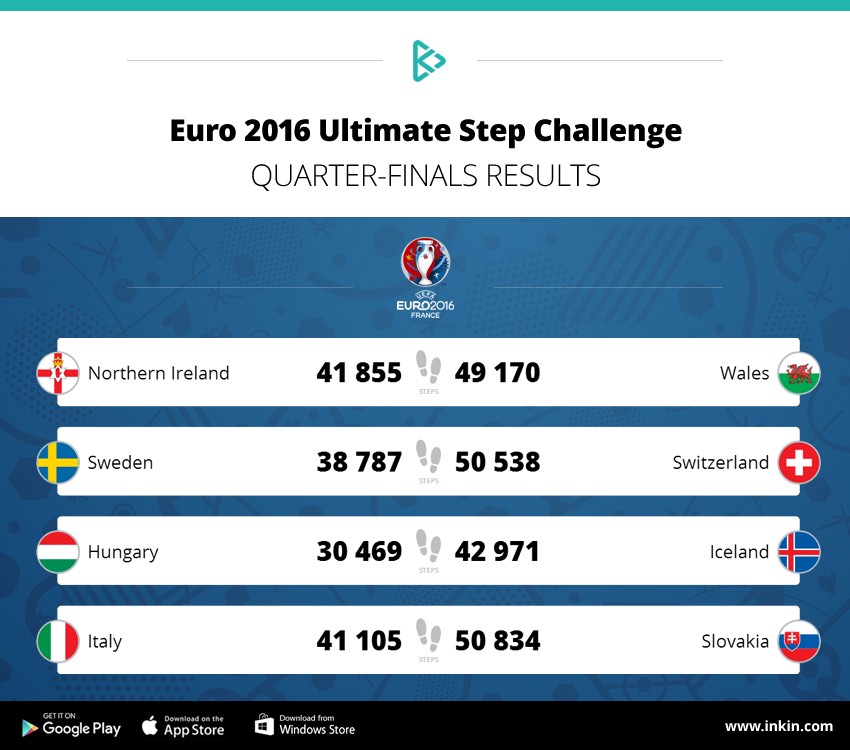 Semi-finals: 6 - 7 July
Final: 9 - 10 July