You want to make something different for dinner tonight—but what can you make that's simple and healthy? Maybe you should try one of these bold, spicy Spanish recipes.
Spaniards are known for their healthy eating and have many dishes with veggies, olive oil, and seafood—all of which are terrific for your well-being and weight. They've also perfected the art of "small plate eating" or tapas. Whether you're throwing a party or just feeding your family, they're sure to love sampling small portions of healthy, delicious food and making a meal out of it. These inKin top-5 amazing healthy Spanish recipes will have your mouth water and stomach growl in no time!
1. GRILLED TOMATO GAZPACHO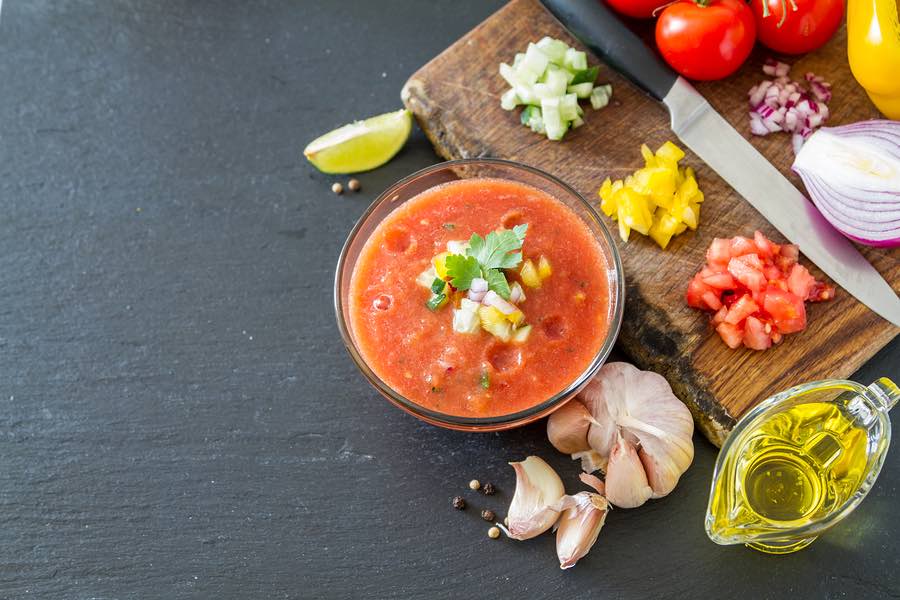 Photo Credit: Bigstockphoto

You could grill the veggies for this dish the night before or earlier on the day you plan to serve it. This recipe will serve six with one small cup for each person.
Ingredients:
2 lbs. of plum tomatoes, ripe
1 English cucumber, peel, remove seeds and divide
1 garlic clove, small
1 red bell pepper, small
½ c. of torn day-old bread with crusts cut off
2 or 3 tbsp. of red wine vinegar
¼ tsp. of cayenne pepper
¼ tsp. of black pepper, freshly ground
1 tbsp. of fresh parsley, chopped
½ tsp. of salt
2 tbsp. of extra-virgin olive oil
Instructions:
Your grill should be preheated at medium-high heat. Grill the bell pepper and tomatoes for 8 minutes or until they're charred in places, soft and blistered; turn veggies several times during grilling. Once grilled, set veggies aside to cool.
Peel the pepper's skin, slice in half and throw away the seeds and stem. Put half of the pepper in a blender. Remove the tomato's core—but not the skin—and chop, then toss into the blender.
Add to the blender: half of the cucumber, garlic, parsley, salt, bread, vinegar, cayenne pepper and black pepper. Mix until mixture is smooth; then pour in oil and mix until soup is well blended. Place in refrigerator for 1 hour.
Before you serve the gazpacho, dice the other half of the bell pepper and cucumber; mix into the soup half of both veggies and use the remainder as a garnish.
This gazpacho can be saved for 1 day in the refrigerator; just stir to blend before eating.
2. SHERRIED MUSHROOMS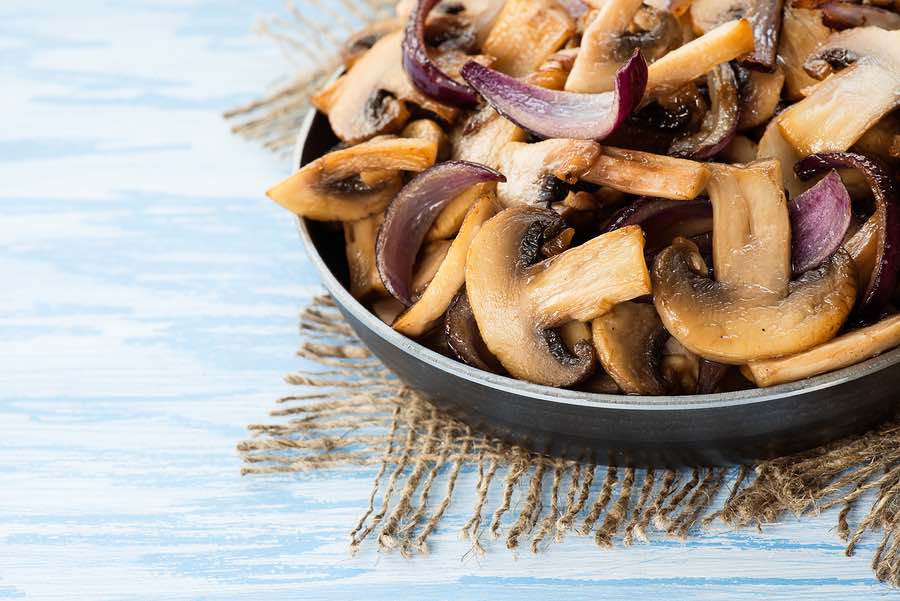 Photo Credit: Bigstockphoto
This recipe is terrific for a party because it provides enough food for 12, ½ cup for each person.
Ingredients:
3 lbs. of trimmed white mushrooms
¾ c. of cream sherry
2 tbsp. of lemon juice
1 tbsp. of extra-virgin olive oil
8 cloves of minced garlic
½ tsp. of salt
2 tbsp. of fresh parsley, minced
Fresh ground black pepper for seasoning
Instructions:
Thoroughly wash the mushrooms and slice in half; cut in quarters if the mushrooms are big.
In a large skillet on medium-high heat, warm up the olive oil and add the mushrooms; occasionally stir and cook for 10 minutes.
Blend in the garlic and sherry; keep cooking for 10-14 minutes or until much of the juice has disappeared, mixing periodically. Next, mix in the lemon juice and flavor with the salt and black pepper. Before serving, sprinkle with the parsley.
3. QUICK PAELLA WITH SHRIMP & MUSSELS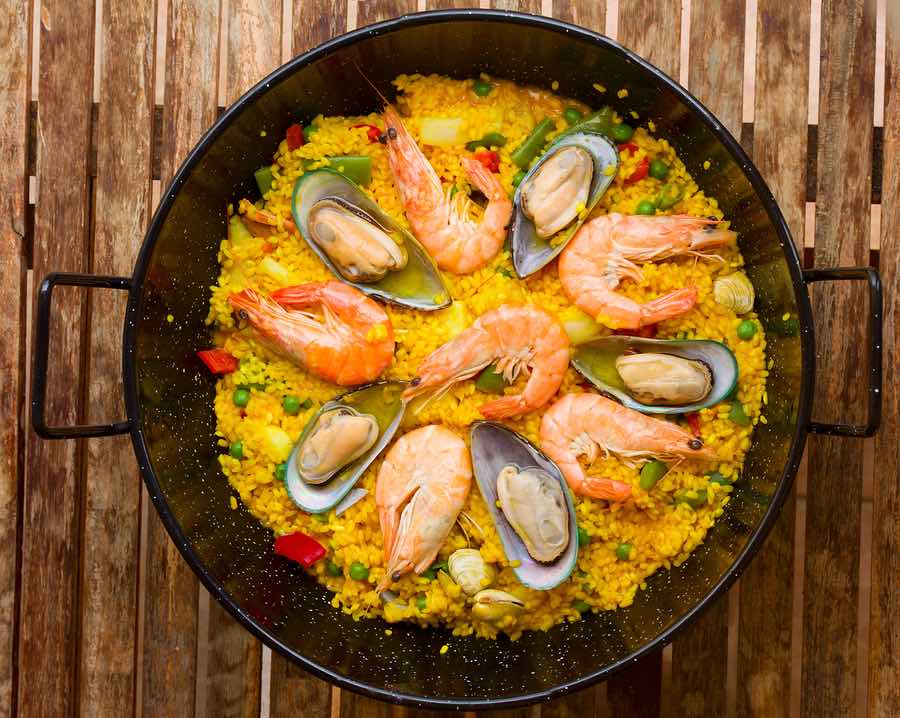 Photo Credit: Bigstockphoto
This yummy recipe will serve 4 people.
Ingredients:
1 tbsp. of extra-virgin olive oil
2 cloves of minced garlic
½ c. of red bell pepper, chopped
½ c. of onion, chopped
1⅓ of chicken broth with reduced sodium
2 c. of brown rice, instant
½ tsp. of thyme, dried
¼ tsp. of ground black pepper
¼ tsp. of salt
1 big pinch of saffron
1 c. of frozen green peas, thawed
1 lb. (21-25) of raw shrimp, peeled and deveined
1 lb. of mussels, thoroughly scrubbed
4 lemon wedges if desired
Instructions:
Grab each mussel and put it under running water; pull all black, fibrous "beards" off and remove the barnacles with a stiff-bristled brush. Toss out any mussels that have broken shells.
In a big skillet on medium heat, warm the olive oil; then add the bell pepper, garlic, and onion and, occasionally mixing, cook for 3 minutes or until soft. Now, still at medium heat, pour in the broth, salt, saffron, rice, thyme, and pepper and let the mixture come to a boil; place the lid on the skillet and cook for 5 minutes.
Blend in the peas and shrimp. Put an even layer of mussels on top of the brown rice; return the lid and cook 5 more minutes or until the brown rice is tender and the mussels are open.
Move the skillet off the heat while remaining covered; let the dish sit for 5 minutes or until the paella absorbs most of the liquid. You can dish this up with the lemon wedges if you choose.
4. BAKED COD WITH CHORIZO & WHITE BEANS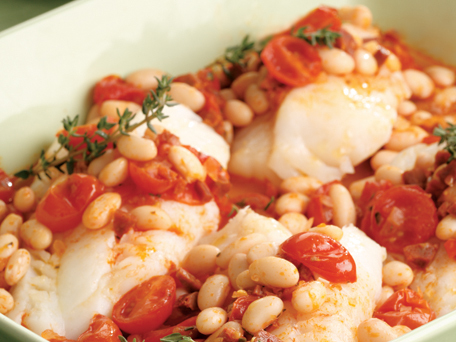 Photo Credit: Recipegreat.com
Dish up this great recipe for 4 people who like seafood.
Ingredients:
1 shallot, chopped fine
1 tsp. of fresh thyme, chopped
½ c. of dry white wine, divided
½ tsp. of salt, divided
Ground black pepper for flavor
1 tsp. of extra-virgin olive oil
2 oz. of Spanish chorizo, diced (Unavailable? Use turkey kielbasa)
1 pt. of halved grape tomatoes
1 15 oz. can of great northern beans, drained and rinsed
1¼ lbs. of U.S. Pacific cod, sliced into 4 pieces
Instructions:
Spray cooking spray on a 9x13 baking dish and preheat your oven to 425˚ F.
In a medium-sized saucepan on medium-high heat, heat up the olive oil. Put in the chorizo, shallot, and thyme; then stir periodically ad cook for 1 minute or until it has an aroma, mixing occasionally. Add in ¼ cup of the wine and all of the tomatoes; cook for 2-4 minutes or when most of the wine is boiled away, and the tomatoes have fallen apart. Mix in ¼ tsp. of salt and the northern beans, then transfer the saucepan off of the heat.
Sprinkle the pepper and left-over ¼ tsp. of salt over the cod and put each piece into the 9x13 dish. Spoon about ½ cup of the tomato mixture over each piece of cod. Pour the rest of the wine into the baking dish; spread aluminum foil over the dish and bake in the preheated oven for 15-20 minutes. Dish out this scrumptious meal with the sauce ladled over the top of the cod.
5. CATALAN CHICKEN SAUTEE WITH CAPERS AND HERBS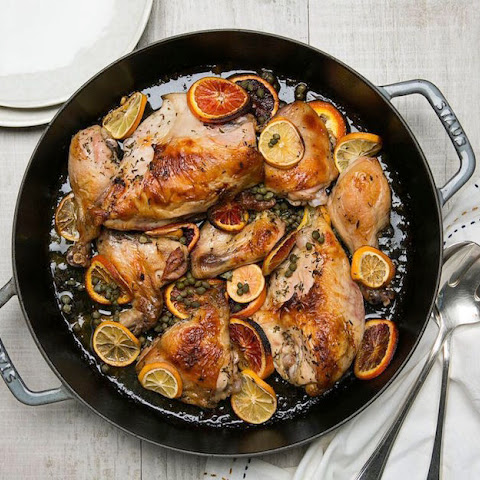 Photo Credit: Yummy.com
This flavorful dish will serve 6.
Ingredients:
1½ lbs. of whole chicken; separate thighs, legs, and drumsticks
½ tsp. of ground black pepper, divided
2 tsp. of butter
2 large garlic cloves, peeled and crushed
½ cup of white wine
1 sprig of fresh thyme
1½ tsp. of cornstarch
1 tsp. of lemon zest, freshly grated
¾ tsp. of salt, divided
1 tsp. of canola oil
2 lg. tomatoes, cubed
1 lg. shallot, cut finely
1 sprig of fresh rosemary
½ cup of chicken broth, reduced sodium
2 tbsp. of capers, washed
2 tbsp. of flat-leaf parsley, minced
Instructions:
Pull the skin off the chicken pieces and cut off all the extra fat; sprinkle ¼ tsp. of black pepper and ½ tsp. of salt over the chicken pieces.
In a 12-inch skillet, heat the oil and butter at medium-high heat. Place the chicken in the skillet and cook, flipping periodically, for 4-5 minutes or until every side is brown; then put the chicken on a dish, cover to keep warm and set aside. Next, put the garlic, tomato, shallot, the rest of the pepper and salt into the skillet; cook for 7-9 minutes, mixing at times. When most of the liquid is gone, add the thyme, wine, and rosemary; stir occasionally and cook for 2-3 more minutes. Grab the chicken and place it back into the skillet; turn each piece so that the sauce covers it entirely. Cover the skillet and cook for 15-20 minutes or until the chicken is no longer pink.
In a small bowl, whisk the cornstarch and broth until it's smooth. Using a slotted spoon, place the chicken on a serving plate when it's finished cooking and throw out the thyme and rosemary. Now mix the lemon zest, cornstarch mixture, and capers into the skillet; let it come to a simmer and cook for 1-2 minutes or until the sauce thickens. Serve the sauce over the chicken and sprinkle with parsley.
Are you hungry yet? Whipping up one of these marvelous recipes will give you a nutritious and savory meal that your family or friends are sure to enjoy!