Whether you have participated in The Color Run before or not, you likely know someone who has done it. And this is why:
In many ways, this 5K sometimes referred to as "The Happiest 5K On The Planet" is more casual than your average 5K race. Participants wear white or light-colored shirts, and throughout the course of the 5K, they are splattered with an assortment of powdery colors. Instead of the glory coming from being the first person across the final line, the fun comes from the photos you can later share with your friends and family of you covered in different colors and the joy of trying to finish the race being more colorful than your friends.

Since the start of The Color Run in March 2011, it has expanded to over 300 events in over 50 countries, including places as far away as Thailand, Switzerland, and South Africa. The appeal of "The Happiest 5K On The Planet" continues to increase to more and more places each year. Although other groups have started paint races, The Color Run is the original.
So Why Try?
If you have never run a 5K or other race, The Color Run might be a great place to start. Over half of those who participate in the event have never participated in a 5K race before.
One of the big goals is to promote a healthy lifestyle for participants beyond just the one event. Helping the community is another goal of The Color Run. While it is a for-profit organization, they have partnered with over 80 local and national charities and donated over $4 millions since 2012.
One of the great things about The Color Run is that it is not just about the 5K. After the completion of the run, participants can participate in the Finish Festival, which includes music, dancing, and massive color throws— an opportunity to get a little more colorful if you did not get enough during the race.
The color used during The Color Run is non-toxic, as it is a combination of baking soda, cornstarch, and safe dyes. Even though it is safe, it may take a few washes to get the color completely out of your clothing; washing your outfit right away works best. Some people wear glasses or goggles to keep the color away from their eyes and use a bandana to keep it out of their mouth, but you can enjoy being a "Color Runner" without the extra protection.
What's Coming Up?
In celebration of the fifth anniversary of The Color Run, this year will be The Color Run Tropicolor World Tour 2016. "Color Runners" will be hit with an assortment of tropical colors and scents throughout the course while running under palm trees and enjoying island music. The Finish Festival will also have an island theme, creating a memorable experience for many participants who have already enjoyed it previous years. Some cities will also host The Color Run Night events in 2016 in which participants can enjoy The Color Run glow-in-the-dark style.
While the dates are not completely set for The Color Run Tropicolor World Tour 2016, here are the dates for the events that are already scheduled in the United States for next year:
Tempe, Arizona - January 23, 2016
Las Vegas, Nevada - February 27, 2016
Ft. Lauderdale, Florida - March 19, 2016
Winston-Salem, North Carolina - March 19, 2016
Atlanta, Georgia - April 2, 2016
Roanoke-Salem, Virginia - April 9, 2016
Columbia, South Carolina - April 16, 2016
Augusta, Georgia - April 30, 2016
Binghamton, New York - May 7, 2016
Seattle, Washington - May 8, 2016
Washington, DC - May 15, 2016
Rochester, New York - May 21, 2016
Savannah, Georgia- May 21, 2016
Fayetteville, North Carolina - May 28, 2016
Hershey, Pennsylvania - June 4, 2016
South Portland, Maine - June 26, 2016
Omaha, Nebraska - July 16, 2016
Buffalo, New York - August 6, 2016
Erie, Pennsylvania- August 13, 2016
Loudon, New Hampshire - September 10, 2016
Portland, Oregon - September 17, 2016
Duluth, Minnesota - September 18, 2016
Burlington, Vermont - September 24, 2016
If your hometown or another nearby city is not on this list, do not worry. You can pre-register for many other cities nationwide, and if you do not see your city on the list of places where The Color Run will be coming soon, you can sign up to learn if, and when, The Color Run will host an event near you.
And by the way, we've tried it too and loved it!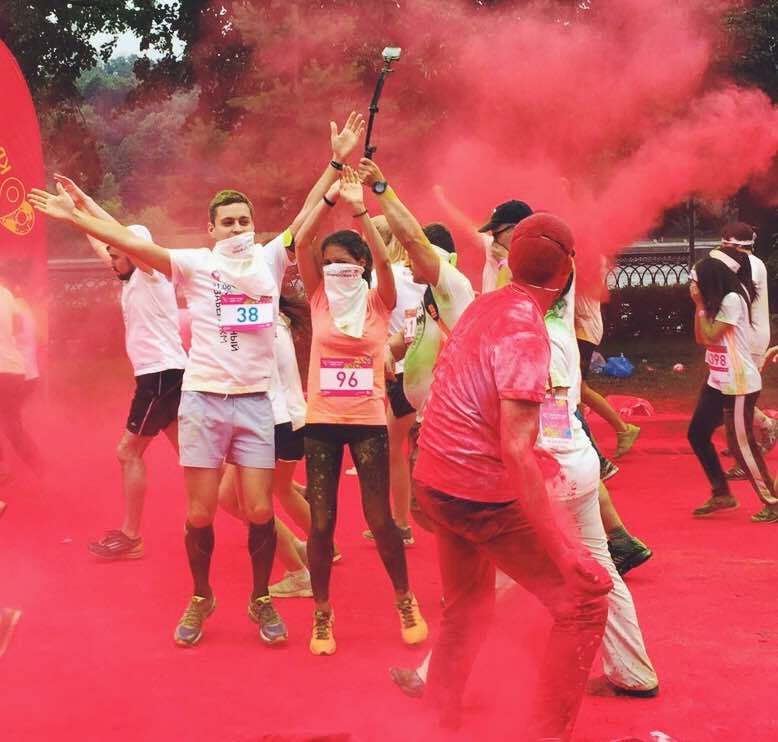 inKin Team on The Color Run