This app is perfect for almost any physical activity that you like to do. Whether it's cycling, rock climbing, spinning, running, aerobics, hiking, roller blading or other activities, MapMyWalk can run on your Android or iPhone and uses your smartphone's GPS to track your workouts. It's easy to transfer your workout info to MapMyWalk which collects and saves your workout history. On an interactive map, you can log your workout data which includes distance, speed, burned calories, duration, route traveled and elevation.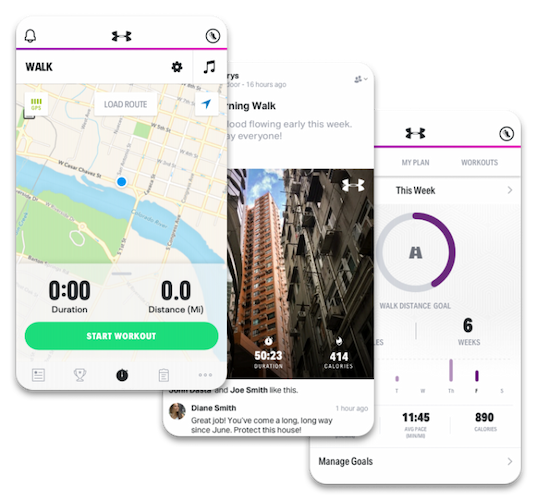 Photo Credit: MapMyWalk
2. Breeze
Do you need some motivation? Then you've come to the right app! Breeze uses the information that's already been taken by the iPhone 5s M7 chip. Your battery life will be saved! Your daily goal's progress and steps will be displayed on Breeze's main screen; at the top, little circles show your progress of each day of the present week. You'll also be able to see maps and data of your long walks. This app is extremely interactive—it'll send you frequent motivational notes during the day. Some people may find this irritating; while others may consider it to be exactly what they need to keep them moving.
Available for the Android and iPhone, this is a fun app that will create a storyline of your running miles, cycling minutes, walking steps and just about any other activity you can think of. For every activity you do, you can check out your time, calories and traveled route on a map. Moves uses your phone's GPS as well as WiFi and cell towers and will continually run in the background. It's a good thing that you can modify the battery-saving and accuracy settings! Moves is very easy to set up and it's smart too—it can tell the difference between your bike rides, runs, and walks! A really cool feature is the Walk bubble; it calculates the steps you've walked during the day. Just by touching it you can view the steps in addition to your total calories, distance, and miles. On top of that, you can use Moves for great fun on social fitness platform, such as inKin. Connect it to your friends with Fitbit, Jawbone, Misfit, Withings & more, and start comparing your results straight away.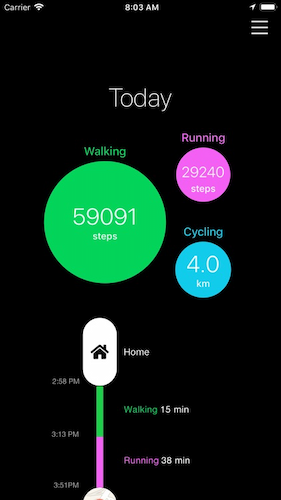 Photo Credit: Moves
4. Noom Walk
Are you looking for an app that's simple to use? This is it! This Android app doesn't use a GPS but rather runs on your phone's batteries without killing it. Noom consistently assimilates with Noom Coach: Weight Loss Plan, and this accurate, stylish app lets you feel inspired with High 5s, encourage family and friends and share your information.
Here's a terrific app for the Android and iPhone that'll inspire you to fill every day with more steps. Calories, speed, steps, active time and distance can all be recorded and then shared on Facebook. For a quick check during the day, Accupedo doesn't need to be opened—your daily total steps are displayed on a screen icon. This app has a handy feature where you change the sensitivity of the step counter; it's set to start counting after 10 consecutive steps but can be adjusted down to 4 steps. It's also awesome that the app can count movement as a step, and you can alter this sensitivity too. A great bonus is that this app will count your steps no matter where you leave your phone, such as a purse, pocket or waist belt.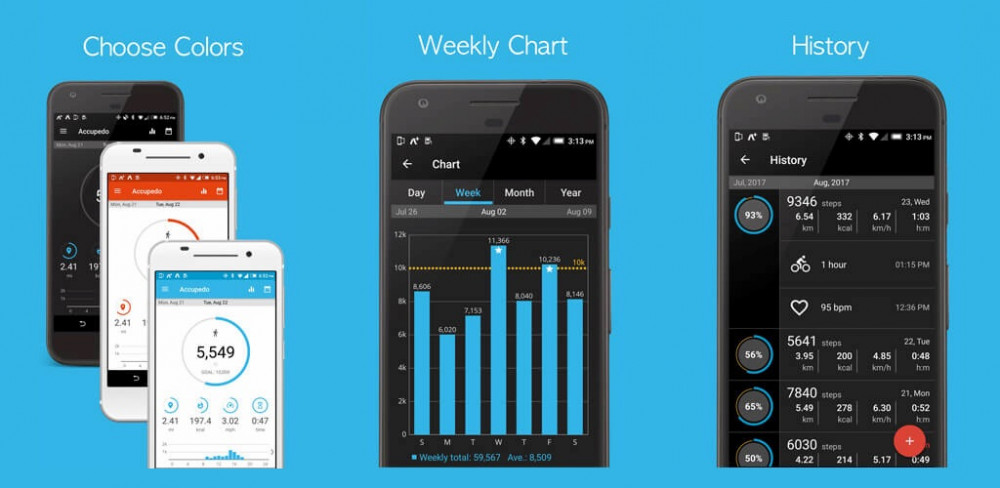 If you are looking for a do-it-all app, you've found one. While this app will track calories burned and your daily steps, it can track so much more. You can view a timeline of your busy day as well as record water intake, workouts, food intake and weight. Sadly, Argus is only available for the iPhone 5s and utilizes GPS for some information. This app gives you cycling, driving and running GPS maps and you can connect to your Pebble Smartwatch, Fitbit, Withings Smart scale or Bluetooth heart rate monitor. You can even have your own coach! What could be better than that?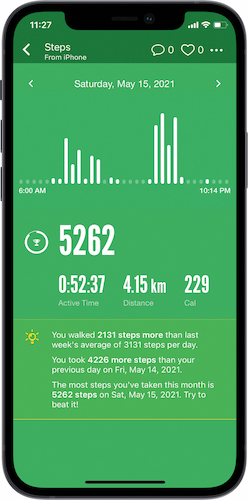 Photo Credit: Argus
One of these pedometer apps is bound to make your life and workouts a lot easier. You don't need to lose weight? That's not a problem; pedometer apps are a wonderful motivation tool to help you retain a healthy body with daily physical activity like taking the stairs or walking or biking to work. Your smartphone pedometer app can aid you in walking your way to a healthier you!
Photo Credit: Bigstock