1. Garmin Forerunner 630
Price: $399.99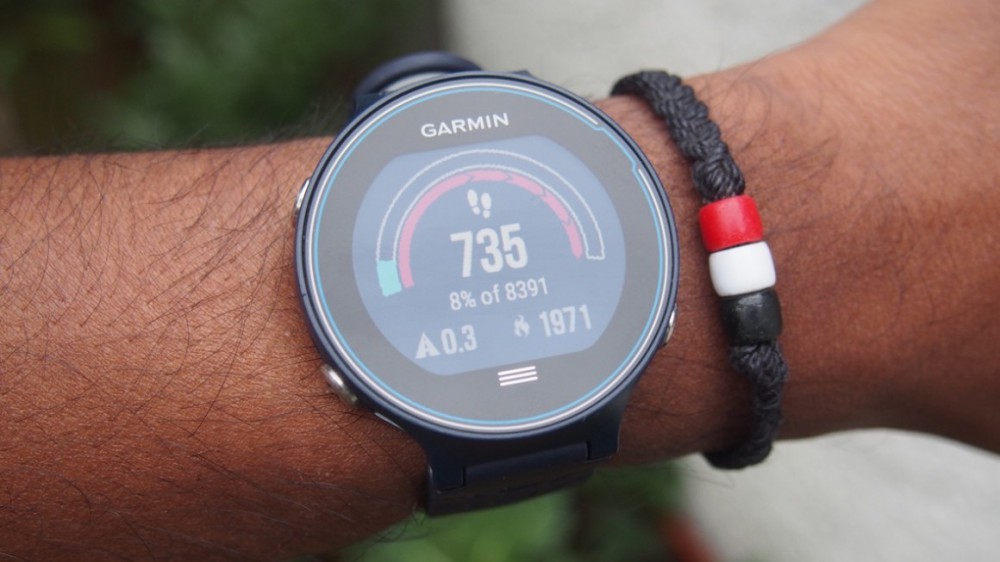 Photo Credit: Wareable
If you're looking for a fitness tracker with a hint of a smartwatch, then look no further! The Forerunner 630 has a nice-fitting strap with a blue finish and plastic matte build that gives the watch some style. The tracker also comes with a multitude of new metrics in addition to smartphone notification features. You can enhance your running efficiency by looking at info on vertical ratio and stride length. There's even a new recovery advisor which informs you when it's time to do another intense running period. The one drawback to this watch is that if you want heart rate data, you have to wear a chest strap—there isn't a built-in pulse monitor which, considering the price, is a real bummer. If you're a die-hard runner, you'll love the new feature that keeps you from overtraining by rating your performance condition and threshold; this feature will even warn you when you push yourself too far! Wow!
While Garmin seems to have cleaned up the Garmin Connect software, it'll take you some time to figure out where everything is. But, on the whole, it is a very good app where you'll find you can access all kinds of data on your stats and there's third-party support for Strava, MyFitnessPal, and Apple Health. There are other apps that let you check out hiking details, maps or add in resting heart rate information fields; this provides Garmin with something a bit extra that's lacking in other sport watches.
With a just general use of the notifications and activity tracking, you'll be pleased to know that you can get a month out of the battery before needing a charge. If all the sensors are on, you'll get 4 or 5 hour-long runs out of the battery which comes to about 1½ weeks of use.
2. Polar M400
Price: $179.95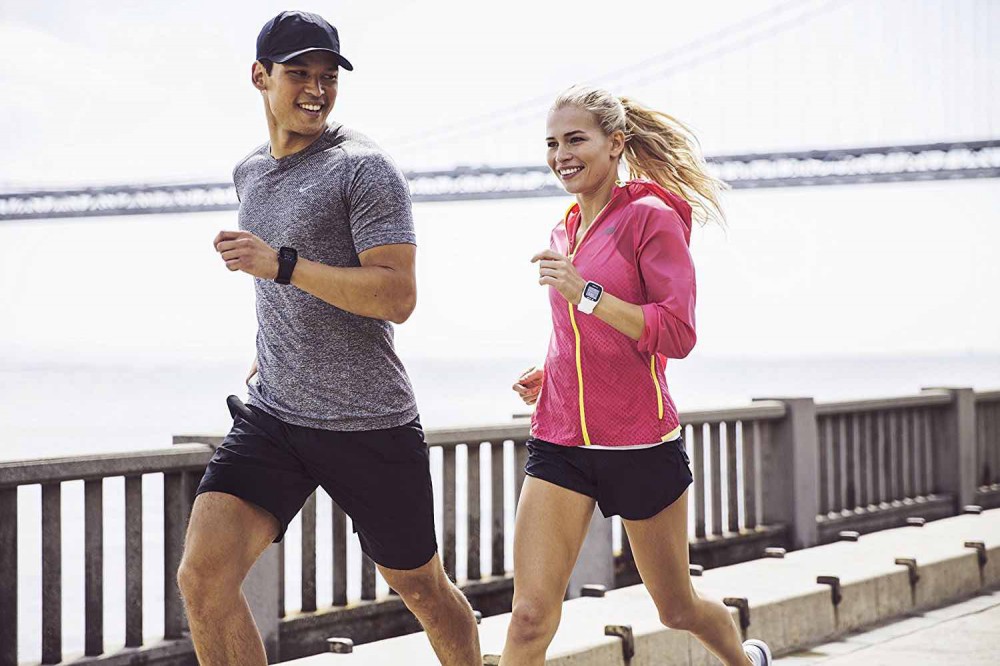 Photo Credit: Amazon
This tracker is a lot like the V800 but has a few upgrades like a smaller watch face, more comfy strap, built-in GPS, and some exceptional skills. For custom training sessions, the interval timer's a nifty feature; it can be set to distance or time and, based on your present running pace, it'll calculate when your run will be finished. You won't need your fitness band with the M400's 24/7 activity tracking and the abundance of innovative run-specific features; these marvelous new features help you stay inspired and running.
If you run when you're away from home or are always getting lost, there's an ingenious feature that can help you called back-to-start; it'll search for the shortest route and guide you back to where you started running. So cool! If you want to improve your run—who doesn't?—there's the new Polar Running Index. It shows you the training effect for all of your runs and also uses your speed and heart rate to estimate how much your running has improved over time.
This nice looking watch is good for 21 days of battery life on the just general use and 8 hours when using the GPS. The M400 links easily with your smartphone via Bluetooth, and your vital stats will be downloaded to the Polar Flow web and mobile app. Polar Flow is a superior tracking tool where you can improve your training using the wide range of options from personalized training plans to athletic level info.
3. Garmin Forerunner 235
Price: $329.99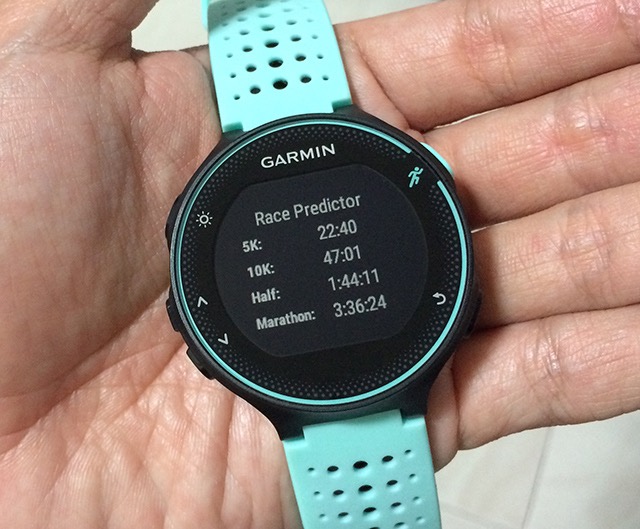 Photo Credit: Gadfit
If you're an intermediate runner, then this tracker is fantastic for you! Although the style of the 235 isn't any different than other Garmin watches, it has a decent size LED screen, and it's very light—so light you might forget you have it on. This tracker equipped with four sports modes: running indoor (GPS off), running, biking and catch-all free tracking. The run monitoring is exceptionally comprehensive with a plethora of running metrics to view—you can even examine them during a run. One feature that needs to be highlighted is that by using Garmin Connect web app, you're able to create workouts and upload them to the watch. Now that's neat!
Speaking of Garmin Connect, the web and mobile app are entirely different. The web app is packed with unbelievably detailed tools to set routes, develop workouts and get the most from your information. The mobile is in-depth but can be an overwhelmingly confusing beast sometimes!
While the heart rate monitor can monitor a steady run, you're better off getting a chest strap if you want to track intense workouts.
You won't have any worries about wearing down the battery; a 5-mile run will only use about 5% of its life! So the battery will last over one week before needing a charge.
4. Mio Fuse
Price: $99.00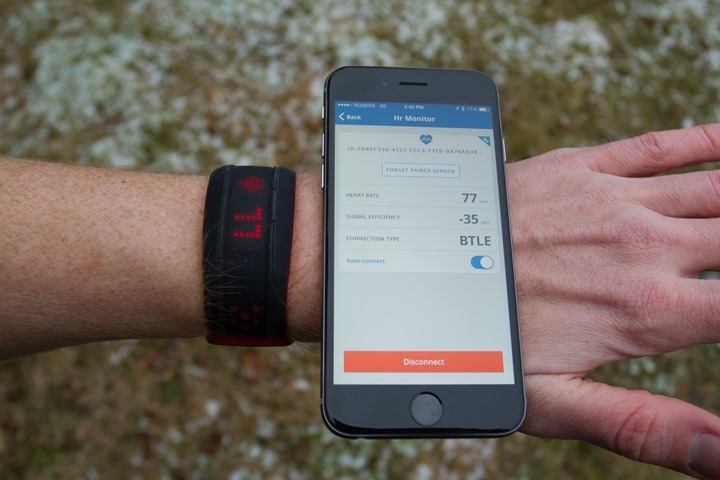 Photo Credit: Dcrainmaker
The first thing you'll notice about this tracker is that it's big—but it'll keep your wrist cool and comfy. It's suggested that the Fuse be worn a little higher up on your arm instead of where you normally wear a watch; this helps to get a more precise heart rate. The LED display is clear, bright, responds well, and you'll get a week of use before needing to charge the watch.
The Fuse isn't equipped with any smartwatch notifications and is mostly a heart rate monitor but does have some features for fitness tracking. It measures distance via algorithm, consistently counts steps and estimates active and resting burned calories. Since the watch doesn't have a GPS, it's surprisingly accurate at measuring distance which is a big plus for runners. When you're in workout mode, there's an option for a three or five zone training set-up and a flashing light will show which zone you're in. You'll find this is quite effective for heart rate training.
The heart rate monitor was created only to be used during workouts; it's easy to begin a workout with just two pushes of a button. If you're thinking, leave the tracker in workout mode 24/7 so it can continue to record my heart rate. Well, that isn't a good idea because the battery will only last 8 hours. A magnificent feature of the heart rate monitor is that you can transfer, via Bluetooth, your heart rate reading to another gadget like a third-party running app or GPS running watch.
The Mio Go app, while simple to use and intriguing, isn't as extensive as other fitness tracker apps. The Go app lets you view calories, distance, workout time and you'll also get a day-to-day breakdown of workout information and stats. You can delve into your recorded workouts to receive even more information like a thorough heart rate graph and many averages including pace, zone, speed, beats per minute and more. Other sleek app features are selecting daily target goals, informing the Fuse which wrist it'll be on, changing the order metrics are shown and mixing up the frequency of the LED alerts. The one drawback we observed about Mio Go was it could be difficult to sync.
5. TomTom Spark 3
Price: $130.50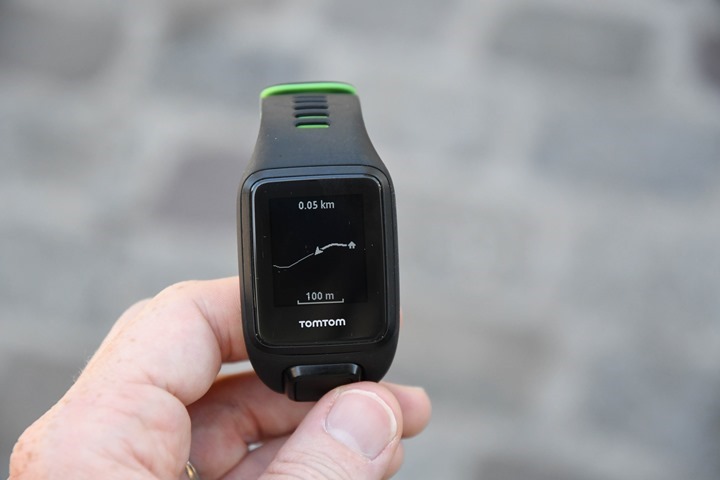 Photo Credit: Dcrainmaker
The original Spark was terrific in its right, but the updated version is even better! Not only is the strap available in a few colors now but it doesn't get as sticky underneath or leave an imprint on your arm. Spark 3 has a new stopwatch feature and seven sports modes that give you the standard running metrics of speed, calories, distance, steps and time but it has a superb optical heart rate monitor to boot! The simple set up, fast GPS signal receiver and training modes still make it a fabulous tracker for runners. However, you can't survey the workout summary unless you go into the training mode which is slightly annoying.
The Spark 3 has something else that's new too—a compass! This is paired with the new feature called route exploration which maps out your routes. So now you can go on a huge run and not have to worry about how you're going to get home—it'll be on the screen for you! Oh, did we mention that you can also add GPX routes to the Spark 3? This is a cool feature that is normally only found on higher priced fitness trackers; it's a definite plus to see it on an affordable tracker. Spark 3 has 3G of MP3 storage which means you don't have to carry your phone to listen to your tunes—using wireless headphones you can listen to music right from the watch!
MySports web app connects to almost every running app you can think of allowing you to link your info to them. You can upload races and trails to the Spark 3, but this can only be done with the web app, not the mobile app.
The battery life will give you about 11 hours—which is a week's worth of tracking—but it'll depend on the number of sensors you use.
Do you like what you're reading so far? Check out the Top 10 Fitness Trackers For Runners. Part II to explore the other five fitness trackers for runners! Meanwhile, if you'd like, you can use our Fitness Trackers Comparison Tool or join one of our friendly fitness challenges and competitions.
Additional Reading
Top 10 Fitness Trackers For Runners. Part II
Photo Credit: Depositphotos